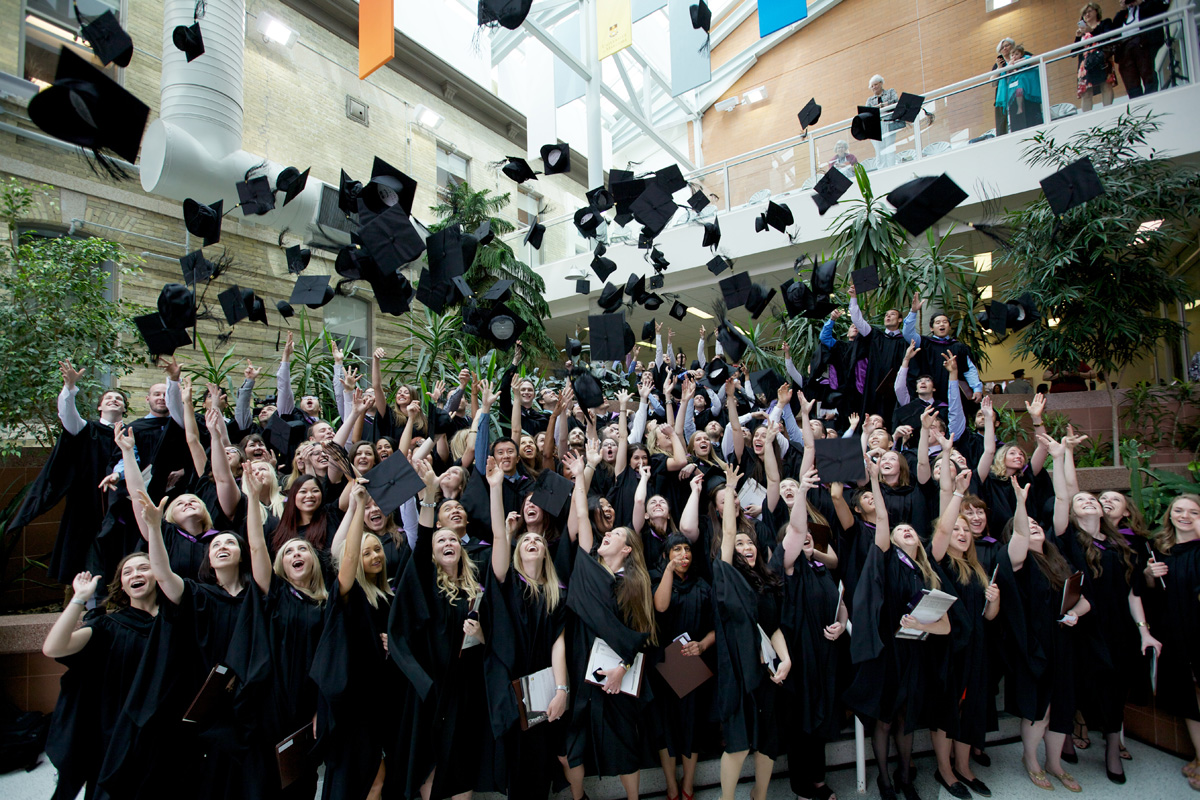 Spring Convocation 2013
May 28, 2013 —
This week, the University of Manitoba conferred degrees, diplomas and certificates on 2,845 graduates, compared with 2,767 graduates last year at this time. They join the ranks of more than 193,000 University of Manitoba graduates since 1877. Today, 129,000 known living U of M alumni around the world are testament to the impact and long-reaching influence of our graduates.
Read more about Convocation. View a list of honorary degree recipients.
The Class of 2013 includes graduates from all disciplines: from science, agriculture, business, the humanities, health and professional fields. Many of these graduates are the skilled labour the provincial economy needs to continue building Manitoba. They are the next generation of lawyers, engineers, teachers and scientists who will lead Manitobans towards a new prosperity of knowledge and education.
"Our graduating students have learned from world-class scholars and researchers and are ready to make their own impact on the world. They have earned their diplomas through time, effort and dedication and this truly is a time for celebration," says David T. Barnard, president and vice-chancellor at the University of Manitoba.
Out of every graduating class, about 80 per cent will choose to stay in Manitoba. Many have deep roots here, with family traditions that go back many generations, including many who look to carry on and maintain the family farm.
Many graduates are new Canadians who chose Canada, and in particular, Manitoba, as a new home, emigrating here with new hope and aspirations for the future.
"University of Manitoba's graduates are our province's leaders of tomorrow," said Advanced Education Minister Erin Selby. "Whether people were born in Manitoba, or are new Canadians who have chosen to make their life here, the skills they have developed will help grow our economy and keep Manitoba moving forward."
We know that about 85,000 University of Manitoba graduates live in Manitoba, and of these, nearly 64,000 are in Winnipeg. They are your neighbours, colleagues, workmates, partners and your friends.
The 2011 provincial election resulted in University of Manitoba alumni elected as 25 of 57 Members of the Legislative Assembly, including Premier Greg Selinger. In fact, Manitoba's current Lieutenant Governor is also an alumnus–The Honourable Philip S. Lee.
Convocation is the realization of the dreams of so many hard working university students. Each of them has a unique story worth telling, and many of those perspectives and experiences are currently being shared on Twitter, Facebook, Instagram and Vine.
The University of Manitoba is bringing those graduate stories together on a new page that celebrates 2013 University of Manitoba Spring Convocation. On the page, student tweets, comments, photos, and videos are all collected together for a unique convocation experience.
You can follow the story here:
follow the celebration