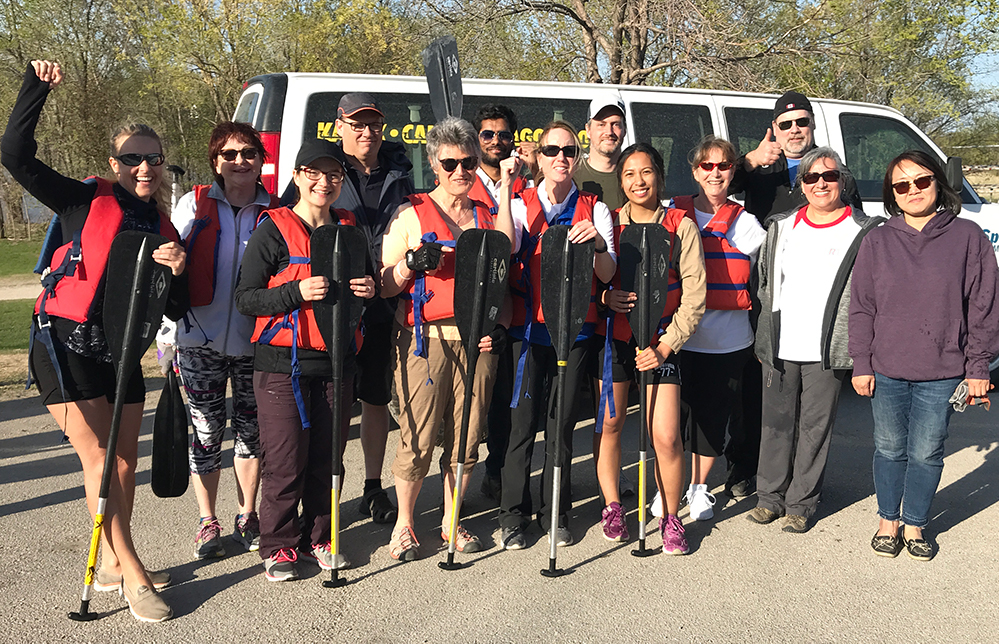 Social Work faculty, staff and students racing for a dream
June 1, 2018 —
Faculty of Social Work staff, students and faculty will be participating in The Dream Factory River City Dragon Boat Festival this weekend in an effort to make children's dreams come true.
For the past three years, the team, named Talking Dragons, has paddled its way to the finish line in support of family and friends who have been affected by cancer.
"When I first saw the advertisement for the 2015 Canadian Cancer Society Dragon Boat Festival, it seemed like a great opportunity to engage with family and colleagues in a unique way, and to support a great cause. As so many others had also been touched by cancer, the team was quickly formed," says co-captain and assistant professor Tracey Bone.
This year, Talking Dragons paddles for Nathaniel (Nat) Shewchuk and other young people dealing with life threatening illnesses.
Nat, son of associate professor Kendra Nixon, was diagnosed with a rare form of leukemia in January 2017 when he was 14 years old. He experienced several life-threatening complications over the last year and underwent a bone marrow transplant this past September. His 13-year-old brother, Liam, was his donor. Nat, along with his family, is taking his "dream" with The Dream Factory in the fall — meeting and practicing with the San Jose Sharks in California (although he is a big fan of the Winnipeg Jets, too!). Today, Nat is in remission and has returned to school and is playing spring baseball with his buddies.
"For me personally, it's important to give back to an organization that has supported Nat and our family during this very difficult time. Having a "once in a lifetime" dream come true gives Nat and our family something special (and positive) to look forward to, especially during a time that has been filled with losses, fear, and uncertainty — not to mention the numerous medical appointments and procedures," says Kendra Nixon.
Cheer the Talking Dragons on Friday, June 1 and Saturday, June 2 at the Manitoba Canoe and Kayak Centre. For more information or to donate, please visit the Talking Dragons donation page: https://secure.qgiv.com/event/team/818152/.