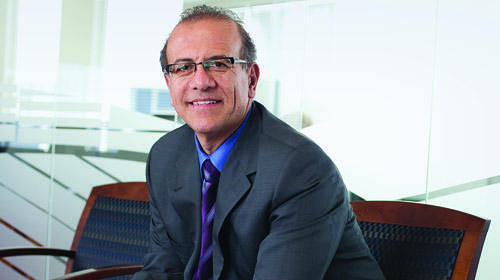 So what can you do with a science degree?
Meet science grad Wadood Ibrahim, [B.Sc./87, M.Sc./88], co-founder and CEO of Protegra.
June 11, 2013 —
Wadood Ibrahim, co-founder and CEO of Protegra, a business performance and technology company, made the #1 spot in 2009 and 2010 on the list of top 50 Best Small and Medium Employers in Canada, published by the Globe and Mail.  In April 2009, Protegra placed No. 3 on the list of the Best workplaces in Canada as compiled by the Great Place to Work Institute Canada.
"Being chosen as the best small and medium employer is a great honour that we all share as part of an exceptional organization," says Ibrahim. "We continue to receive these distinctions because of our people, our codified culture and our ability to deliver results to our clients."
When Ibrahim graduated from the U of M, he worked at different jobs for ten years, and that experience motivated him to eventually help start Protegra.

"I wanted to do a better job of bringing solutions to companies, and at the same time incorporate three core principles:  deliver better value, deliver on time and deliver on budget," he explains.  But it is the context in which this occurs that sets Protegra apart from the others, and wins accolades from its employees.
"I wanted to create the kind of work environment where I would enjoy being an employee," he says.
Ibrahim is strongly influenced by his father, who believed that people should make a difference to the world during their lifetime – that things can be done differently.  "At the end of the day, one has to ask: what positive contribution have I made to the world and the lives of others." he says when he explains his father's philosophy.
At Protegra, the goal is to deliver value to the client, the employee and the company; a three-way winning strategy.  Every Protegra employee has the opportunity to participate in all aspects of the company, and as the CEO, Ibrahim believes it is his job is to listen. 
He also believes that an organization has to be transparent and share information with its employees, and that covers everything from strategy to profit to turnover.  "Almost every aspect of the company involves a collaborative process," says Ibrahim.  It takes time to build such an environment, but in the end, you get more employee buy-in, less re-work, and fewer mistakes.
Protegra has also been involved in training students through the Faculty of Science Computer Science Co-op program, and students who have worked at Protegra have thrived in the environment. 
At Protegra, students are not the "co-op student," they are part of the company.  They are welcomed as employees and the company makes sure that when students arrive for work on their first day that their desks, computers and e-mail are set up – complete with company name tags waiting for them.  Students are given an orientation and are involved in company meetings; they are treated as valued employees.
"Valuing people as individuals is part of what we do here," explains Ibrahim.  "We bring everyone's ideas together and then move forward.  It is an evolving culture of how we treat each other and how we accomplish things together.  It is not just one person's ideas."
It is a strategy that has worked well for the company and its employees.  They rarely have to advertise their jobs; they usually have people coming to them, wanting to work for them.
As a business performance and technology company working with clients in Canada, the US, Europe and Asia, Protegra's corporate office could be anywhere in the world, but Ibrahim has chosen to remain in Winnipeg.  Winnipeg's location, in the centre of the continent, provides him with easy access to any city.  "It's a good place to raise a family, and has a great quality of life – if you choose to get engaged with your community."
Ibrahim has chosen to become engaged, by creating a different kind of company, involving students and working at making a difference.