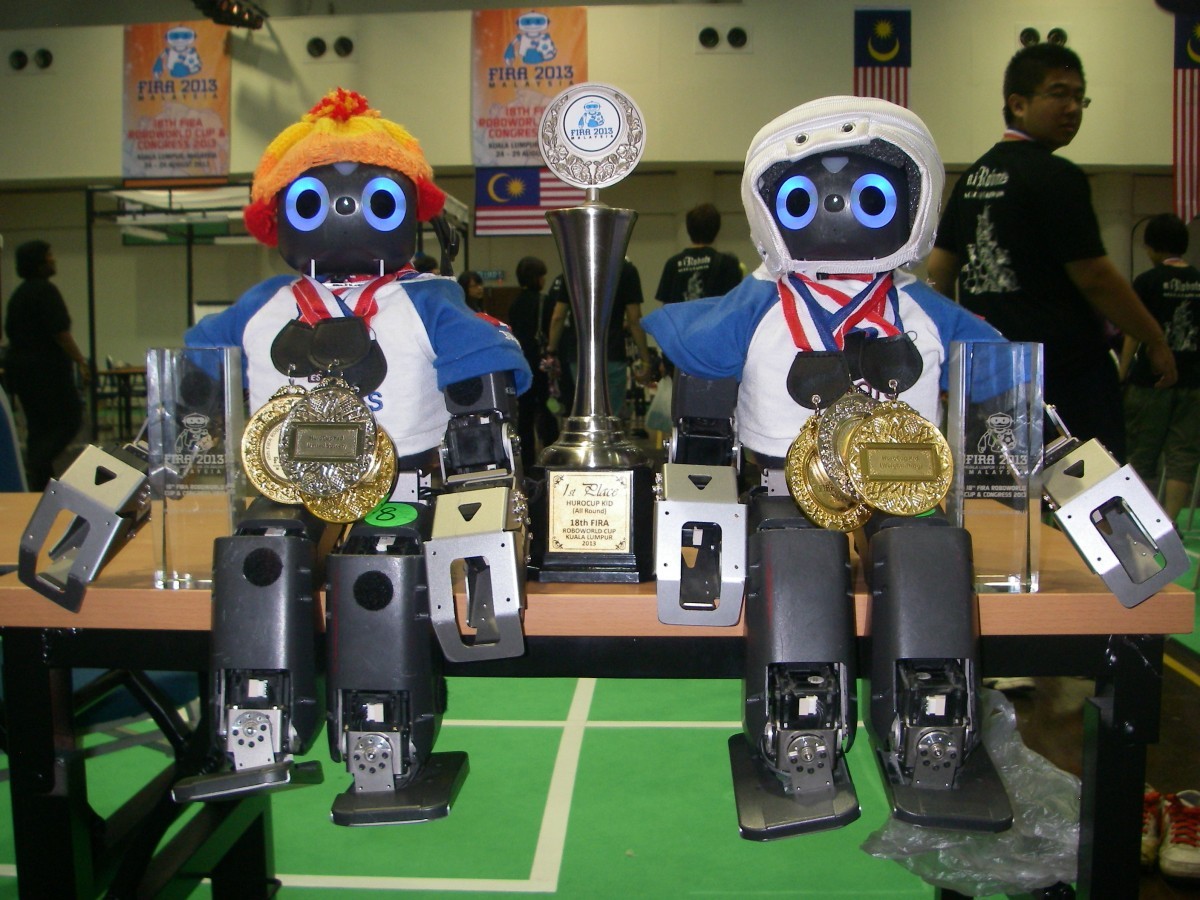 Smallest Bison athletes win big at robot competition
August 30, 2013 —
They're small in stature, but big on talent. Developed at the University of Manitoba, the Autonomous Agents Laboratory's robotics competition team — the SnoBots — has won the kid-size division of the 2013 FIRA HuroCup in Kuala Lumpur, Malaysia.
FIRA is the oldest robotics competition in the world, and the HuroCup is one of the most challenging competitions in existence: a single humanoid robot must compete in an octathalon that consists of a sprint, marathon, lift-and-carry, obstacle run, weight lifting, basketball free-throws, soccer penalty kicks and a climbing wall. These collectively challenge a robotics team in a broad range of skills central to humanoid motion, complex motion planning and human-robot interaction.
The University of Manitoba SnoBots, named Jimmy and Jeff, came in first place in wall climbing, first place in weightlifting, second in United Soccer (where the robot must join with other competitors to form a soccer team), fourth in sprinting and fifth in soccer penalty kicks. Based on the score across all events, the team won the highly-coveted all around event: the King's class at HuroCup.
John Anderson, head of computer science, says, "Doing well in one event is usually a tough goal when you have only two students going and many teams have a dozen, and the competition is the best in the world. But doing well enough across the board to win the entire event is an enormous achievement-we're overjoyed both with the performance and what it demonstrates about our core research."
The students traveling to Kuala Lumpur with their creation were Chris Iverach-Brereton and Josh Jung. Faculty who oversaw the robots' development and testing are the directors of the Autonomous Agents Lab, Anderson and Jacky Baltes (who also traveled to Kuala Lumpur). The robotics team also relied on many others who spent time over the course of the year creating the computer code for the Snobots' operation, including Diana Carrier, Tiago Martins Araujo, Geoff Nagy, Meng Cheng Lau and Andrew Winton.
For reporters and producers looking for experts and breaking news, follow us on Twitter: @UM_Now
For more information on the robots, contact Dr. John Anderson, head, computer science, University of Manitoba, at: 204-474-8839 or email: andersj [at] cs [dot] umanitoba [dot] ca