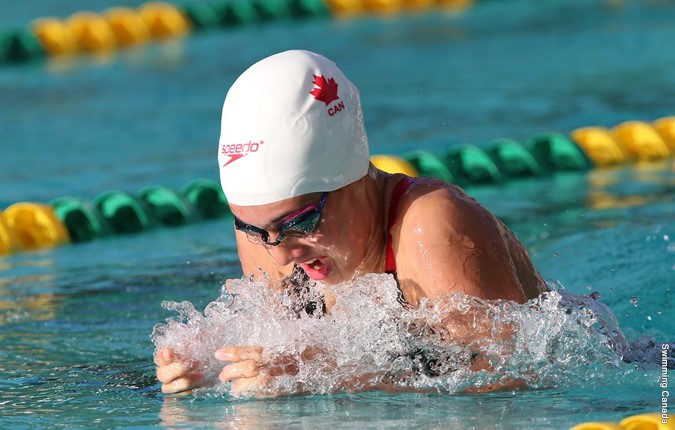 Silver swimmer
Bison Kelsey Wog has podium finish at the FINA World Swimming Championships
December 12, 2016 —
Bison Kelsey Wog is returning to Winnipeg with a silver medal from the FINA World Swimming Championships in Windsor, Ontario.
The 18-year old swimming phenom's time was a personal best and her fastest by almost three seconds. She was seeded tenth heading into heats for this event at the world championships.
"I definitely wasn't expecting the medal", said Wog. "It was great to win in front of a Canadian crowd with hometown fans supporting us."
Wog was also part of Team Canada women's 4x50m medley relay team that swam to a fourth place finish on December 7. The team was .02 from a bronze medal and Wog swam the second leg.
She's flying back to Winnipeg this morning after the whirlwind week in Ontario. Though its back to classes and exams upon her return, Wog says she'll take time to reflect more on her accomplishments on the plane ride home.
"It hasn't really set in yet, and it's hard to believe I did it," said Wog. "I think the realization of what I accomplished will set in soon!"
Bison swim coach Vlastimil Cerny said Wog's performance is a fantastic introduction into senior national swimming.
"Kelsey prepared the whole week for her individual swim and still wrote two exams while at Windsor – a true student-athlete," said Cerny. "It was very impressive that she kept her composure and delivered on what she had trained for."