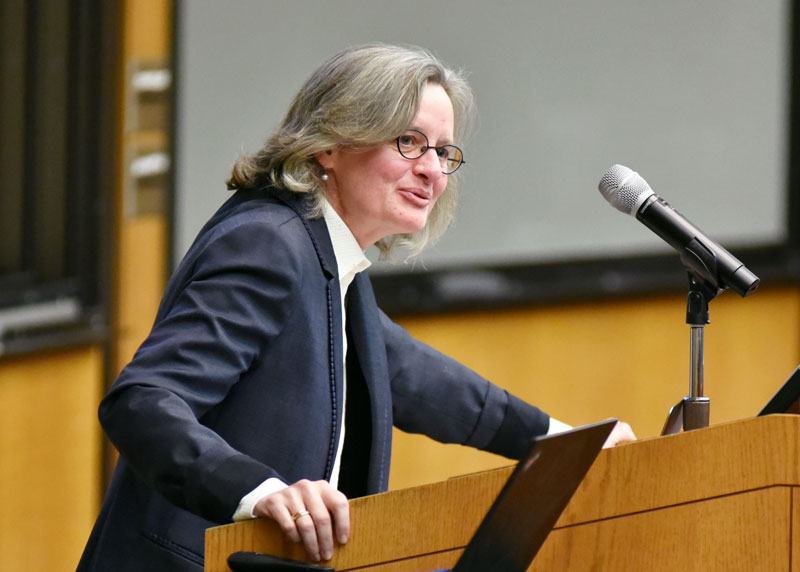 Sidney Warhaft Memorial Lecture: 'Calamities of Exposure: Shakespeare and the Natural History of Human Being'
January 13, 2020 —
The 43rd annual Sidney Warhaft Memorial Lecture will be given by Dr. Laurie Shannon, Franklyn Bliss Snyder Professor of English and Chair of the Department of English at Northwestern University. The Humanities lecture, that boasts Northrop Fry, Roberston Davies and Margaret Drabble as past presenters, is hosted by the Department of English, Theatre, Film & Media.
Shannon is widely known for two ground-breaking books on Renaissance Literature, Sovereign Amity: Figures of Friendship in Shakespearean Contexts (Chicago, 2002) and The Accommodated Animal: Cosmopolity in Shakespearean Locales (Chicago, 2013), which won the Elizabeth Dietz Memorial Award for Best Book in English Renaissance Literary Studies. She has authored a wide range of articles which have made important contributions to queer, eco-critical, and post/non-human approaches to English Renaissance Literature. She is currently working on monographs on Hamlet, the early-modern infinitesimal, and an edition of Of English Dogges.
Dr. Shannon's lecture, "Calamities of Exposure: Shakespeare and the Natural History of Human Being" is described as follows: How did Shakespeare consider the question of species when it comes to humankind? Shakespeare's sense of human being drew on classical natural history, a comparative tradition sometimes in tension with more familiar theological and philosophical perspectives. From this vantage, humans are no "paragon of animals." Instead, Shakespeare poses a drama of weather on skin — a kind of inverted, pre-modern climate crisis — to offer a more vulnerable picture in which humans are uniquely at risk.
Friday, January 17, 2020
Room 118 St John's College
7:30 pm – Lecture
9:00 pm – Reception
Free and open to the public
Support provided by the Office of the President Distinguished Visiting Lecturer Program, the Faculty of Arts Dean's Office, the Department of English, Theatre, Film & Media and the Institute for the Humanities.
About Sidney Warhaft
As a memorial tribute to alumnus and former Professor Sidney Warhaft, [B.A. (Hons)/49], M.A., Ph.D., an annual lecture presented by the Department of English, Theatre, Film & Media at the University of Manitoba was established and has brought in a scholar of distinction each year since 1977. Professor Warhaft's insistence on high standards in the study of English Literature and his diligence in university affairs earned him the respect and affection of his colleagues. In addition, Warhaft's family, colleagues, students and friends established a graduate student award, the Professor Sidney Warhaft Memorial Award, available annually for the best thesis submitted by a student graduating M.A. in English.