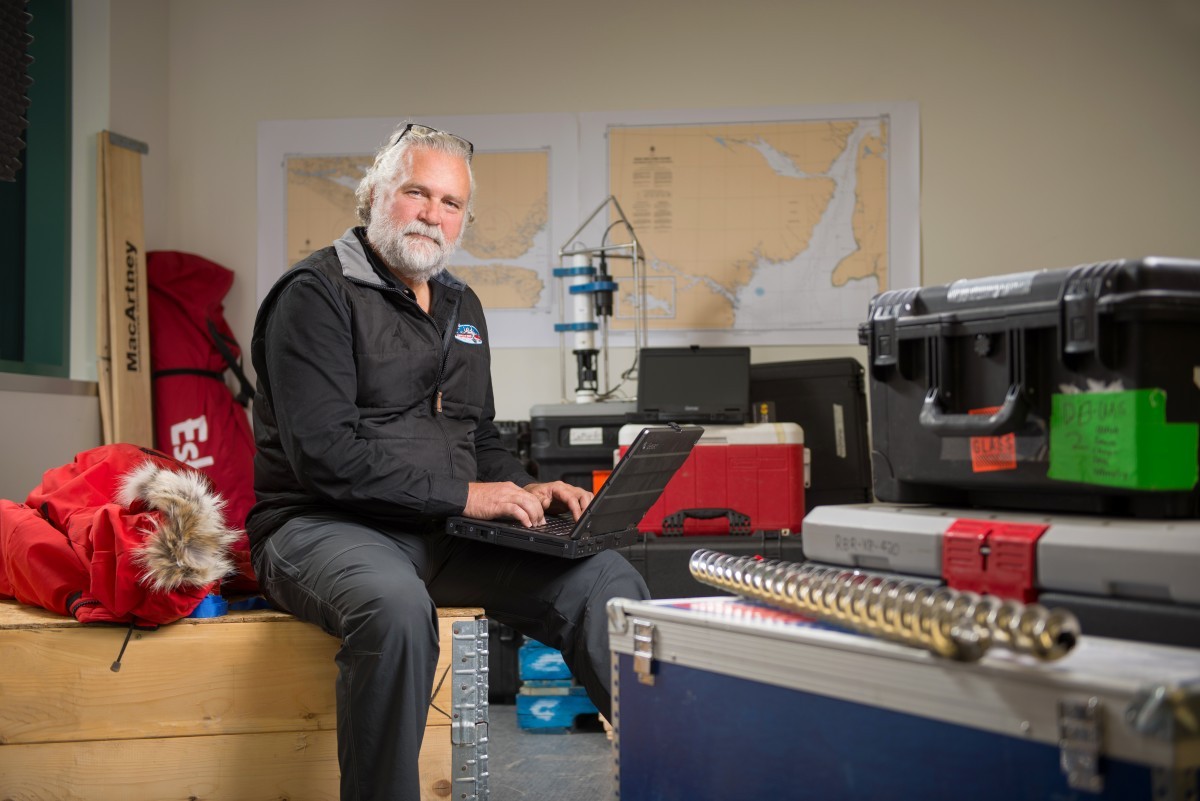 Seven surprising results from shrinking sea ice and other research excellence
Winnipeg Rh Institute Foundation Awards and Lecture takes place on April 7
April 7, 2016 —
Dr. David Barber will share his research on the warming of our climate and surprising new findings about the Arctic sea ice at the Winnipeg Rh Institute Foundation awards ceremony, lecture and reception on Thursday, April 7.
Barber is the 2015 recipient of the Dr. John M. Bowman Memorial Winnipeg Rh Institute Foundation Award. Established in 1997, this award is given to an established University of Manitoba faculty member in recognition of outstanding research accomplishments.
Barber's lecture, "On Thin Ice: Seven surprising results from shrinking sea ice," will take place at 7 p.m. in the Robert B. Schultz Lecture Theatre, St. John's College, 92 Dysart Road.
All are welcome and admission is free. A reception celebrating all 2015 Rh award winners will follow the lecture.
2015 Rh AWARDS
The Rh Awards were established in 1973 by the Winnipeg Rh Institute, now the Winnipeg Rh Institute Foundation, from funds set aside from the sale and production of medical formulae. These honours are given to academic staff members who are in the early stages of their careers and who display exceptional innovation, leadership and promise in their respective fields.
Past winners have become internationally-known researchers, so this recognition of early success bodes well for our latest recipients. Each winner receives $12,000 toward their research program. Typically, one award is given in each of the following areas: applied sciences, creative works, health sciences, humanities, interdisciplinary studies, natural sciences and social sciences.
APPLIED SCIENCES
Mohamed T. Bassuoni (civil engineering) is a cementitious materials expert whose research focuses on the durability and sustainability of civil infrastructure. He has applied his research to improve the repair and cold weather construction of concrete infrastructure and masonry assemblies, as well as improving their resistance to chemical and physical attacks such as those caused by harsh environments and aggressive chemicals. His research work has been implemented in Manitoba by both government and industry and is helping advance the field by reducing the life cycle cost of civil infrastructure through the use of innovative cementitious systems incorporating nanoparticles.
HEALTH SCIENCES
Genevieve Thompson (nursing) focuses on the key issues and challenges in delivering quality care to older adults living in long-term care facilities. Her current research seeks to improve the care experiences of families and older adults living and dying with dementia in long-term care. Her research has resulted in the development of a model of expert nursing and health care aid practice in dementia palliative care and the development of a new relationship-centred model
to provide dignity-supporting care.
HEALTH SCIENCES
Kelly Russell (pediatrics and child health/Children's Hospital Research Institute of Manitoba) is a leader in the field of sport injury epidemiology. Her researchfocus is identifying risk factors for sport injuries among children and the prevention of injuries through protective equipment use and improving the sports-related built environment. She is also interested in the prevention of concussion and evidence-based management of concussion to improve physical and psycho-social outcomes in concussed youth.
HUMANITIES
Umut Özsu (law) adopts an interdisciplinary approach to legal research, drawing from historical sociology, economic history, and critical social theory in addition to positive legal materials. He has studied the history of population movement to shed light on contemporary issues such as the mass displacement of Syrian refugees. He is currently examining the implications of post-Second World War decolonization for international treaty law, international economic law, and international environmental law.
INTERDISCIPLINARY
Joyce Slater (human nutritional sciences) tackles pressing issues related to population health: factors affecting food and nutrition security, including the study of nutrition vulnerability in marginalized populations, and the role of food literacy in health and well-being. She holds the professional designation of Registered Dietitian whose research extends beyond her field to the formation of partnerships with other disciplines and community based organizations to support their efforts to promote access to healthy eating.
NATURAL SCIENCES
Mark Belmonte (biological sciences) uses fundamental discoveries in plant biology to drive innovation and the development of marketable products in the agriculture industry. His research focuses on the development and protection of canola using cutting-edge molecular biology tools. The new technologies developed by Belmonte will help sustain the agricultural environment and promote the development of crops able to produce better quality seeds or plants that can withstand pathogenic attack, thus promoting food security.
SOCIAL SCIENCES
Donn Short (law) conducts empirical research concerning the regulation of high schools as particular social spaces in connection with the bullying of queer students or those perceived to be. Through a legal pluralist frame, he considers how formal state-issued law interacts with other normative but informal influences present in schools in predicting responses to anti-bullying law and policies. His research methods elevate the largely unheard voices of those impacted by bullying and/or those charged with addressing it.
Research at the University of Manitoba is partially supported by funding from the Government of Canada Research Support Fund.