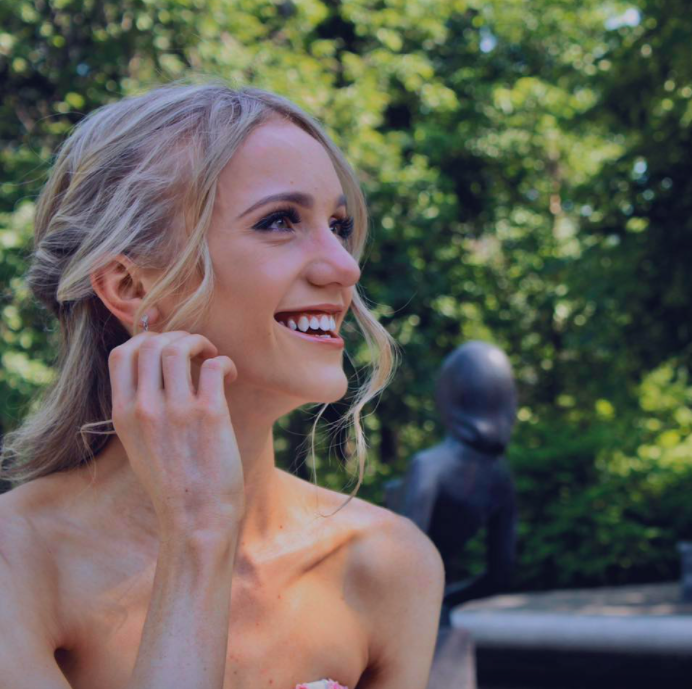 There is nothing that Selene Sharpe can't do
From running to singing to acting to studying, Selene Sharpe is a marvel, and a real Renaissance woman.
June 28, 2021 —
She can do anything she puts her mind to.
This is a phrase that, for most people, is usually followed up by a comment about the person's lack of drive, or how they need to work harder.
But when it comes to 2021 Desautels Faculty of Music graduate Selene Sharpe…She can do anything she puts her mind to, and then she just accomplishes it all.
High school as a gateway to music
Although she always loved to sing, Sharpe didn't consider pursuing a university education in music until high school, when she studied with Kim Brown at Ecole Kelvin High School.
"I was especially inspired by those involved in Kelvin's musical, and I really looked up to and admired some of the older students who talked about pursuing a music degree," she says.
A few short years later, after a successful audition, Sharpe found herself joining some of those peers in the Desautels Faculty of Music. However, long before she arrived in the faculty, she was already making waves in the Winnipeg music scene, having won the Winnipeg Music Festival's 2015 W.H. Anderson Memorial Trophy, awarded for the most outstanding performance in a competition of vocalists, 16 years of age and under.
Desautels faculty members were well aware of Sharpe before she even thought about joining the faculty.
"I first met Selene when she was still a high school student singing with the WSO [Winnipeg Symphony Orchestra] in one of their spring concert events celebrating the musicians of the future," says Desautels Professor of Voice Mel Braun of the first time he saw Sharpe perform.
"At that time she struck me as a most elegant and poised musician, and she has continued to build on those strengths during the last four years at the Desautels Faculty of Music," Braun says.
In the faculty
Upon her entry into the DFOM, the soprano immediately threw herself into her studies, both academically and in performance. Her audition for the faculty, as well as her outside musical pursuits, earned Sharpe multiple scholarships and financial awards, including the Don Wright Entrance Scholarship, the Marcels A. Desautels Faculty of Music Scholarship, the Margaret H. Tyler Award in Music, the Winnipeg Music Festival Award, the Reg and Anne Hugo Memorial Fund, the Patricia Ruth Rogers Music Award, and the Tier-2 UM Guertin Centennial Entrance Scholarship.
Sharpe also made an early splash in the DFOM, being awarded the part of Sally in the University of Manitoba Musical Theatre Ensemble's production of scenes from You're a Good Man, Charlie Brown, in only her second year in the faculty, a starring role that she made her own with humor and presence. The role also presented Sharpe with her favourite piece learned during her time in the Desautels Faculty of Music, "My New Philosophy."
Multitasking
Sharpe, who also performed with the Women's Choir, the University Singers, and the Opera Theatre Ensemble during her time in the DFOM, has never met a challenge she didn't completely embrace and then conquer. While training for her demanding role as Sally, Sharpe was also training for an entirely different venture: the Manitoba Marathon.
Training for a marathon is a massive task, requiring perseverance, hard work, talent, and dedication. Marathoners train for years to reach elite levels. Apparently, nobody told Selene Sharpe that.
In what was only her second marathon ever, Sharpe put forward an incredible performance, and won the 2019 Manitoba Marathon.
"[In 2018] I used an online training plan for beginner marathon runners," said Sharpe at the time, regarding her training schedule for her first marathon, the 2018 Manitoba Marathon, at which she took home second place.
Faculty mentors
Sharpe is thankful for the mentors she has learned from on her path to graduation.
"My teacher Tracy Dahl has been the most wonderful mentor," says Sharpe.
"She is not only wealthy in knowledge and talent, but she is also incredibly kind, and someone I trust and respect wholeheartedly. I always walk out of our lessons having learned something new, and feeling better than how I felt walking in," Sharpe says of her work with Canada's leading coloratura soprano and an voice instructor in the Desautels Faculty of Music.
"She has played a huge role in my growth as a singer, performer, and young woman over the past 4 years," Sharpe adds.
Dahl has been impressed by Sharpe, as well.
"I have known Selene for many years, not just in her time here in the Desautels Faculty of Music," says Dahl.
"She has always been a high achiever and sets the bar high for herself. As many on campus and the city may remember when she sets a goal she attains them – winning the Manitoba Marathon women's entry at the age of 19," Dahl says of Sharpe's work ethic.
"Selene is always well prepared, receptive to new ideas and embracing new repertoire for singing. Knowing that Selene was going to be coming into the studio for her lesson on a day I knew my day would be better," says Dahl.
"She was always interested in participating in the events that happened on and off campus too – singing in the Bernstein German Lieder competition every year, the Winnipeg Music festival, MRMTA [Manitoba Registered Music Teachers Association] and provincial music festival," Dahl says, listing some of the many performances Sharpe has given outside of the faculty.
Dahl notes that Sharpe was always game for trying new techniques and methods to improve.
"It's almost too hard to pick a highlight but here are two: in the musical theatre evening when she sang Sally from Charlie Brown. I liked brassy Sally and referred to her energy often. I also remember us trying to get the 'sprinter' energy by having her run down the halls at the school and come back to the room and sing," says Dahl.
I would like to thank Tracy Dahl, Mel Braun, Monica Huisman, Donna Fletcher, Katherine Twaddle, Elroy Friesen, Laura Loewen and all of the amazing professors who have taught me along the way. You have brought my love for music to new heights and have made me feel supported and valued every step of the way. I am so fortunate to have learned from all of you, and I cannot thank you enough.
Voice Area Head Mel Braun, Opera Studies Coordinator Katherine Twaddle, and opera instructor Monica Huisman have high praise for Sharpe.
"Selene is such a sensitive musician and a generous colleague. She sings with grace and a real affection for her repertoire," says Opera Studies Coordinator Katherine Twaddle.
"Whether singing in Masterclass, Oratorio Seminar, or one of the Ensemble performances, the beauty of her voice, her musicality, and her generosity of spirit always shine through," agrees Braun.
"Besides all that, she's one heck of a runner. The world has much to look forward to as Selene makes her way into the future," Braun adds.
Selene is such an impressive young woman and artist," echoes Huisman.
"I will never forget our time when we travelled to Holland together with Women's Chorus, and she let me teach her everything about Dutch food and culture! It was a treat getting to know her out of school, and share all of those wonderful performances together. That was such a special time and memory, especially now that we can't go anywhere!" says Huisman of the Choral Ensembles' tour of Europe.
Beyond the stage
In addition to her outstanding performance skills, both on stage and on a marathon route, Sharpe has excelled in the classroom during her time in the DFOM. In fact, she received the faculty's gold medal for the Bachelor of Music – General program, which is awarded to the graduating individual in the general program who achieves the highest academic marks!
As Sharpe prepared to leave the faculty, she decided to bookend her musical academic career with another Winnipeg Music Festival entry. And of course, she walked away with a prize!
"I was very proud to receive the Myrna Lou (Mickey Rourke) McGregor Memorial Scholarship this year at the 2021 Winnipeg Music Festival," she says of the competition that also served as one of her final performances as a music student.
"This award felt very special because it is awarded to a singer who has a passion for music, and sharing music will always be something that I truly love to do," Sharpe adds.
Final Jury
In the 2019-2020 academic year, COVID-19 forced the cancellation of about 40 student credit recitals and juries, which serve as a sort of capstone project showcasing what students have learned at various points in their university studies.
Fortunately, thanks to the creativity and dedication of faculty members and administrators, the Desautels Faculty of Music was able to ensure that students' final credit recitals and juries could resume in the 2020-2021 year, with invited audiences able to watch students perform via Zoom, instead of in person.
For her final jury, Sharpe chose to perform Jake Heggie's "Bedtime Story," Mozart's "Zeffiretti Lusinghieri," Debussy's "Romance," Brahms' "Die Mainacht," and "It's an Art," from Stephen Schwartz' Working the Musical, which documents the lives of workers as they get ready for their days.
Up next
So what does Sharpe hope to do with her days now that she's completed her degree? As she looks back on the past four years, she is also preparing for the future.
"The past few years have been so incredible because I was able to combine my love for music with my love for running," says Sharpe.
"I firmly believe that these two passions of mine will stay with me forever. No matter where I end up, I know that my life will be enriched with music and sport," she says.
If Sharpe continues to perform in musicals, she might be able to multitask with a re-imagining of Billy Flynn, the savvy lawyer in Chicago, albeit more ethically!
"I have written my LSAT, and hope to study law at Robson Hall," Sharpe says of her plans for the immediate future.
We feel bad for anyone who has to be cross-examined by Sharpe in the future. As with all other things she does, she will be VERY good at it!
"Selene is such a good sport, such a good athlete and such a good musician," says Dahl.
"She possesses a tender heart for music which always reaches those who hear her – always has and always will. Congratulations on your graduation all the best in your future endeavors!" says Dahl.
"I know she is destined for great things, because of the foundation she has built and the talent and drive she possesses. Congratulations Selene! The sky is the limit for you," Huisman adds.
We agree! Selene, congratulations! We will miss you, and we can't wait to see what you do next!