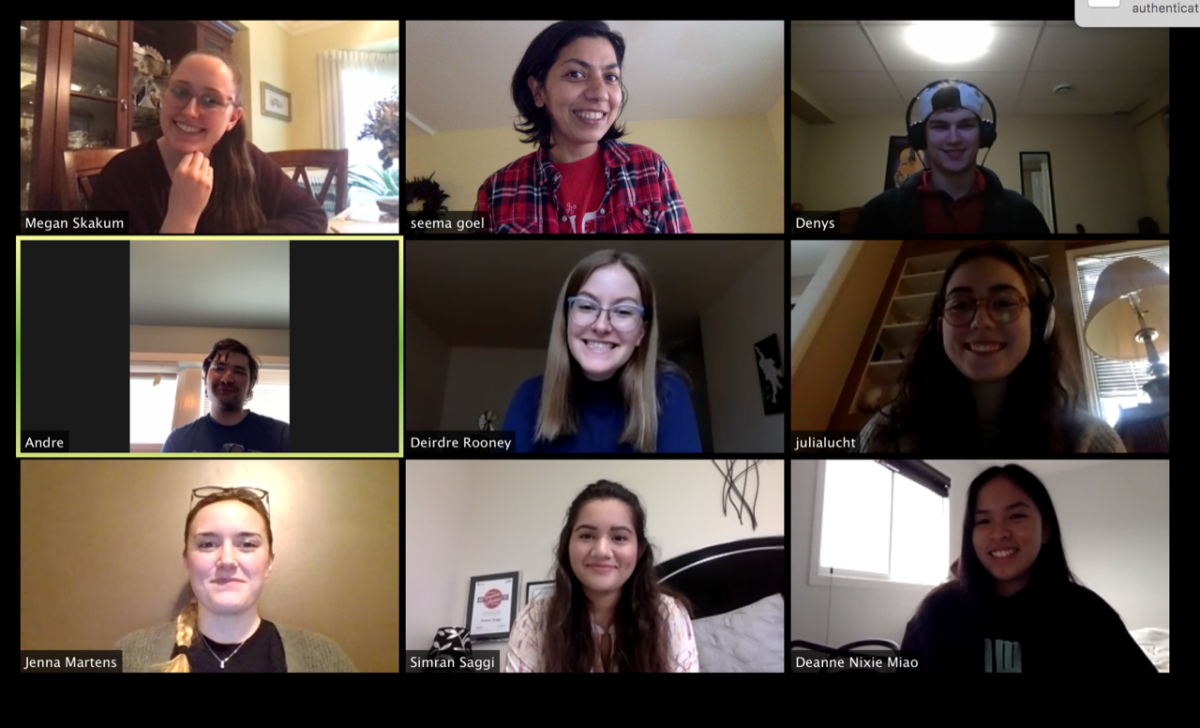 Science Rendezvous cancelled but UM student volunteers keep their heads up – science outreach continues
Over 132 science activity packages sent out to schools across Manitoba.
May 8, 2020 —
The news that Science Rendezvous was cancelled this year due to Covid-19 came as a shock to many.
At this time last year, over 800 university students from across the UM campus, part of the UM STEAM group, (Science, Technology, Engineering, Art and Math), were eagerly planning the largest public science and engineering outreach event to ever to be held at the University of Manitoba.
Last year, Science Rendezvous attracted over 2500 children to the Discover Days, the public school days component, and over 5000 on the Saturday public family day.
This year, planning had already begun as of Fall 2019, and so the cancellation left many student volunteers incredibly disappointed.
"Over the years, this event has brought me so much joy; working closely with my fellow volunteers, and watching all of the participants who attend having so much fun. I remember one year, a group of young students from the third grade thanked me for the day, and added that they couldn't wait to come to university. It made me tear up", explains Meghan Skakum, student organizing co-chair.
But when you are given lemons, you make lemonade.
Determined not to let a global pandemic completely prevent them from reaching the estimated 132 elementary schools projected to attend Discover Days, the UM student group began brainstorming possible alternatives.
Despite a few bumps in the road planning, it was full STEAM ahead! They created school packages focused on spring and the senses. The packages explore seasonal changes through a series of games, activities, and citizen science opportunities. Bird migration, window strikes, changes in nature, and observing animals right in their own neighbourhoods feature as significant activities.
After many hours of planning, coordinating, and translating the packages into English and French, while studying for final exams; they succeeded, and out went the packages to schools all over Manitoba.
"Being able to help develop these outreach packages is something I am incredibly grateful for as I know it will reach many kids and put a smile on their face," says Julia Lucht, student volunteer organizer and co-chair.

"It is unfortunate that Science Rendezvous did not happen. However, our passion to share and showcase research, innovations, and the art of science couldn't be stopped, explains Deanne Nixie Miao, Discover Days team.
Indeed, the team's energy is unstoppable. In addition to the school packages, the team launched a virtual flash mob on May 8, 2020, in celebration, dancing to the song Keep Your Head Up, by Andy Grammer, on the UM Faculty of Science YouTube site.
"Science Rendezvous is an experience that reminds everyone of their remarkable potential and shows us all that we can achieve anything," explains Seema Goel, STEAM Coordinator.
Their joy for science, the fun they have with each other, is truly infectious; without which, Science Rendezvous and Discover Days would certainly not be possible or as popular an event as it has turned out to be.
While Science Rendezvous is cancelled, you can access the entire activity package online at (https://www.mbbirdsecure.com). A website made by fellow students of the course SCI 2000. The timing of the launch of the site is perfect, as it coincides with World Migratory Bird Day, on May 9 and features a wealth of information on birds, nature, and conservation activities to explore, so go ahead and STEAM Big!