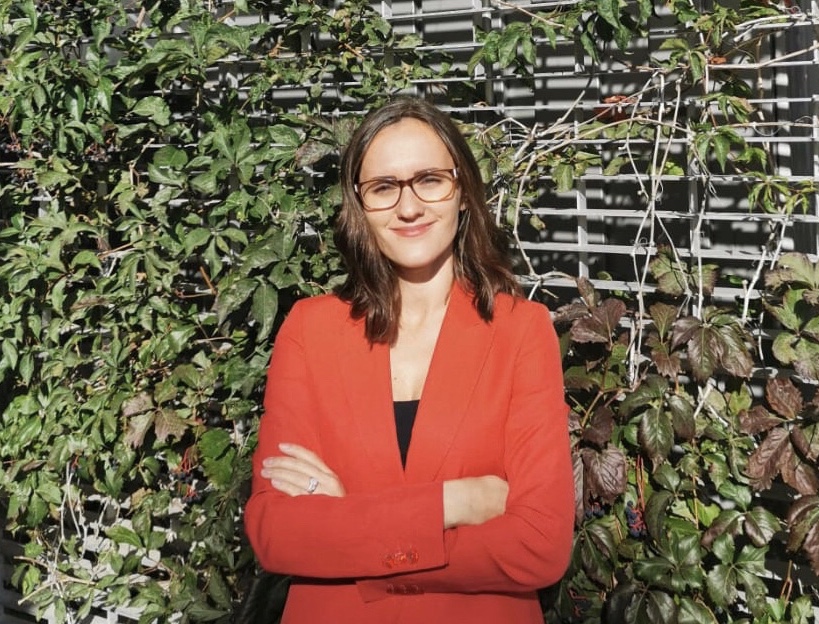 Science and business collaboration helps Masters student launch skincare product
December 20, 2019 —
Master of Science graduate and current Asper MBA student, Olga Francisco [MSc/14], will be kicking off the decade in a big way. Thanks to a research and development (R&D) collaboration with the Faculty of Science and the Stu Clark Centre for Entrepreneurship, Francisco will soon see her company's first product, Illumina serum, on the shelves of the Southdale Red River Co-op store.
Inspired by seven sacred teachings of First Nations Peoples, Francisco says her company's name Sabe, means honesty and staying true to yourself. As a serum moisturizer, Illumina is formulated using the highest possible concentration of the hyaluronic acid, a compound known for promoting healthier skin with antibacterial properties to support faster wound healing.
Francisco says the serum can be used before moisturizing on any part of the body and is fragrance free, for people with sensitive skin. Additionally, due to the high levels of hyaluronic acid, the serum is highly viscous, reducing the amount you need to use during each application.
Francisco's company idea started as a collaborative R&D effort in May 2019 with Dr. Gregg Tomy, Director, Centre for Oil and Gas Research and Development and Associate Professor in the University of Manitoba Chemistry Department. The pair focused on testing ingredients backed by scientific evidence, which have a long history of usage and no side effects. Francisco and Tomy selected hyaluronic acid as the main ingredient in the serum formulation.
"Our goal was to formulate a product that would be naturally pure, effective and simple – with no endless lists of unknown chemicals," says Francisco.
Francisco was born and raised in Russia, where she received her chemical engineering degree. She moved to Canada 10 years ago to study English and has called it home ever since. Francisco received her Master of Science in Chemistry from the U of M in 2014, where she then worked in different capacities from research technician to laboratory manager in the chemistry department, in addition to publishing numerous scientific papers in peer-reviewed international journals.
In 2018, Francisco became a mother and while on maternity leave, had time to reflect on her career plans and goals and decided to pursue her MBA at the Asper School of Business.

While at an Asper MBA networking event this fall, Francisco learned about the Stu Clark Centre for Entrepreneurship, and the Centre's support system for students from all faculties who have an idea and would like to start a business. Francisco already had her product formulated and tested, but sought professional advice on how to market it.
Francisco made her first appointment with the Stu Clark Centre's Venture Coach, Joshua Zaporzan, in September 2019 and has met with him on a regular basis ever since.
"At the Stu Clark Centre for Entrepreneurship we hope to spark the entrepreneurial spirit in students regardless of their faculty of study, and help them realize that entrepreneurship is a viable career path too," says Debra Jonasson-Young, Director, Stu Clark Centre for Entrepreneurship. "Joshua helped Olga demystify how to move forward with her product and we are very excited for her with the Southdale Co-op agreement. It is inspiring to see students walk through our doors with ideas they are passionate about, and very satisfying when students have success such as Olga."
Students who connect with the Stu Clark Centre for Entrepreneurship receive feedback in idea vetting, feasibility studies, financial modelling, capital raising, capital structuring, market research, cash flow projections, or to simply bounce ideas around with another entrepreneur.
"Josh gave me a lot of valuable advice on how to move forward with the business and provided guidance on the strategic marketing planning. I am very grateful for that," says Francisco.
Zaporzan was also able to provide Francisco with connections to Red River Co-op. The coach introduced Francisco to Paige Zaporzan, Health and Wellness Advisor at Red River Co-op, who met with her to test the product. Upon testing, the advisor thought it would be a great addition to their wellness section at the store.
"I really wanted to get it into the local stores. Co-op is a great place for this as they also support local businesses but they didn't have skin care in their list of local businesses so that was a great opportunity to add this product to their mix of local products. It was the right place at the right time," Francisco notes.
"We are very excited to carry Olga's product at our Red River Co-op Southdale store", says Zaporzan, "Olga's serum is a perfect fit for our health and wellness section. We love that her product is made locally here in Winnipeg and how naturally pure her product is."
Francisco's serum, Illumina, will be on shelves at the Southdale Co-op location in early 2020. Every dollar from purchasing the product will be donated towards an organization called You Can't Spoil a Baby, which helps expectant Manitoban families in need by accepting donations of once-loved baby items and making beautiful baby gifts.