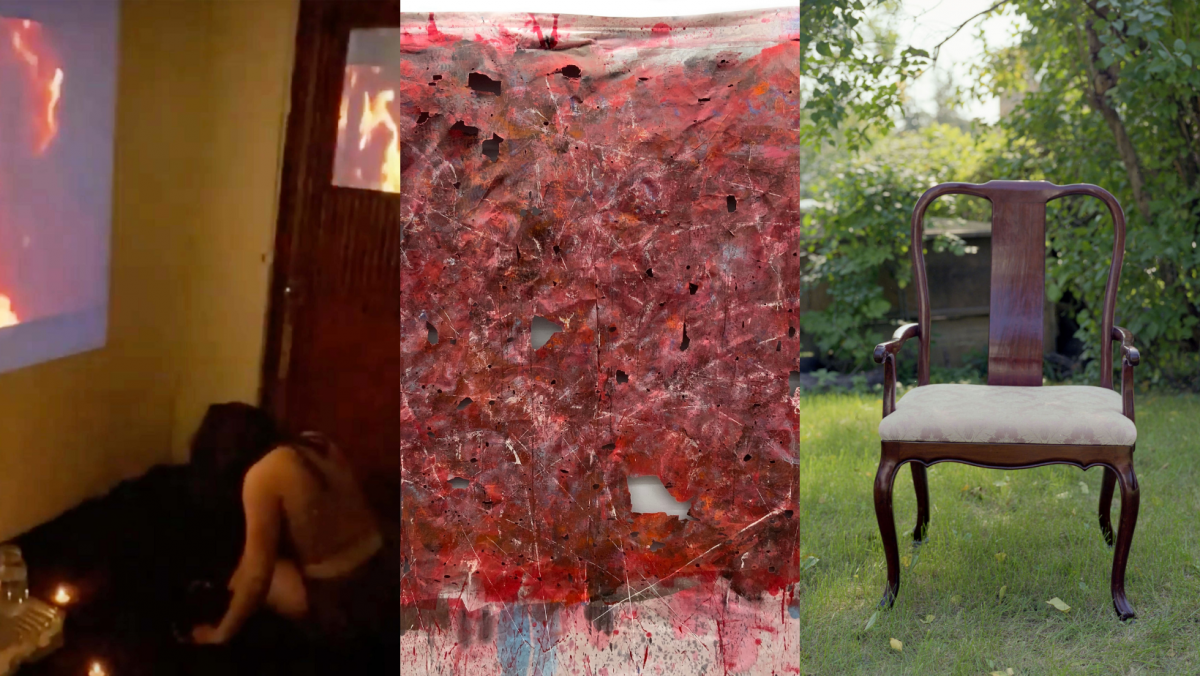 School of Art Student Gallery opens Home: CONSTRUCTIONS, INQUIRIES, EMBODIMENTS
March 23, 2022 —
Opening in the School of Art Student Gallery:
Home: CONSTRUCTIONS, INQUIRIES, EMBODIMENTS
Skye Callow
Scotland Cook
Daisy Wu
March 23­–March 30, 2022
10:00 a.m.–4:30 p.m. (Monday–Friday)
158H Taché Arts Complex, University of Manitoba
Home: CONSTRUCTIONS, INQUIRIES, EMBODIMENTS is a group exhibition in which each artist explores their own interpretations and understandings of home. The exhibition features abstract painting, photography, sculpture, performance, and video. It is a group show from the artists Daisy Wu, Skye Callow, and Scotland Cook. The works investigate how the concept of home has radically different interpretations and manifestations.
By seeing through the lens of multiple artists from a diverse set of backgrounds, the concept of home is shown to be deeply personal and resistant to concrete definition. The materiality and the significance of our isolated worlds are confronted through the works, and the private meanings of intimate space are explored. Through the walls themselves, in the cultural, social hierarchies that exist within the family unit, and through the possibilities for transformative ritualistic space, the nuances of what we call home begin to be revealed.
About the artists
Skye Callow
I am an interdisciplinary artist that primarily works in installation, lens-based media, sound, and performance. I'm concerned with phenomenological and corporeal experiences relative to the earth. I create opportunities for the reconsideration of our interdependent relationships with the world. My work questions the way in which our sensory experiences inform our understanding of ecology, our personal relationships to land and place, and our understanding of self. My practice explores how we can shift the ways in which we relate to our natural, spiritual, and physical environments. My work is theoretically rooted. Through the use of natural materials and representations of the earth's elements, my works raise ecological and spiritual concerns. More recently, I've been interested in the integration of new technologies with both natural and synthetic materials and how the relationship between these can provide insight into the possibilities of our collective future.
My approach is both poetic and ethereal, and I intend a meditative experiential quality in my work. I'm inspired by my own relationships with and experiences of the earth. My work is heavily informed by my continual and persistent cycling and walking practices.
Scotland Cook
Completion, questioning of platonic truth, a fractured sense of self. These are the core concepts that I explore in my practice.
Stemming from an interest in the emotional power that is experienced while viewing abstract expressionist painting, my work is heavily referential to that style as well as that foundational era of modernism/postmodernism. I strive to capture a similar feeling of awe that exists within post-war abstraction in my work while also channelling my artistic energy into the realm of sculpture and installation. As well as questioning concepts of completeness, artistic finish and of monolithic truth, aesthetically, my works reflect the degraded and neglected condition of the city around me. I often work off of found materials such as street signs, discarded pieces of plywood or bed sheets. Via a ritualistic process of wearing down the objects' painted and collaged surface, I uncover sections of the substrate, exposing what is usually hidden from the viewer.
In art, as well as within individuals, there is an expected level of finish and consistency. In an effort to express myself as authentically as possible, I reject many of the norms associated with a so-called finished painting. Actions such as refusing to cover the entire substrate with material, the use of non-standard supports as well as novel forms of installation push my work past what are the expected norms for painting. When I make my art, I try not to have specific intentions, I find that the more I push towards a finite outcome, my work becomes less interesting and meaningful. Through my process I play, I explore and eventually discover the finished artwork.
Daisy Wu
I am a photo-based emerging artist. My works involve topics of domestic life and space, immigration, and contemporary feminism. I mainly create photographic practice. I also use photographs as a reference for paintings. My work is rooted in my personal experiences and cultural identity as an immigrant in Canada. I am mostly interested in domestic life that surrounds issues of feminism.
My primary work is photographic and painterly practices. I use analogue and digital photographic mediums. I use painting materials and analogue methods to create photographs. Recently, I started to work with found objects in photographic installations.