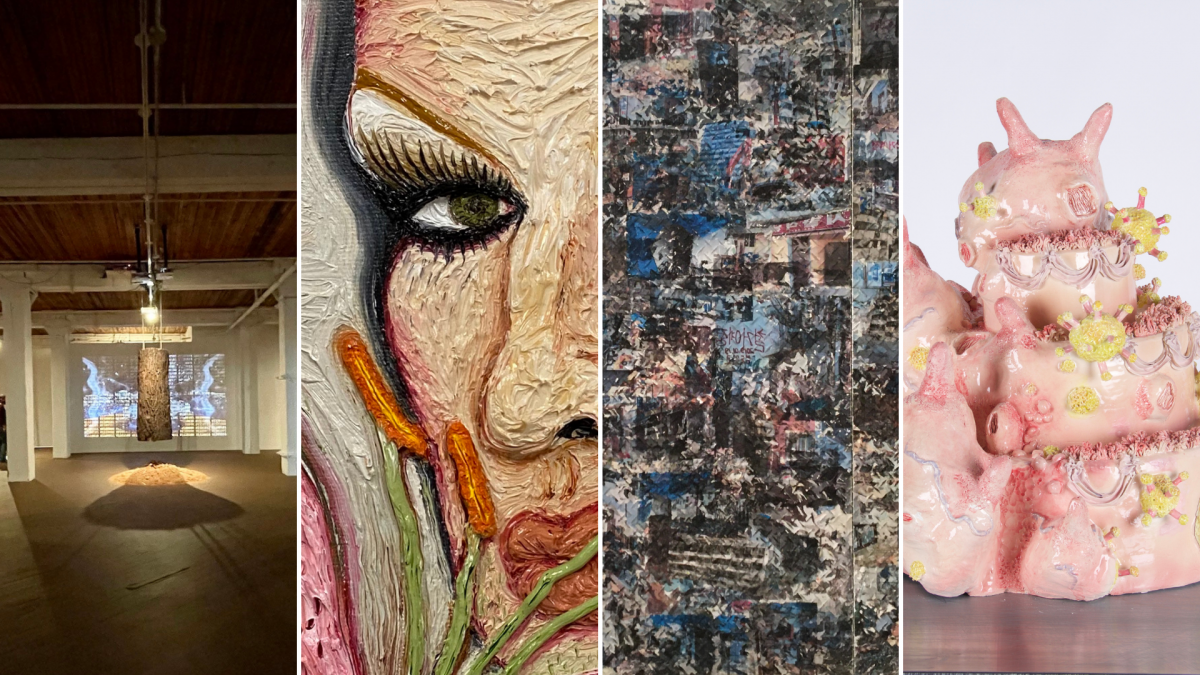 School of Art presents 2021 MFA Thesis Exhibitions and Oral Examinations
May 24, 2021 —
The School of Art and School of Art Gallery are pleased to present four thesis exhibitions and oral examinations by Master of Fine Art students Casey Koyczan, Mahsa Merci, Hye yeon Shin, Julianna Zwierciadlowska-Rhymer.
Exhibitions
Mahsa Merci: Dichotomy as a mirror
Hye yeon Shin: Isolated Island: 고립된 섬
Julianna Zwierciadlowska-Rhymer: Table Manners
May 30 to June 25, 2021
School of Art Gallery, University of Manitoba
Note: To help prevent the spread of COVID-19, the School of Art Gallery is temporarily closed to the public. Please contact us for further viewing and appointment information.
Offsite Exhibition
Casey Koyczan: Ełexiìtǫ ; Ehts'ǫǫ̀ / Connected ; Apart From Each Other
April 30 to May 29, 2021
Urban Shaman Contemporary Aboriginal Art Gallery
Virtual Oral Examinations
The public is welcome to attend the students' virtual oral examinations facilitated on Zoom.
Casey Koyczan, Thursday, May 27, 2021, 10:00 a.m. CDT.
Mahsa Merci, Tuesday, June 8, 2021, 10:00 a.m. CDT.
Hye yeon Shin, Wednesday, June 9, 2021, 10:00 a.m. CDT.
Julianna Zwierciadlowska-Rhymer, Thursday, June 10, 2021, 10:00 a.m. CDT.
Please register in advance, as a private Zoom link will be provided before the event.
_______
Culture, technology and the environment are intrinsically linked within the evolution of our society. We live day to day practicing the teachings of our ancestors, while at the same time coexisting with the technological advances that are consistently developed every year. We have adapted to the use of these resources in order to develop a better understanding of where we come from, who we are, and what we will be in the future.
Casey Koyczan is a Tlicho Dene interdisciplinary artist from Yellowknife, NT, that works with various mediums to communicate how culture and technology coincide together alongside the political, economic, and environmental challenges in the world. A portion of his large scale installation work utilizes earth materials to evoke the idea of nature reclaiming architectural space. Inspired by sci-fi and the future, Koyczan implements various techniques of interactivity, audio-video, VR/360/XR, and the engagement of the bodily senses within his creations.
He is an international artist that has participated in many residencies, exhibits, festivals and collaborations in parts of the world such as Finland, Colombia, Chile, Mexico, The Netherlands, and the UK. He is also a musician, producer, filmmaker, actor, writer, teacher, workshop facilitator, graphic designer, web designer and advocate for future generations of artists and musicians.
He has a Multimedia Production diploma from Lethbridge College, a Bachelor of Fine Arts degree from Thompson Rivers University, and is in his final year of a Masters of Fine Arts degree at the University of Manitoba.
Mahsa Merci is an experimental artist who is seeking new forms of expression by using various mediums such as painting, sculpture, assemblage, and video. Her work reflects a focus on gender, sexuality, identity, and redefining the meaning of beauty. She aspires to raise awareness of the hidden facets people may carry within all aspects of their identities. Mahsa reimagines and reformulates the voice of the self to offer an articulate LGBTQIA+ language, despite roots and culture.
Mahsa, born in 1990 in Tehran, Iran, holds a Bachelor's degree in Graphic Design from Tehran University of Art and a Master of Painting from Azad University in Iran. Currently, she is enrolled in the Master of Fine Art program at the University of Manitoba, Canada. Mahsa Merci has exhibited her works in over fifty solo and group exhibitions in the United States, Italy, Belgium, United Arab Emirates, India, Cyprus, Canada, United Kingdom, and Iran. Her works are published in various magazines internationally, in Iran, the UK, United States, and Norway. In June, her works will be exhibited in The Other Art Fair in Los Angles, USA.
Hye Yeon Shin was born in 1981 in Seoul, South Korea. She received a bachelor's degree in psychology, a Bachelor of Fine Art (BFA), and a Master of Art (MA) from Ewha Womans University. She has presented three selected solo exhibitions in Korea and 35 group exhibitions internationally.
She is a visual artist who looks at the relationships between people and cities, particularly gentrification and redevelopment of residential areas around the globe. From the perspective of a foreigner living in an international community, she explores philosophical and conceptual thinking about a city through the creation of sculptures and installations made from discarded objects.
Hye Yeon's work contains stories about social issues affecting urban space and development as a result of globalization and late-stage capitalism. She has been tracing and mapping the individual and cultural psychological impacts of significant development events in Korea. Her core research interests have expanded to include the gentrification and redevelopment of residential areas across the world and the emotions evoked. In her sculpture and improvisatory installation work, she utilizes the contents of philosophical and conceptual thoughts that originated from her experiences and memories of over-development.
Julianna Zwierciadlowska-Rhymer: Table Manners
"My current body of work investigates our relationship to food, and more specifically our disassociation to the production of animal products and our disconnect to animals as food. My practice has been influenced by growing up on a farm in the rural prairies of Manitoba, travel, personal memories and family history. I use the abject to create unpleasant, uncomfortable and surreal pieces about our food consumption, causing a breakdown of borders between self and other. My work explores a side of consumption and excess most of us would prefer to ignore, hide away and pretend as though it doesn't exist."
Julianna is an emerging artist, born in Winnipeg and raised on the prairies of Southern Manitoba. She completed her first BFA at the University of Manitoba in Art History with honours. In May 2017, she received her second BFA from Emily Carr University of Art and Design in Visual Art. While attending Emily Carr, she had the opportunity to take part in an exchange program and study in Tallinn, Estonia at the Estonian Academy of Arts (EKA). Her works primarily focus in clay, but she also extends her practice to textiles and sculpture. Julianna is a current MFA student at the University of Manitoba.
____________
For more information contact:
Cailyn Harrison (she/her), Communications and Events Coordinator, Cailyn [dot] Harrison [at] umanitoba [dot] ca
Visit: umanitoba.ca/art/gallery
School of Art Gallery
255 ARTlab, 180 Dafoe Road
204.474.9367
umanitoba.ca/schools/art