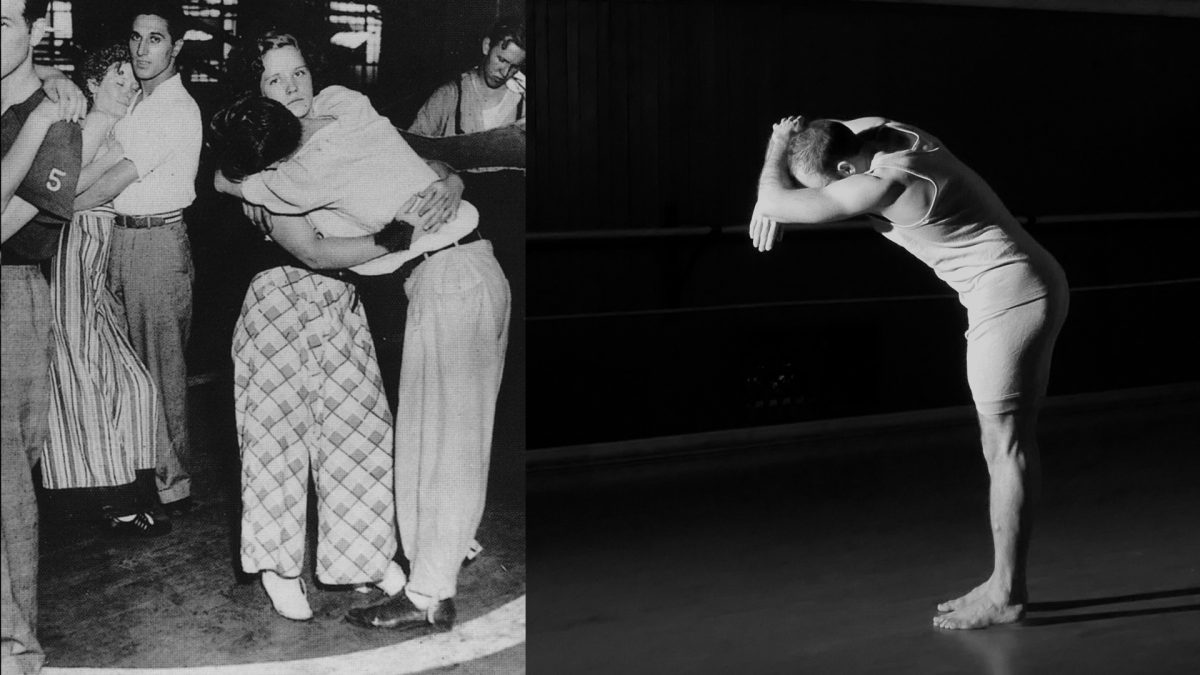 School of Art Gallery presents Jon Sasaki: A Rest
School of Art Gallery:
Curated by Blair Fornwald, Director/Curator
January 21 to March 13, 2021
*Please note that the School of Art Gallery is currently closed due to COVID-19. Contact the gallery and consult our COVID-19 protocols before planning your visit.
This split-screen video pairs archival images of Depression-era dance marathon competitors who have fallen asleep, or are resting in the arms of their partners with footage of solo contemporary dancer James Phillips, who attempts to hold the resting partner's poses without anyone to lean on. Phillips' body strains to hold these unsupported resting poses and finally collapses. Although Sasaki's work predates the COVID-19 pandemic, it accrues additional poignancy and meaning when viewed through the inevitable lens of the current health and economic crisis. As we collectively struggle to adapt to these ever-changing and extraordinary circumstances, and as so many of us ache for community and human contact, we might ask ourselves: who supports us? Who are we supporting? And how long can we keep going?
Jon Sasaki is a Toronto-based multidisciplinary artist who explores many concurrent streams of inquiry that often intertwine in surprising ways. Frequently charting territory between logic and absurdity, his practice brings performance, video, object and installation into a framework where expectation and outcome rarely align. His work has been exhibited throughout Canada and internationally. He is represented by Clint Roenisch Gallery in Toronto.
School of Art Gallery
255 ARTlab
180 Dafoe Road
Winnipeg MB R3T2N2
umanitoba.ca/schools/art/gallery
For more information, contact School of Art Media and Events Coordinator Cailyn Harrison, cailyn [dot] harrison [at] umanitoba [dot] ca.
The University of Manitoba campuses are located on original lands of Anishinaabeg, Cree, Oji-Cree, Dakota, and Dene peoples, and on the homeland of the Métis Nation.
We respect the Treaties that were made on these territories, we acknowledge the harms and mistakes of the past, and we dedicate ourselves to move forward in partnership with Indigenous communities in a spirit of reconciliation and collaboration.