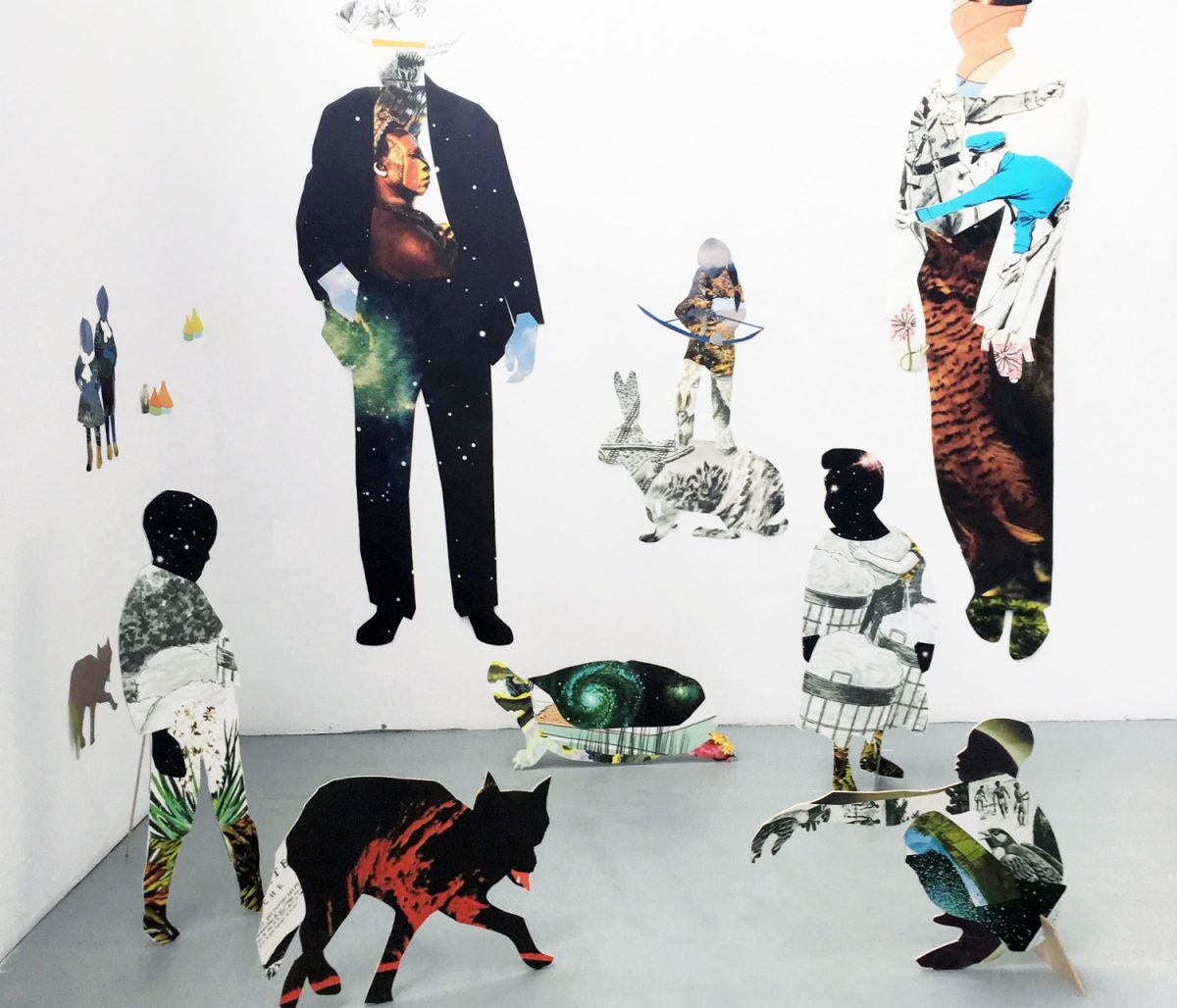 School of Art Gallery launches a new season of exhibitions and virtual events.
October 7, 2021 —
This Fall the School of Art Gallery, University of Manitoba launches a new season of exhibitions and virtual events.
Curated by Blair Fornwald, Director/Curator
October 14 to December 4, 2021
A work with seemingly limitless bounds, Anna Binta Diallo's Wanderings is comprised of an expansive collection of human and animal figures referencing folk stories, primarily from the artist's Senegalese and French Métis heritage. These figures are collaged from celestial and terrestrial maps and images, charts, diagrams, illustrations, and texts. Diallo draws from a vast archive, attesting to a collective impulse to describe, classify, and hierarchize, to make sense and order out of complexity and chaos, a process that is both deeply human and deeply flawed.
With each iteration of Wanderings, Diallo creates new narratives, teasing out affinities and disjunctures with and between mythologies and bodies of knowledge. Refusing to privilege one system over another, her work points to the ways they are connected, and to the complexity of human experience and identity.
Anna Binta Diallo is a Canadian multi-disciplinary visual artist who was born in Dakar, Senegal and raised in Saint-Boniface, on the traditional territory of Anishinaabeg, Cree, Oji-Cree, Dakota, and Dene peoples, and the homeland of the Métis Nation. She received a BFA from the University of Manitoba School of Art (2006) and her MFA from the Transart Institue in Berlin (2013). Her work has been shown in galleries across Canada and internationally in Finland,176 Taiwan, and Germany. In 2019, Diallo's work was shortlisted for the Salt Spring National Art Prize and in 2021, was awarded the Barbara Sphor Memorial Prize from the Walter Phillips Gallery and the Black Designers of Canada Awards of Excellence. Her works are in the collections of the Royal Bank of Canada, Equity Bank, Scotia Bank, and private collections
Adjunct Programming:
Anna Binta Diallo Artist Talk
Free. Thursday, October 14, 7:00-8:30 pm CDT
Facilitated on Zoom and live-streaming on the School of Art Gallery, UM YouTube channel
Join us online for a talk by Anna Binta Diallo, who will discuss her art and research including her most recent body of work, Wanderings. ASL interpretation and close captioning available. Q&A to follow.
October 14 to December 4, 2021
Robert Houle's Sandy Bay Residential School Series is comprised of twenty-four drawings, drawn over consecutive days. The work was triggered, in part, by a nightmare about an incident that the artist had repressed. The dream, of elementary school abuse, occurred after Houle returned to Sandy Bay for a funeral, and shortly after the Government of Canada's Official Statement of Apology to residential school survivors. Loose sketches rendered in oilstick depict the school playground, dormitory beds, and religious figures as remembered, fragmentary and haunting. Handwritten Saulteaux texts, inscribed in pencil, capture thoughts that resurfaced as the artist worked on these drawings. Forbidden from speaking his maternal language as a child, thinking and writing in Saulteaux was a part of Houle's process of healing by letting go of conflict in his mind—a traditional counterpoint to concepts of reconciliation and forgiveness.
Robert Houle is a contemporary Anishinaabe Saulteaux artist, curator, and writer. A member of Sandy Bay First Nation, Manitoba, Houle lives in Toronto. He received a BA in Art History from the University of Manitoba, a BA in Art Education from McGill University, and studied at the International Summer Academy of Fine Arts in Salzburg, Austria. He is the recipient of numerous awards including the Founder's Achievement Award from the Toronto Friends of the Visual Arts (2020), two honourary doctorates, the 2015 Governor General's Award in Visual and Media Arts, the Eiteljorg Contemporary Art Fellowship (2003), the Toronto Arts Award (2001) and the Janet Braide Memorial Award for Excellence in Canadian Art History (1993).
Curated by Blair Fornwald, Director/Curator
October 14 to December 4, 2021
Weaving together family narratives and current thoughts on the pandemic, the ethics of representation, and the nature of the sacred, Thirza Cuthand discusses a medicine bundle which was used to heal the artist's great-great-grandfather from a Gatling gunshot wound in 1885, and her grandfather from the Spanish flu in 1918. In this film, Cuthand reflects on the ways that the bear cub spirit contained within the since-buried bundle has continued to protect her and her family from the trauma and diseases brought on by colonization.
Thirza Jean Cuthand was born in Regina, Saskatchewan, Canada in 1978, and grew up in Saskatoon. Since 1995, she has been making short experimental narrative videos and films about sexuality, madness, Queer identity and love, and Indigeneity, which have screened in festivals internationally, including the Tribeca Film Festival (New York City), Mix Brasil Festival of Sexual Diversity (São Paulo), ImagineNATIVE (Toronto) Ann Arbour Film Festival, Images (Toronto) Berlinale (Berlin), and Oberhausen International Short Film Festival. Cuthand's work has also been presented at galleries including the Remai Modern (Saskatoon), the National Gallery of Canada (Ottawa), the Walker Art Centre (Minneapolis), and the 2019 Whitney Biennial (New York City).
Extended Thursday Hours!
Starting October, the School of Art Gallery will be open late Thursdays from 10:00 am to 8:00 pm!
Hours
Monday–Wednesday + Friday, 10:00 am–4:00 pm, Thursday, 10:00 am–8:00 pm
Visitor protocols
Visitors must provide proof of COVID-19 vaccination and government photo ID to access the galleries.
Visitors must wear a 3-ply mask and maintain physical distancing in all spaces.
Hand sanitizing stations have been placed at the entrance of the gallery.
Please self-assess your health before visiting the gallery. Are you exhibiting any symptoms of COVID-19 (cough, difficulty breathing, headache, body aches, sore throat, loss of taste and smell, fever, and chills)? Have you been in contact with someone who has tested positive for COVID-19? If you are exhibiting any of these symptoms or have been exposed, please do not visit the gallery and reschedule for a later date.
Please be respectful of our staff and each other. We are here to ensure a safe space for everyone.
Review all UM COVID-19 protocols and recovery plans here.