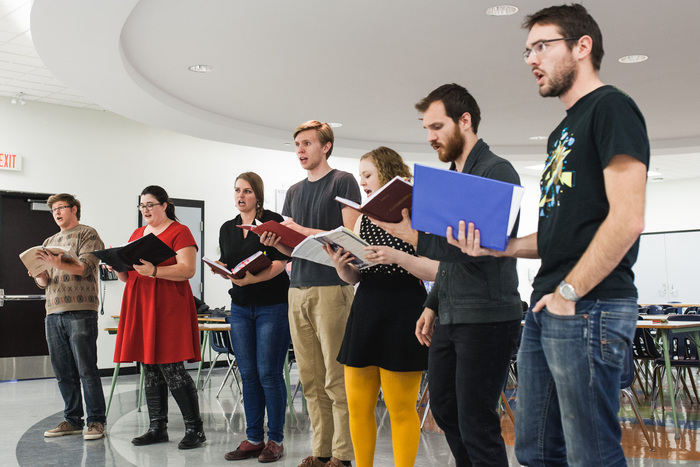 Scenes of opera
Students will hit the high notes for annual event
February 8, 2017 —
University of Manitoba Desautels Faculty of Music students are set to perform Starting From Baroque on Feb. 8, 10 at 11
This year, close to 30 students will perform five operatic scenes as part of the annual event.
The show will begin with the opening scene of Monteverdi's 1607 opera L'Orfeo, considered to be the first great opera ever written. This is followed by a scene from L'Egisto and the act four finale of Mozart's Marriage of Figaro.
The opening scene of Britten's Midsummer Night's Dream features a cast of fairy and mortal couples at odds with each other and Pasatieri's The Seagull, which is based on a Chekhov play, round out the performances.
"Our singers range from first-year students to master's students, and the scenes we've chosen all tend to feature ensemble singing and acting opportunities," says professor and music director Mel Braun. "Over their 4 years in the ensemble, students are able to explore and grow into their voices, and this year is no exception. Audiences will hear many of Winnipeg's finest up and coming singers trying things out in an intimate theatre setting."
Tickets for the show can be purchased at the door (cash only) for $20 or $12 for students.
The performances take place at the John J. Conklin Theatre in the Gail Asper Performing Arts Hall, 300 level, Tache Arts Centre on February 8 and 10 at 7:30pm and on February 11 at 2:30pm.

More concerts in February:
Wind Ensemble & Concert Band
The UM Wind Ensemble and Concert Band, conducted by Jacquie Dawson, present Suite Dreams, featuring Darius Milhaud's Suite Francais and Steven Bryant's Suite Dreams, along with additional works
When: Feb. 10, 2017, 7:30pm
Where: Jubilee Place Auditorium at MBCI, 173 Talbot Avenue
Tickets: $15 for adults, $5 for students, available at Room T319, Tache Arts Complex, 136 Dafoe Road
For more info: Click here
Genser Competition Final
Students in the Bachelor of Music degree, chosen as finalists, compete for scholarship prizes
When: Feb. 11, 2017, 7:00pm
Where: Music Building, 65 Dafoe Road
Tickets: Open to the public, no admission fee
For more info: Click here
UM Symphony Orchestra
The University of Manitoba Symphony Orchestra (Julian Pellicano, Music Director) present From Manitoba to Moscow, featuring Tchaikovsky's Symphony no. 4; Mozart's Overture to Don Giovanni; Khachaturian's Masquerade Suite & The world premiere of Kristen Wachniak's You are Raw Phenomena
When: Feb. 15, 2017, 7:30pm
Where: Westminster United Church, 745 Westminster Avenue
Tickets: $15 for aduits, $5 for students
For more info: Click here
Mardi Jazz: Ensemble Performances
A number of our small jazz ensembles, coached by our Jazz Faculty members, will be performing on the following dates, as part of the Mardi Jazz series
When: Feb. 28, 2017, 8:00pm
Where: Centre Culturel Franco-Manitobain Centre, 340 Provencher
Tickets: $5 at the door
For more info: Click here
Cool Wednesday Night Hang: jazz ensembles
Several of our small jazz ensembles perform at this weekly jam session
When: March 1, 2017, 8:00pm
Where: Nicolino's Restaurant, 2077 Pembina Highway
Tickets: No admission fee, but premises are licensed
For more info: Click here