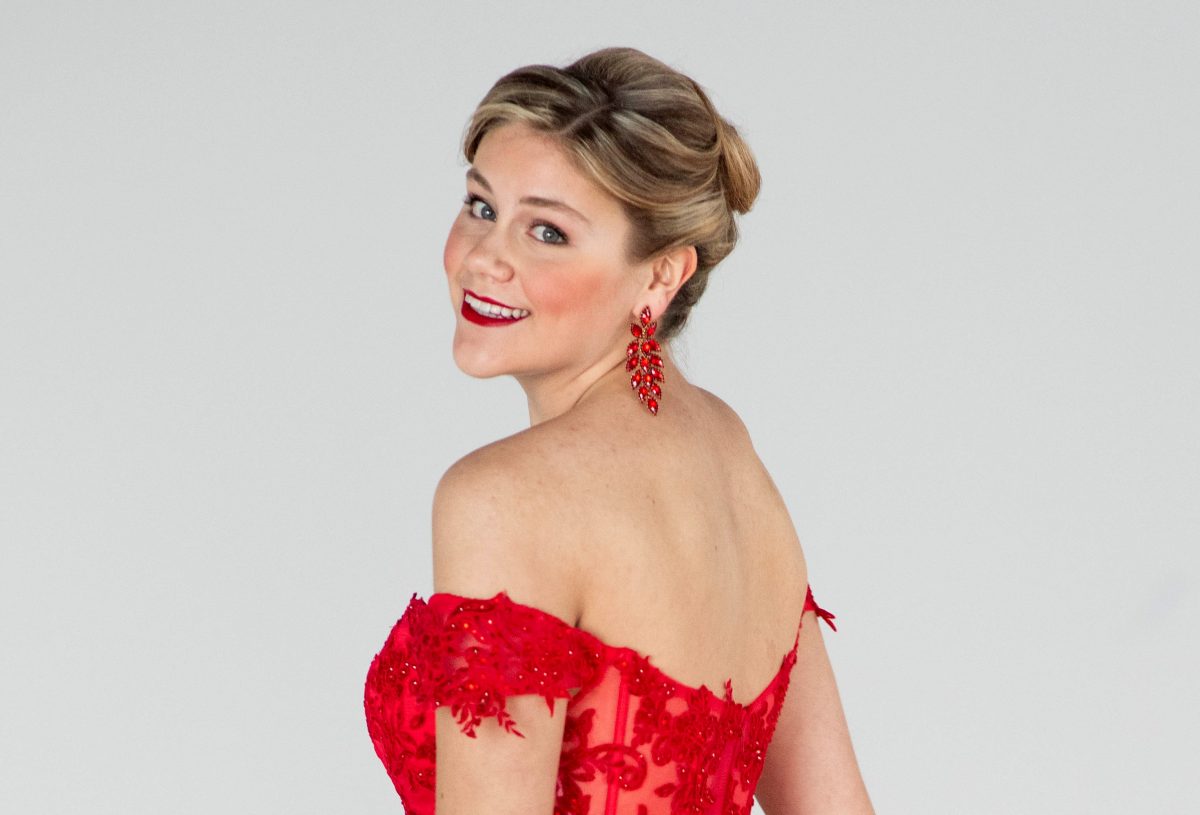 Nothing is impossible for Sarah Luby
2020 DFOM graduate Sarah Luby sails over every hurdle with grace and a smile
June 15, 2020 —
NOTE: We in the Desautels Faculty of Music are incredibly proud of our students. While COVID-19 is sidelining in-person commencement ceremonies around the globe, we want to find alternate ways to celebrate our graduates and give them the recognition due to them. Until we can gather together to properly applaud the years of study and practice that have led to this milestone, please join us in congratulating our 2020 Desautels Faculty of Music graduates.
Today we celebrate Sarah Luby!
If anyone took a gamble and bet that COVID-19 could bring Sarah Luby down, they definitely lost money. She is mighty, armed with a resilience, positivity, and sense of humour that easily deflects any obstacle she confronts.
It's not just that she gets over barriers in her way. She soars over them, thumbing her nose at them and shrugging as she sails past.
Luby began singing as a small child.
"I really have my mom to thank for recognizing the powerful impact music had on me at such a young age," she says of her early foray into the world of music.
With her mother's support and guidance, Luby began taking voice lessons at age 10, and, shortly thereafter, earned herself the role of Brigitta Von Trapp in Rainbow Stage's 2007 production of The Sound of Music.
"From there, I was pretty much bitten with the bug," she says of the moment she knew she wanted to pursue music as a career.
Her next performance with the Rainbow Stage occurred in 2010, in the company's production of Joseph and the Amazing Technicolor Dreamcoat.
Luby's early success didn't come without its trials, however.
Early challenges result in a beautiful spirit
"Sarah's positive attitude is one that could easily have been rocked," explains Donna Fletcher, voice instructor, director of the Desautels Faculty of Music's Musical Theatre ensemble, and Luby's major practical study instructor.
Fletcher has worked with Luby for over 10 years, and has fierce admiration for her unshakeable positivity.
"She has had juvenile diabetes from a very young age but you would never know that from the way she embraces life and relishes every opportunity. That is Sarah," Fletcher says.
"Rather than ever let this defeat her, she embraced it as her normal and used it to fuel her desire and passion for theatre, film and her music studies," says Fletcher.
"Sarah is a proactive person who always chooses the positive path –seeking the possible for her future – never accepting impossible. This, as well as her prodigious talent, is truly what I most admire and adore about her," she adds.
Since her young debut on the Rainbow Stage, Luby has continued to earn praise from audiences and judges. She continued to amaze people with her vocal performances, and in high school won multiple awards at the Winnipeg Music Festival (WMF), Manitoba's largest and most prestigious music competition.
Before she even finished high school, Luby had been awarded the Conservatory Canada Medal for Excellence, and her short play Our Name was one of five finalists for the 2014 Scirocco Drama High School Playwriting Competition, and was performed by professionals.
In the faculty
After a successful audition for the Desautels Faculty of Music, Luby continued her artistic ascent.
In only her second year in the faculty, Luby was awarded two of the top honours at the WMF: the Gilbert & Sullivan Society Trophy, awarded for "the most outstanding performance in a competition of winners of Gilbert & Sullivan classes," and also the Tudor Bowl, awarded to "the most outstanding performance in a competition of Grade B vocalists." Her 2017 Tudor Bowl win also earned her the competition's Barbara Pierce Memorial Award.
The following year, Luby was runner-up for the 2018 Rainbow Stage Trophy, from the company that ignited her passion for performing.
Also in 2018, she was chosen by a panel of judges to represent Manitoba in the National Music Festival, placing second in the nation in the Musical Theatre category.
When asked if she has had any faculty mentors, Luby is quick to reply.
"Donna Fletcher, 100 percent," Luby says.
"She has been so much more than just an instructor to me; she has been my role model, mentor, teacher, friend, and chosen family. I have been with Donna 10 years now, and I am continually amazed by her generosity, knowledge, and vivacity for teaching music and love towards her students," Luby explains.
Playing characters with character
While all of the awards are impressive, they pale in comparison to Luby's character.
"Sarah is a delight in every way," says Fletcher.
"I have been endlessly amazed by her fearless approach to her work and by her remarkable focus and dedication. Sarah is never afraid to take on a task and researches everything with a care and wonderful curiosity that puts more experienced artists to shame," she says.
"Her work ethic is exemplary and the insight she has into her work is beyond heartening. Sarah is a motivated young woman who has dedicated herself to becoming a multi-faceted artist. She is a wonderful co-worker, supportive company member and most importantly, a person who creates a sense of calm and joy in the rehearsal hall. She is also oh-so-funny," adds Fletcher.
When it comes to her favourite pieces learned in the faculty, the bright, young playwright and singer of course welcomed both challenge and storytelling.
"'Loon cry, night call (Evocations),' by Harry Somers," she says.
"I am a huge fan of 20th and 21st C Canadian Classical compositions and specifically ones which tell a story and melodically stray against the grain. When I discovered a prerequisite to perform this piece was embodying a loon and sticking my head in the piano while on stage, I was like 'sign me up!'" she laughs.
Next steps
"Oh boy, the million-dollar question!" Luby exclaims.
Like every other challenge she's faced, Luby is unfazed, using the uncertainty to fuel her creativity.
"I am taking this quarantine to continue growing my skills as well as educating myself in areas in which I previously did not have time to do so," she says.
"When theatre reopens, I hope to be on a stage performing, somewhere in North America!" she adds.
As for those students who come after her in the faculty, Luby has some advice that involves – you guessed it – embracing challenges.
"You will survive! They didn't make this program to be easy, and you wouldn't want it that way. Play your own game, stay in your own lane, enjoy the music; and remember, art is subjective – do it for you!" she says.
Acknowledgements
"The entire vocal faculty, Deena Grier-the star collaborative pianist, every professor and instructor, the wonderful staff in the library who helped this Dewey Decimal challenged gal find her scores, the custodial staff who always smiled no matter the day, and of course the amazing Donna Fletcher!" says Luby.
A star is born, made, and ready
Donna Fletcher has no doubt that Luby will succeed in whatever she does. Her very nature makes it an inevitability.
"Sarah is one of those rare young women who is an old soul with an intelligence that makes her comfortable with senior artists and instructors alike," says Fletcher.
"She instantly garners respect. She is not afraid to speak her mind yet is humble enough to know when to seek guidance or direction. She is also stubborn in a wonderful way – knowing exactly when to listen to herself and knowing when to blaze her own path," Fletcher adds.
"I am honoured to have had the blessing to be her teacher – having the wonderful opportunity to guide her during this part of what I know will be a long and exciting journey." says Fletcher.
And Sarah is ready for the challenge. Asked if there is anything she wants the world to know about her, she is delightfully succinct:
"Watch out, here I come!"
We are very excited to see what Sarah Luby does next. Her with, talents, and unimpeachable positivity have endlessly enriched the Desautels Faculty of Music, and we know that she will spread her light to every stage she graces.
Congratulations, Sarah!