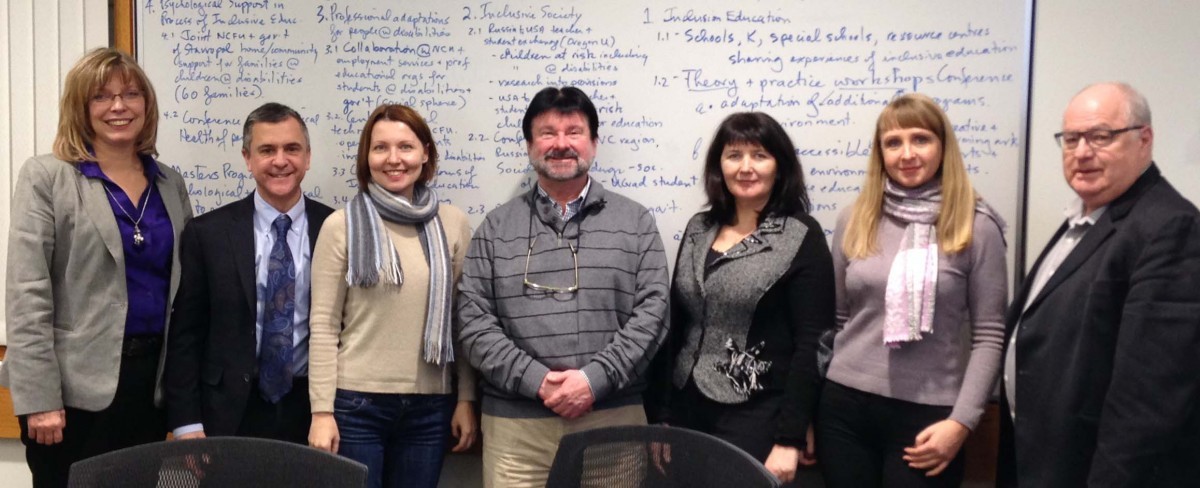 Russian delegates visit U of M to learn more about inclusive education
December 16, 2014 —
A group of Russian delegates recently travelled to the University of Manitoba to get a closer look at some of the university's innovative inclusive education programs with the goal of developing similar programs at their university.
The delegates, three professors from the North-Caucasus Federal University (NCFU) in Stavropol, met with representatives from the Faculties of Social Work and Education and toured various schools and facilities to gather knowledge and materials that they could take back to Russia.
"They are part of a group in Stavropol who are trying to create an inclusive education system for people with disabilities," says Rick Freeze, a professor of inclusive education in the Faculty of Education.
The Russian visit to Canada was sparked by a renewed Memorandum of Understanding between NCFU and U of M last year. Representatives from NCFU approached their counterparts in Education and Social Work in the summer of 2013 with the idea of "promoting scholarship and exchange," says Don Fuchs, a professor in the U of M's Faculty of Social Work. The two faculties–Education and Social Work–collaborated closely to make the delegates' tour a success.
Fuchs says there is a push to promote inclusive education in Russia and while the country has signed progressive legislation, they lack some of the current knowledge and the capacity to implement it in classrooms. Students with disabilities had previously been segregated into separate schools, he says.
Along with bringing children with disabilities into regular classrooms, says Fuchs, the goal in Russia is to assist those with disabilities with the transition to adulthood and to encourage employment opportunities.
While in Winnipeg, the group was introduced to a range of programs and facilities, including the Faculty of Education's Campus Life program (post-secondary inclusive education) and the Education faculty's graduate program in inclusive education. The group also to met with representatives with Education Manitoba to view services and resources for the disabled, along with visiting several disability centres and elementary and secondary schools.
Fuchs says the visitors gathered a lot of concrete knowledge that they can take home to Russia to begin implementing in classrooms and other facilities.
Next, the two groups aim to hold a videoconference, and after that, a fall 2015 conference in Russia.
"We'll look at further collaboration on research and publication," which might also include academic and student exchanges in the future, says Fuchs.
While the Russian educators were impressed with the information and support they received while in Winnipeg, there were benefits for their counterparts at the U of M as well.
"Our faculty can benefit greatly by having these scholars teach us more about their learning contexts, challenges, and opportunities," says Dawn Wallin, Associate Dean (Graduate) in the Faculty of Education, who met with the delegates during the week.