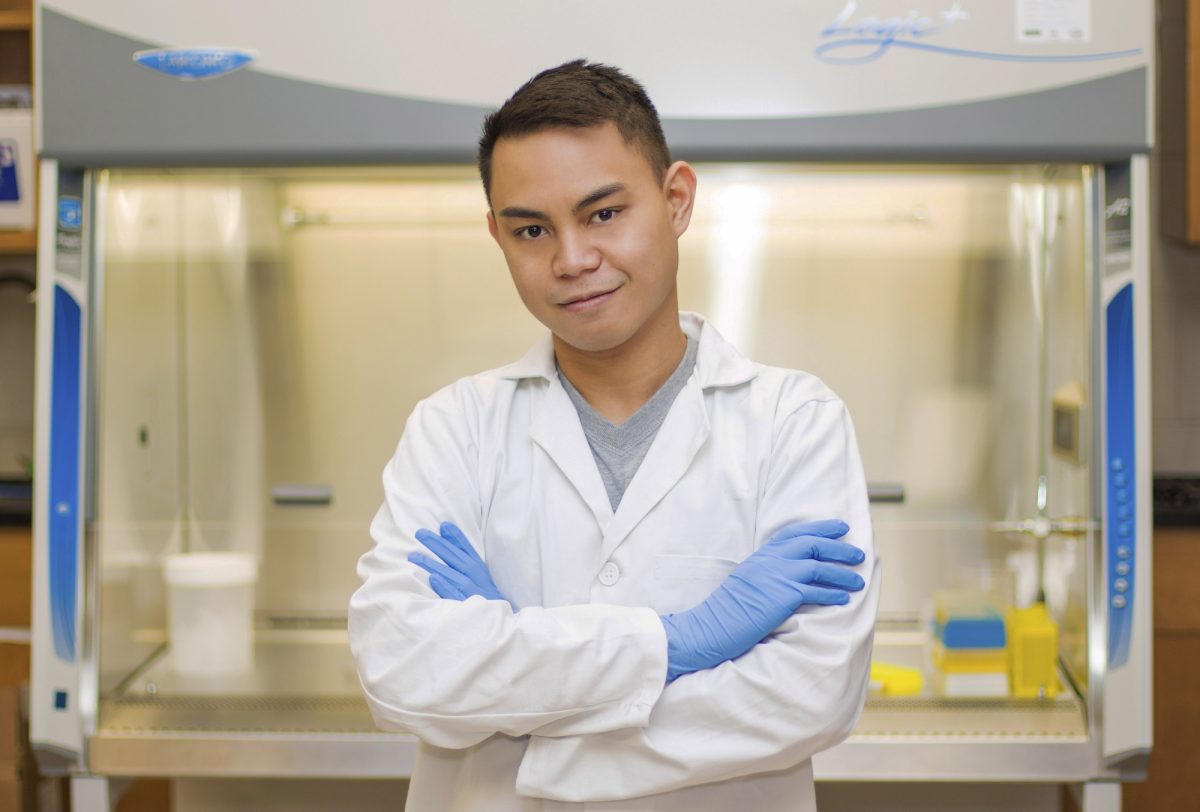 Ronald Domalaon will receive his PhD from the department of chemistry on Thursday, June 6
Already working as a formulation chemist at a New Jersey-based biopharmaceutical company since April
June 6, 2019 —
Classmates call Domalaon a "go-getter", having already started a job in the pharmaceutical industry, after being scouted and hired in November of last year – but for Domalaon, it's par for the course.
Initially drawn to a career in medicine, Domalaon changed his plans after his first summer research position as an undergrad student in the lab of U of M chemistry professor Dr. Frank Schweizer. Schweizer's research focuses on the development of antibacterial drugs aimed at eradicate drug-resistant infections or 'superbugs' that currently have limited treatment options. After three summers spent in Schweizer's lab, Domalaon shifted his focus to drug development and discovery.
"I love the idea that I'm developing something new for not just one patient, but for many patients. I realized that I didn't need to go into medicine. I don't need to be a doctor to help save lives. I could play a vital role in the treatment of those patients in life-threatening situations if I stay in this field, developing new drugs."
Domalaon made another discovery while working in the Schweizer lab: his fondness for training and supervising undergraduate students. He says that it helped him develop his personality and expertise.
"Dr. Schweizer has always been supportive with my growth not only scientifically, but also with my interpersonal skills. I was fortunate to be paired up with ten bright undergrads all throughout my PhD. Yes, I'm becoming a scientist and I understand science, but I've also been training myself to supervise and facilitate other people's work."

"The set-up in Dr. Schweizer's lab really helps you to be successful. As of right now, I have 19 publications as a Ph.D. student. My productivity was not only because of my work, but also because of the undergrads that I had the pleasure to work with."
This isn't to say that Domalaon hasn't weathered his share of personal and research-related setbacks.
"Unfortunately, chemistry doesn't always work the way you want it to. Very difficult and a lot of setbacks. But hey, if you thoroughly enjoy the research, keep on going, right?"
Where he is now is waiting to graduate in front of his family and friends. Already working as a formulation chemist at a New Jersey-based biopharmaceutical company since April, Domalaon notes the way he got the job wasn't via the usual process of sending out resumes and hoping to hear back.
At a conference hosted by the American Society for Microbiology, he got into an engaging scientific conversation with personnel from Matinas Biopharma, a clinical-stage biopharmaceutical company, one of whom was the company's Senior Vice President/Chief Scientific Officer (CSO). After that initial 45-minute chat, the CSO (who already knew of Schweizer's work and was interested in a potential collaboration) arranged to fly to Winnipeg. During his visit, Domalaon was invited to fly to New Jersey and tour the company, initially unaware that it was a job interview. Thrilled to be offered the position, he gladly accepted the job opportunity.
As he nears his graduation date, Domalaon reflects on what he feels is most important for future Science graduates to know.
"It's not a race to graduate. From my perspective, university is a training ground for you to get as much as you can to make yourself viable in the future. This applies to undergrads and graduate students."

"Graduate students come in thinking that they have to be productive and keep focusing on research. True. But I think another aspect that they should learn is how to communicate effectively. Yes, you are a scientist. Yes, you know all about basic science and you can talk to other scientists about how important the research is, but you have to realize that in the future (or even now, during conferences) if you're not able to effectively communicate what you know to the public in layperson's terms, then your research will be just another paper that no one will understand."

"If you build up your communication skills, you meet people, you gain connections, you network, you'll get job offers and promotions. The peers that you talk to are your potential collaborators and coworkers in the future. You must build your own network to be successful.."
Even with his new position and his graduation imminent, Domalaon is still planning ahead. Next up for the young researcher is gaining enough experience and enough funding to eventually start his own pharmaceutical company.
---
At its 2019 Spring Convocation, the University of Manitoba will confer degrees, diplomas and certificates on 2,848 graduates.
Learn more about Spring Convocation 2019 here.
Each session of Convocation will be streamed online.
Follow convocation ceremonies and events on #umanitoba2019 on Twitter and Instagram to see more.