Robson Hall welcomes Kawaskimhon Moot to birthplace of Louis Riel
February 28, 2020 —
Robson Hall Faculty of Law at the University of Manitoba is pleased to host the 26th Kawaskimhon National Moot, March 6-7, 2020. Manitoba's law school will be welcoming law students from across Canada to participate in this consensus-based, non-adversarial moot that incorporates Indigenous legal traditions alongside federal, provincial and international law.
"Hosting the Kawaskimhon is an honour and a privilege, especially to welcome everyone to Treaty One Territory and to these grounds on which Robson Hall stands, which is geographically located almost right across the Red River from Louis Riel's birthplace, the heart of the homeland of the Métis Nation," said Dr. Jonathan Black-Branch, Dean of the Faculty of Law. "We wish all the participants an excellent experience as they work towards finding real solutions to real issues that face the Canadian Justice system today. We would like to give special thanks to Sacha Paul and Stacey Soldier, and are also very thankful to all the volunteers and organizers – many of whom are graduates of Robson Hall – for their exceptional work."
Sacha Paul, who obtained his law degree from the University of Manitoba in 2002, is a partner with Thompson Dorfman Sweatman, practicing in a number of areas of law including Aboriginal Law, Administrative Law, Litigation and Dispute Resolution. "This moot has a proud tradition of bringing people together to consider and reflect upon legal issues faced by Indigenous people," said Paul. "I am happy to be organizing it with Stacey Solider, with valuable input from Professor Brenda Gunn. It is my hope that the students will enjoy the experience as much as I did when I participated on behalf of Robson Hall almost 20 years ago."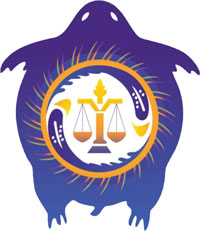 Rather than competing to win, mooters participate in roundtable negotiations on a particular fact pattern or problem, representing their assigned party, be it government or an agency representing Indigenous groups. The problem to be dealt with is based on contemporary issues in relations between Indigenous peoples and Government.
This year's problem asks the participants to develop a policy for Crown prosecutors to guide them in addressing the issue of over-representation of Indigenous people in custody, as related to the Supreme Court of Canada's landmark decision in R. v. Gladue. Participants must work from the perspective of the 'client' they are assigned to represent, for example, Manitoba Justice (prosecutions), the Manitoba Metis Federation, or Crown-Indigenous Relations and Northern Affairs Canada.
"As a former participant in the Moot, I am amazed at how things come full circle," said Kawaskimhon co-organizer and Manitoba team coach Stacey Soldier, a Robson Hall graduate of 2007 who now practices Criminal Law and is an instructor at the Faculty of Law. "I was excited to be a part of the organizing team to bring the event to Winnipeg. I am looking forward to a successful weekend."
The word Kawaskimhon is of Cree origin that roughly translates to "speaking with knowledge." The Kawaskimhon Moot was first held at the University of Toronto in 1994. The moot is hosted at a different Canadian law school each year.