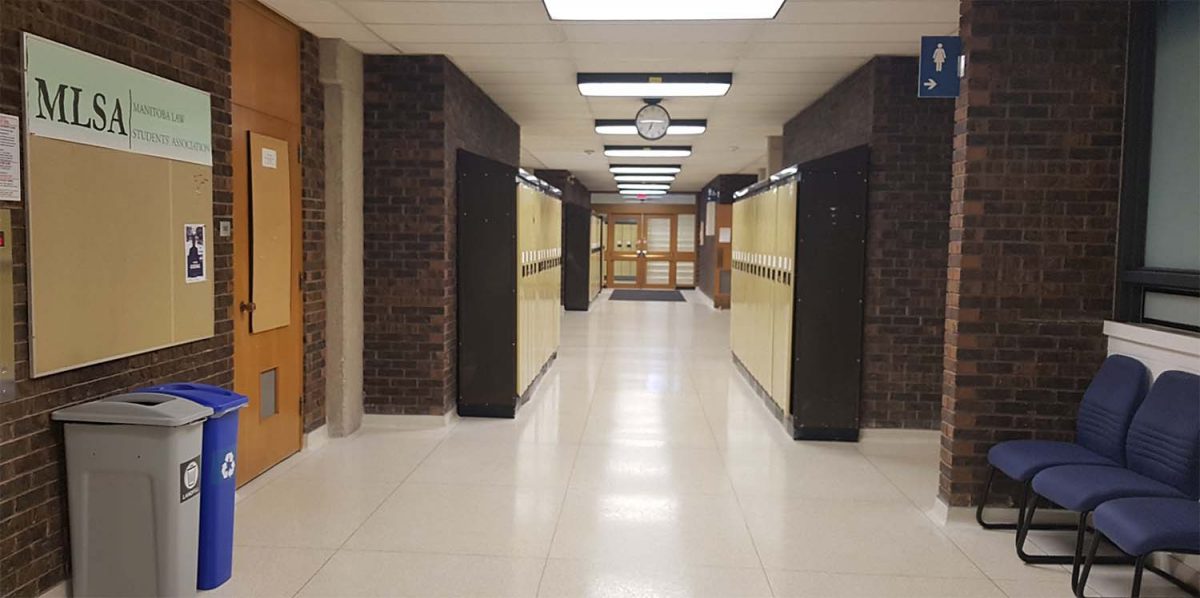 Robson Hall student spaces to receive major upgrades
Faculty of Law and Manitoba Law Students Association work together to modernize learning environment
March 23, 2022 —
The Manitoba Law Students Association and the Faculty of Law are pleased to announce the signing of a Memorandum of Understanding to use Law Student Endowment Funds to enhance student-facing spaces in Robson Hall.
Over the past year, the Faculty and the MLSA Executive leadership team identified a number of important aspects of the 52-year-old building that are well overdue for improvement and modernization. Building gender-neutral washrooms was deemed an immediate priority by the MLSA Executive, with construction scheduled to begin in the short term.
"We are excited and thankful that the MLSA has decided to contribute to student spaces in such a significant way. There can be little doubt that after these projects, Robson Hall will be an even better place to spend quality time," said Dr. Richard Jochelson, Dean of the Faculty of Law. "In tandem, the Faculty is updating and developing its clinical and teaching spaces to bring the learning experience into state-of-the-art shape. Robson Hall will be significantly refreshed and welcoming as a result."
Additionally, students and visitors will benefit from more inviting study areas and social spaces, alongside substantial infrastructure upgrades to accommodate the modern-day technological needs of students. In total, the MLSA has given approximately $710,000 for these proposed capital expenditures in partnership with the Faculty of Law.
"The MLSA Executive team of Alexis Alevizos, Narayan McRae, Kelsey Thain and I have put fulfilling the needs of Robson Hall students today and in the future at the centre of every initiative and endeavour we have taken on," said Michael Badejo, President of the MLSA. "The impact of this gift from the MLSA will be felt for years, and enriching our community in this way is rewarding as well as humbling. Our entire team is delighted to have set this comprehensive project in motion."
Over the next three years, the MLSA-run Common Room on Robson Hall's Main Floor will be renovated to include gender-neutral washrooms, improved security, and technological improvements. The patio around Robson Hall's east entrance will receive additional beautification as well as more seating and improved infrastructure to create a more inviting out-door study and gathering space for students.
The 100 level, where student lockers, lunch facilities, washrooms and office space are located, will receive a thorough upgrade, involving the re-purposing and reinvigoration of space to better meet student needs. In addition to improved lighting, the earmarked gift will be used to enhance student study and office spaces for the benefit of all Faculty of Law students including the Manitoba Indigenous Law Student Association, MLSA Committees and MLSA Student Groups.