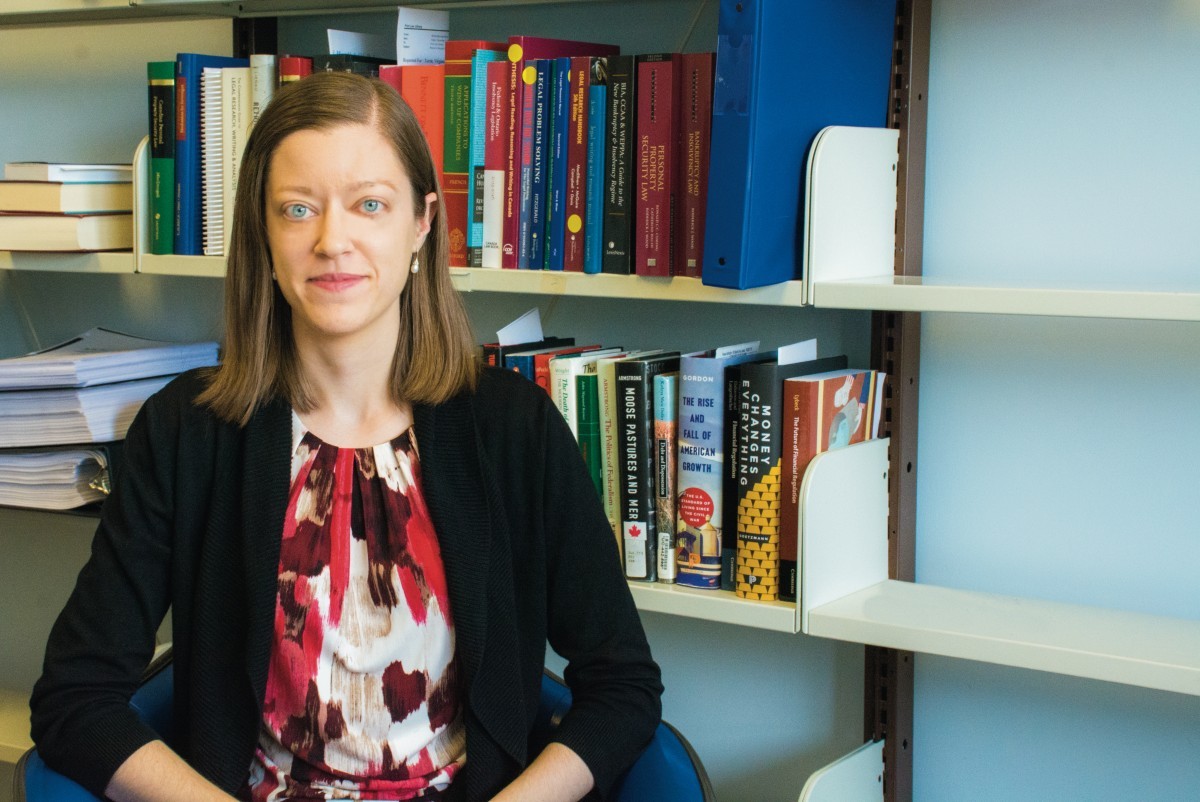 Robson Hall professor awarded grant for research into farm insolvency
April 29, 2016 —
Robson Hall assistant professor Virginia Torrie is one of the latest recipients of the Theodor Kerzner Q.C. Research Grant given by the Osgoode Society for Canadian Legal History.
The $2,310 grant will allow Prof. Torrie's research to expand beyond Manitoba's borders. Read the following interview with Virginia Torrie about her research, its relevance and her plans for the future.
Virginia, congratulations on the grant. How will it help?
Thanks! The grant will support my research on farm insolvency law in Canada. It'll supplement an earlier UGRP (University Research Grants Program) award I received from the U of M – that award was to study the operation of the Farmers' Creditors Arrangement Act, 1934 in Brandon and Morden during the Great Depression.
The project is called "Farm Debt Compromises During the Great Depression: Helping Farmers, or Helping Creditors?" The grant will enhance the project by a) allowing me to consult materials at Library and Archives Canada, in Ottawa; and b) allowing me to generate historical county maps showing the extent of land affected by farm debt compromises in the '30s and '40s for the counties in my study.
Interesting. How does this project fit into your overall research goals?

This historical research on farm insolvency is the first step in a larger project that will ask why Canadian farmers and their creditors continue to have specialized farm insolvency legislation to foster debt compromises.
I've co-authored a piece on this already – it's not open-access, but you can find the publication info on my bio page.
Why did you choose this subject of research?
Research on farm debt compromises in the Great Depression will serve as an historical point of reference for analyzing later developments. This historical snapshot will provide a way to evaluate what's changed and what's stayed more-or-less the same in this area of law.
I anticipate research on farm debt compromises in the '30s and '40s will offer insight into existing economic and political rationales for debt reorganization in other contexts.
For example, treating this case study as an historical "litmus test" will help shed light on the contours of ideas and policies that encourage debt compromises under other bankruptcy and insolvency laws. This may offer additional insight into the law and policy of contemporary debt compromise regimes for farmers as well as for other individuals and/or companies.
Sounds helpful. Anything else you'd like people to know about your research and/or its implications?
The Great Depression and the measures taken to respond to it have had far-reaching implications for the substance and form of many social and public policies in Canada.
Debt compromise legislation was one aspect of a multi-faceted response to depression conditions. The scale of that economic crisis highlighted the public dimensions of insolvency through mass farm insolvencies in prairie communities. As costs trickled upward, many municipalities and all of the Western provinces faced the prospect of insolvency.
Addressing these issues prompted significant changes to prevailing views of federal and provincial lawmaking power – one result was the significant expansion of Parliament's authority to legislate on matters concerning insolvency.
Although such severe economic recessions – and depressions – are relatively rare, we are now seeing very challenging economic conditions in Alberta and in Newfoundland. It's timely to consider how such crises were addressed in the past, and the role of insolvency legislation in particular.
As the Great Depression example shows, approaches taken to resolving crises like these can have enduring effects over time.