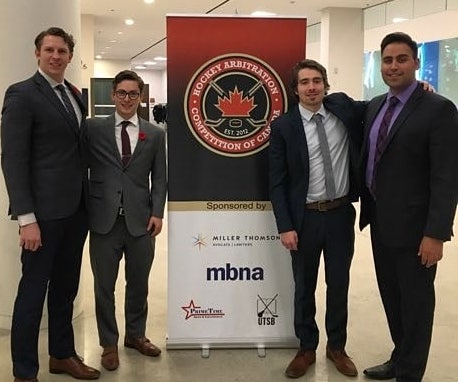 Robson Hall Hockey Arbitration Teams Advance to Round of 16
November 23, 2018 —
On November 10th to 11th, two teams representing Robson Hall competed in the "2018 Hockey Arbitration Competition of Canada" in Toronto. Christian Pierce and Dale Beynon formed one team, and Daniel Giles and Kevin Sharma comprised the other team. These four students from Robson Hall were selected after a competitive and rigorous internal process. As Pierce reported, "Dale and I went 3-0 in the round robin and came up just short in the round of 16. Dan and Kevin went 2-1 in the round robin and also just got edged out in the round of 16." The teams were excellent ambassadors of Robson Hall, receiving high praise from competitors and arbitrators alike for being collegial and respectful, in addition to superbly advocating their positions.
The competition simulated the salary arbitration procedure found in the collective bargaining agreement between the NHL and the NHLPA, which is a specialized form of the interest arbitration process used in labour law. Salary arbitration provides leverage to "Restricted Free Agents" (RFAs) in situations where they would otherwise have little bargaining power. The competition organizers chose three actual NHL RFAs upon whom to base salary arbitrations: Winnipeg Jets defenceman Jacob Trouba, Ottawa Senators forward Chris Tierney, and Vegas Golden Knights forward William Karlsson. The teams were tasked with arguing that the player's contract should be either above or below (depending on the assigned position) the pre-determined salary midpoint set by the organizers using salary and performance data from other comparable players. Our teams were required to produce a series of written briefs advocating their positions.
"It was a great learning experience," stated Beynon. The judges gave the students great advice about the advocacy techniques lawyers use, and insider information about the hockey arbitration process. Our four competitors also enjoyed networking with fellow law students interested in sports law and with prominent individuals involved in professional hockey. Both Robson Hall teams had Joe Resnick as one of their arbitrators. Mr. Resnick is one of the two co-founders of Top Shelf Sports Management Inc., which is a boutique sports agency that represents the likes of Joe Thornton, Rick Nash and Logan Couture, to name just a few.
The competitors are most thankful to several mentoring Winnipeg lawyers who assisted them with their oral arguments: Jeff Kowall, a Lawyer at TDS; Grant Stefanson, a Partner at MLT Aikins; and Joe Caligiuri, an Associate at Tapper Cuddy. The team members also extend thanks to the Robson Hall Employment and Labour Law Club for the opportunity to participate in this competition. "The support from the Club, Coaches, and Faculty was amazing and helped us to be more competitive than we otherwise would have been," stated Beynon.
Congratulations Christian, Dale, Dan, and Kevin, for representing Robson Hall so well at this competition!