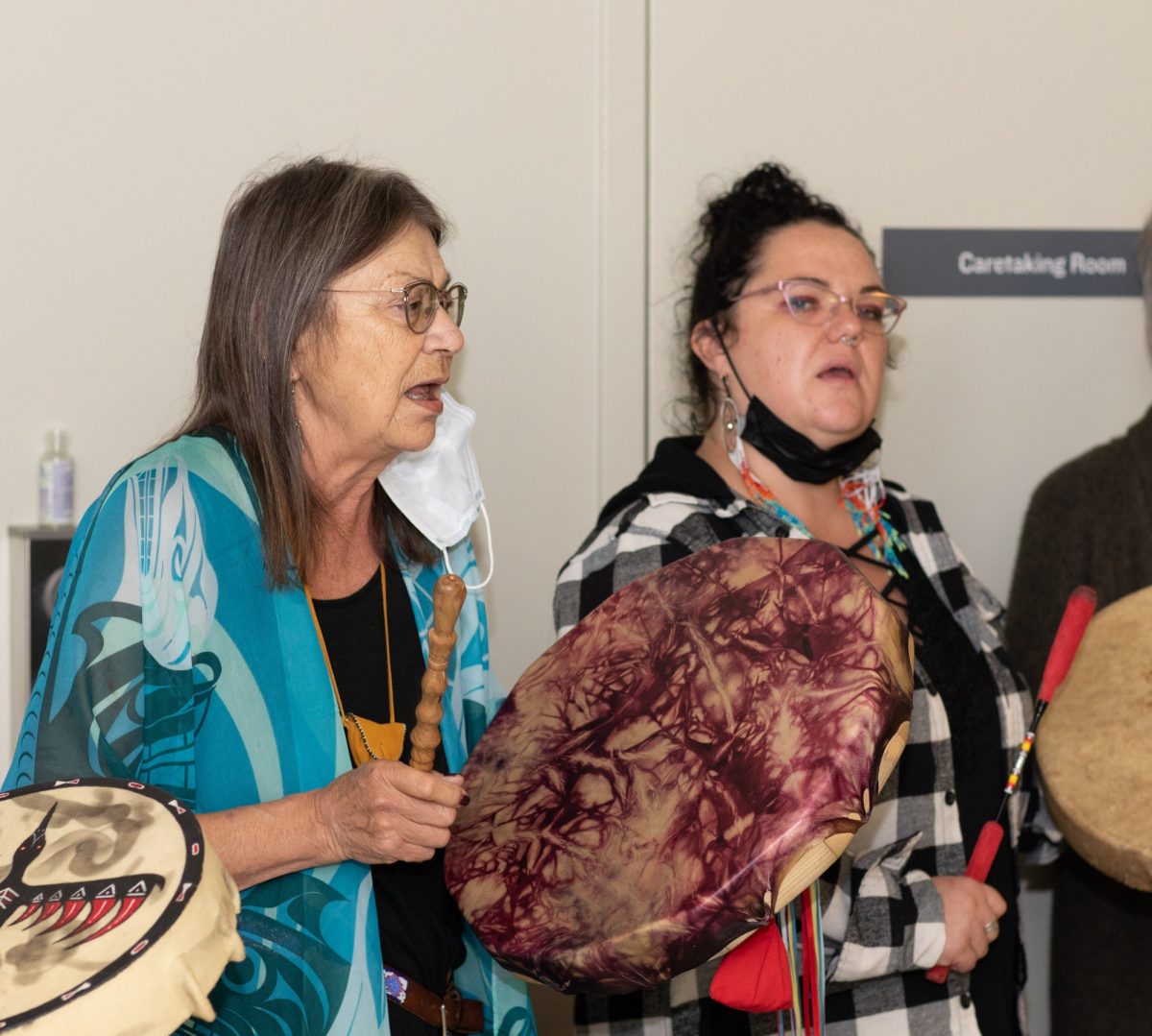 Representation Matters: Transforming UM Libraries Through Indigenous Art and Engagement
January 6, 2023 —
On October 26, the Elizabeth Dafoe Library unveiled "Skoden & Stoodis," the latest art piece by renowned Métis artist Val Vint.
Located on 1st Floor of the Elizabeth Dafoe Library at the Fort Garry campus, "Skoden & Stoodis," echoes Vint's previous work "Chi-kishkayhitamihk si te li neu Biizon" ("Education is the New Bison"), a 12-foot steel sculpture constructed out of 200 steel replicas of books and other articles by Indigenous authors, currently on display at the Forks.
"Since Time Immemorial our Bison cousins served the Plains people well. They fed us, clothed us, provided our tools, shelter and so much more," reads Vint's artist statement. "Today the Bison is a metaphor for sustenance. At present, our people will be sustained by the pursuit of knowledge and the sharing of ideas."
Vint says that her sculpture serves as a reading list for reconciliation, a physical representation of an idea and a process.
"The history of education hasn't been a safe place for Indigenous peoples," says Métis woman Raine Seivewright, who spoke at unveiling. "Seeing Val's artwork on campus helps ease the feelings of fear and loneliness. It's important that the university is a safe place. My people belong here, Val's artwork is a testimony to that."
"I respond to her work as a statement, and as a signal that reconciliation is a matter of education, reciprocity, and respect," says Lyle Ford, Associate University Librarian (AUL), Indigenous Engagement. "It serves as an invitation to hold conversations about a shared path forward, with Indigenous folks talking about what that means, along with everybody else."
Lyle Ford has been a prominent member of UM Libraries since first being hired as a General Librarian 24 years ago. In July 2022, he was made Associate University Librarian, Indigenous Engagement, an appointment which made him only the second Indigenous AUL in Canada, following Ry Moran's appointment at the University of Victoria.
A 2018 census of Canadian Academic Librarians reported that out of 920 responses from librarians, fewer than 20 were Indigenous. Ford says the census results highlight Indigenous peoples do not have enough representation in those spaces.
"I'm a proud citizen of the Manitoba Métis Federation, and I have a responsibility to step up in that context," Ford says. "Skoden & Stoodis is part of that. Its presence, in a prominent place, says very clearly that things are changing, and that Indigenous peoples expect to be involved, going forward."
Responsive to the Indigenous community at the University of Manitoba and to the Truth and Reconciliation Commission's Calls to Action, UM Libraries has been taking action to create more pathways towards Indigenous achievement.
They have done this through making their resources available to Indigenous communities, implementing Indigenous Cultural Competency Training for library and archives staff and hiring an Indigenous Library Intern through their Indigenous Librarian Intern program. Created by Lisa O'Hara, Vice-Provost (Libraries), the program is designed so that interns can work part time in Libraries while studying for a Master of Library and Information Studies.
Ford says these efforts will go a long way toward supporting Indigenous people becoming librarians and archivists and increasing the representation of Indigenous people in the libraries.
"Representation matters, and when Indigenous people see that they have a place here, I hope they'll think 'I could see myself doing that kind of work,'" says Ford. "I also think that the Office of the Vice-President (Indigenous) is going to transform the university in ways that I can't even envision yet."