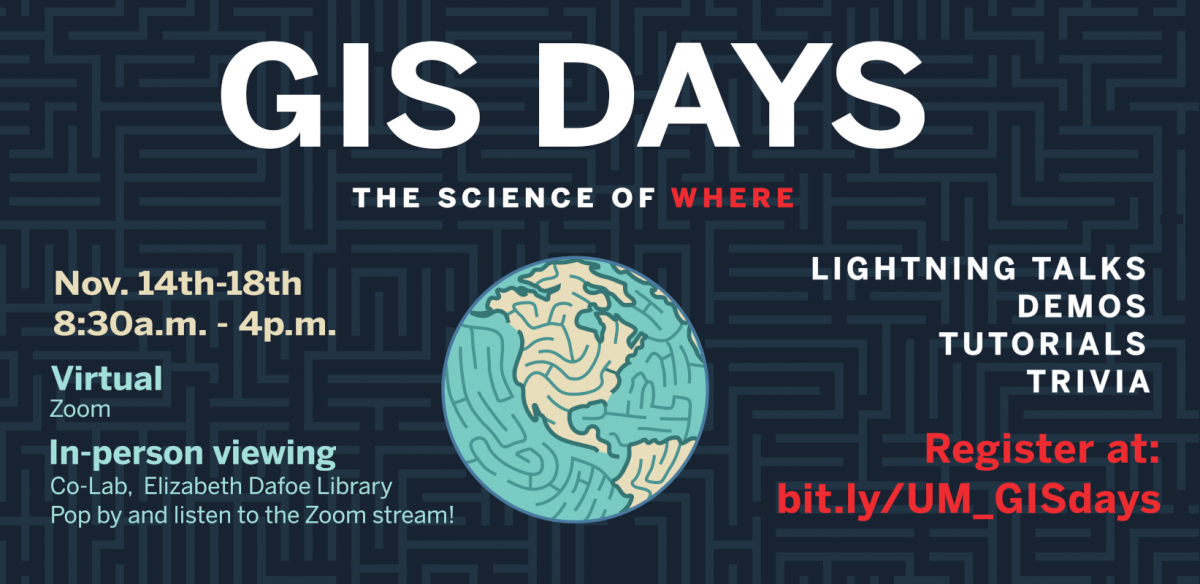 Register for GIS Days Nov 14-18 with UM Libraries
Learn more about geography, mapping and real-world applications
November 7, 2022 —
You are invited to participate in virtual GIS Days 2022 with UM Libraries during November 14-18.
UM Libraries has collaborated with Western University and other organizations to organize GIS (Geographic Information Systems) Days, which offer you the chance to learn more about geography, mapping and real-world applications of GIS that impact our communities. Drop in and out depending on what presentations pique your interest and listen to presenters from around the world.
Who can attend?
Everyone from anywhere in the world is welcome to attend GIS Days, whether you're faculty, graduate, undergraduate, a university staff, high school student or community member.
Not technical? That's okay, presentations will be offered by a variety of speakers ranging from GIS professionals to GIS newbies. Short lightning talks (7-min) offer you a quick taste of a topic, while longer demonstrations (20-min) provide a deeper dive into a GIS project.
What can I learn?
It's your chance to:
Check out the latest digital mapping technology
Discover how to take advantage of mapping technology in your research, education, or your next job interview
Draw for virtual door prizes
Network and win prizes at the hybrid trivia evening
What is the schedule?
Visit our GIS Days event page and check out the schedule.
Virtually: November 14 – 18, 8:30 a.m. to 3:30 p.m. Come and go from the Zoom room as you please, you just need to register to get a link for each day.
At UM Libraries: November 14 – 18, 8:30 a.m. to 3:30 p.m. Drop by the Co-Lab on 1st floor, Elizabeth Dafoe Library with headphones to listen to the Zoom stream or ask Meg Miller (GIS Librarian) your map related questions. Limited map related swag will be available each day.
Trivia: November 16, 6:30 p.m. Join with a team, or let us put you in a team with other conference attendees. Questions will be streamed via the Twitch channel, and team answers will be collected via the Trivia Discord. Lots of prizes up for grabs.
What are the presentations?
Presenters are from Scotland, Australia, California and across Canada (Including some of our own from the University of Manitoba!). Presentation topics range from mapping natural disasters to social geography of heart transplant care, from visualizing 15th century women to mapping traditional land use. Explore the interactive program to see what presentations are on offer.
How to join?
Register for each day to receive the Zoom links and updates. Join virtually in Zoom or in-person Zoom viewing at the Co-Lab on 1st floor, Elizabeth Dafoe Library.