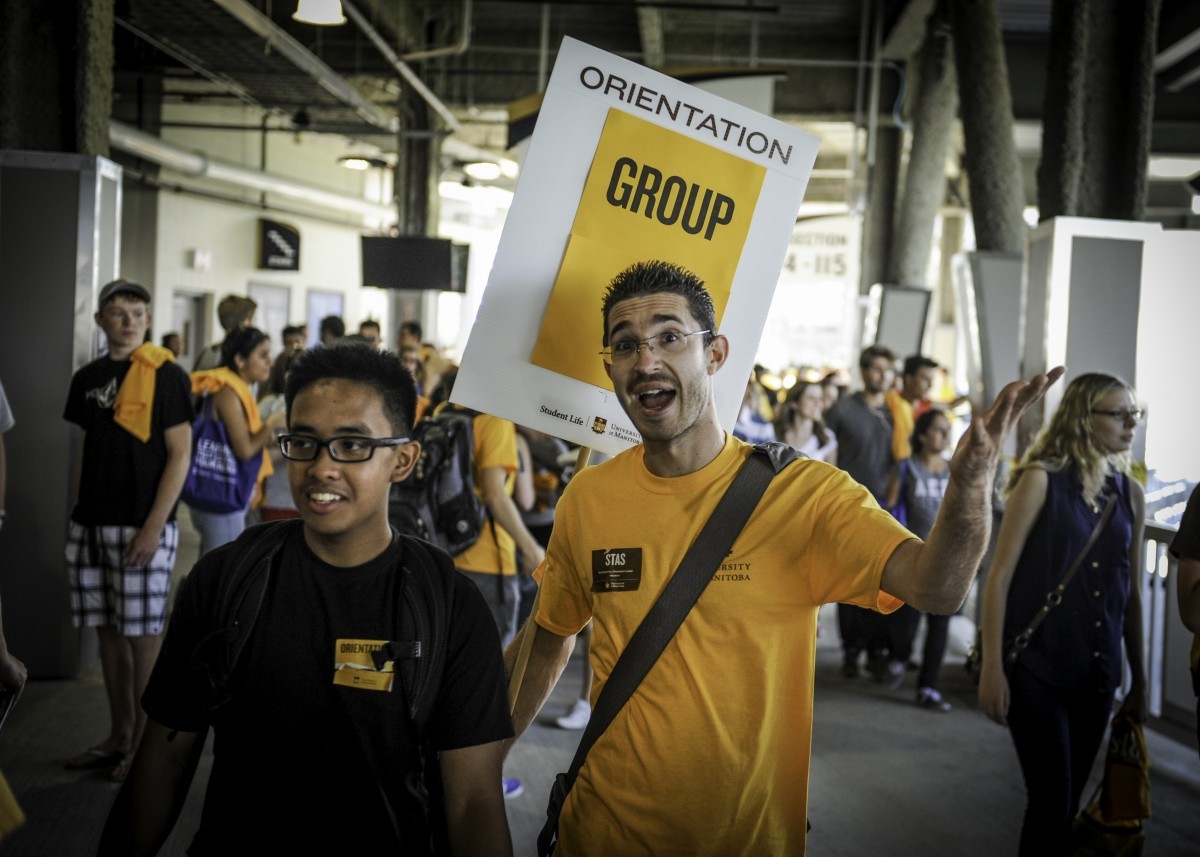 Record-breaking enrolment marks new year
September 12, 2013 —
Student enrolment for the first day of classes at the U of M has broken another record. First day enrolment is 29,321, an increase of 1.8 per cent over last year's first day of classes record enrolment of 28,795.
"The continued increase in first day enrolment numbers is an indication that the University of Manitoba is the post-secondary institution of choice for students wanting to build better futures for themselves and their communities," says David Barnard, President and Vice-Chancellor.
Full-time enrolment increased from 23,994 students to 24,541 students, while part-time enrolment dipped slightly, from 4,801 to 4,780. Undergraduate enrolment increased by 1.1 per cent, from 24,948 students in fall term 2012 to 25,225 students in Fall Term 2013.
Graduate enrolment increased very significantly, by 5.1 per cent, from 3,302 students to 3,469 students this year. This bodes well for Manitoba, since graduate students are an important part of the intellectual engine of our province, working with faculty to drive innovation and challenge our assumptions about the critical issues facing society. The majority of graduate students at the U of M remain in Manitoba following graduation, making this one of the province's best retention programs for scientists, doctors, jurists, artists, entrepreneurs and critical thinkers.
"I am very pleased to see such a significant rise in graduate enrolment. This increases the 'workforce' of researchers and critical thinkers at the University of Manitoba, and moves the university closer to achieving its strategic enrolment management planning objectives, said John (Jay) Doering, dean, Faculty of Graduate Studies.
International enrolment increased 17.1 per cent, from 3,203 students in Fall Term 2012 to 3,750 students in Fall Term 2013. Both undergraduate and graduate international enrolment showed strong increases, increasing 18.5 per cent and 13.6 per cent respectively. International students now make up 11.2 per cent of undergraduate students and 24.8 per cent of graduate students. International students enrolled in undergraduate and graduate programs make significant contributions to the diversity of the University of Manitoba and broaden the learning environment for all students.
Credit hours have increased 0.5 per cent, from 286,804 in fall term 2012 to 288,232 in fall term 2013. Distance and Online Education credit hours were part of the increase, climbing 6.6 per cent from 21,423 credit hours to 22,828 credit hours.
The largest increase in enrolment this fall is in the Faculty of Agricultural and Food Sciences, which saw a remarkable 23.7 per cent increase in fall 2013 first day enrolment from that of fall 2012. Arts enrolment is up 11 per cent and Science is up 13.4 per cent.
Mark Whitmore, dean, Faculty of Science, says, "I am delighted that the number of Faculty of Science majors has increased dramatically in recent years, including a jump of approximately 23 per cent in the past two years alone. In fact, over the past decade, the number of full-time majors in the faculty has risen a staggering 69 per cent, and Science now has the largest contingent of full-time majors at the University of Manitoba."
He adds, "Our graduate student numbers are also rising steadily. I take enormous pride in our hard-working faculty and staff, and in our great students who choose to avail themselves of the excellent programs and opportunities we provide them."
The 29, 321 students enrolled at the U of M this fall represent about three quarters of Manitoba's full-time-equivalent university students, and about half of the province's post-secondary students overall.