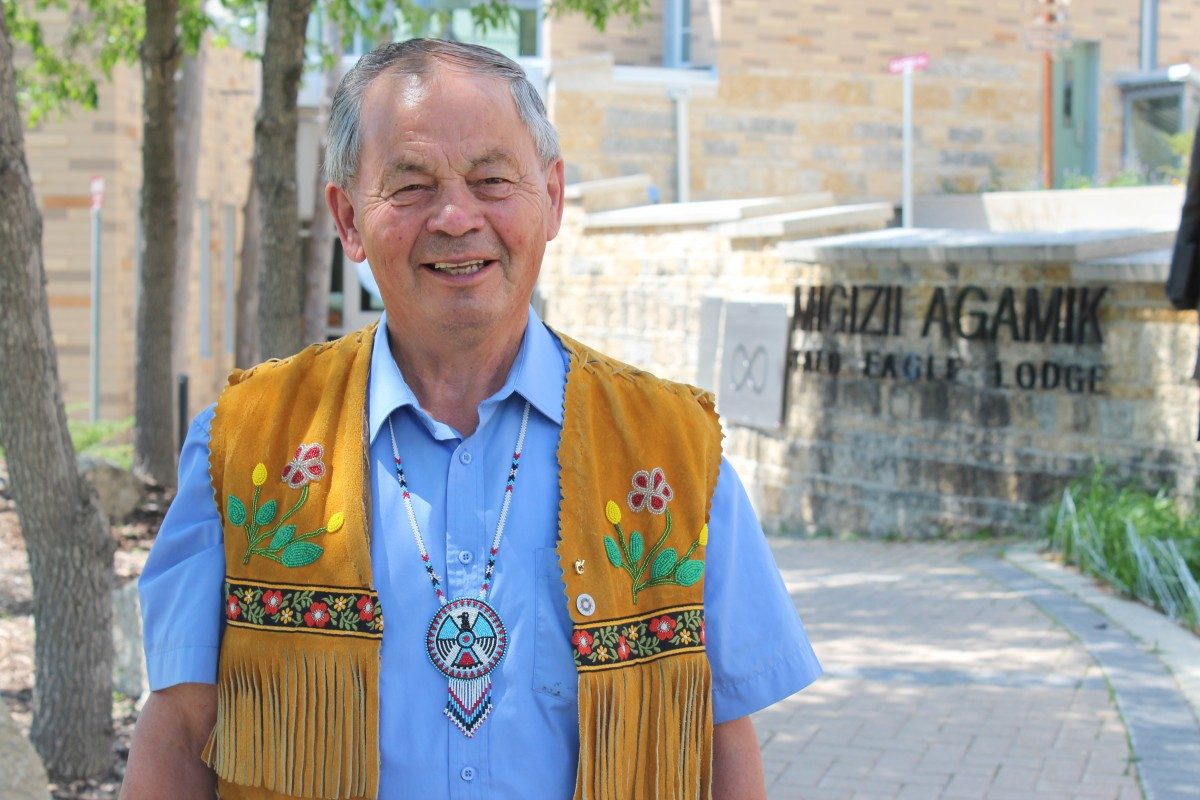 Recollections from the Games: Elder Norman Meade
Elder-In-Residence at U of M speaks about his role at the upcoming Canada Games
July 11, 2017 —
To celebrate the 50th anniversary of the Jeux du Canada Games, the U of M will be running a Q & A series entitled Recollections from the Games to highlight U of M alumni, faculty, staff and students involved in the Canada Games as athletes, coaches and volunteers.
Norman Meade – Métis Elder, Canada Summer Games
Tell us about your role as an Elder-in-Residence at the University of Manitoba.
I've been an Elder at the university for approximately 2.5 years.
My role is to support students when they want to talk to an Elder.
I'm here and they can come see me to ask questions and talk about the things on their minds.
I also give support to staff when they need it. If there are prayers or blessings required at events I usually go to those. That's the role of an Elder.
It's a spiritual role that you perform to try to bring a good spirit into the workplace and to be humble, respectful, to bring love to those who work here, and to the students that you see every day.
Tell us about your role as Métis Elder at the Canada Summer Games.
My role entails meeting and greeting athletes and coaches and attending functions with my family.
I was honoured to be asked, especially when it comes to sports and young people competing in sports, along with welcoming people.
As a Métis Elder it's kind of my role and it fits right in with what I do.
What does it mean to you to be able to welcome the athletes and coaches not only to Winnipeg, but to the University of Manitoba – specifically to Migizii Agamik – Bald Eagle Lodge?
It's always nice to show and invite people to the place where we work to welcome them here to Migizii and to explain to them the purpose of why we are here in this particular building and its history.
Not all universities that I am aware of have done so much for relationships with the Indigenous people as we have here (at the University of Manitoba), and we have a program to back that up and we are building a structure here, too.
Anything else you would like to add?
I want to bring my grandchildren to some of the venues and competitions because they're all involved in sports.
In fact, they're going to Toronto before the Canada Summer Games to the Indigenous Games and two of my grandchildren are participating, one in soccer and one in golf.
When they are back from Toronto, I really want them to watch the competition of the Canada Games, because some day they might be competing in them.
For them to come back fresh from the Indigenous Games, it will be good for them and any other Indigenous athlete, too, to see what the Canada Games are all about.
If you have been involved in the Canada Games or are participating this year, we would love to share your story. Please contact us at umtoday [at] umanitoba [dot] ca.