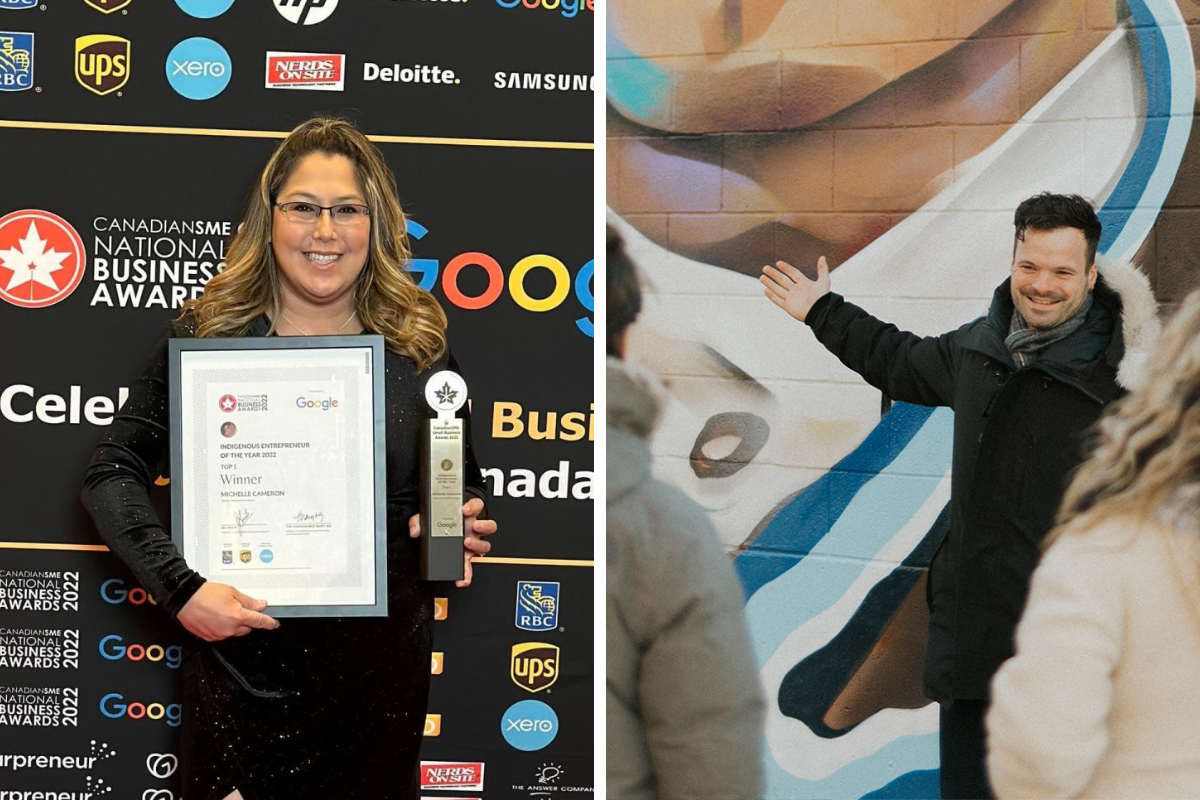 Recognizing excellence in Indigenous business and entrepreneurship at VIBE 2023
Indigenous Business Education Partners and Asper School of Business honour Dreamcatcher Promotions and Nonsuch Brewing
November 14, 2023 —
For 17 years, Indigenous Business Education Partners (IBEP) at the Asper School of Business has hosted the Visionary Indigenous Business (VIBE) Awards, recognizing the achievements of Indigenous businesses, business leaders and entrepreneurs in Manitoba.
The 2023 VIBE Award recipients are Dreamcatcher Promotions and La Brasserie Nonsuch Brewing Co.
Unique in Manitoba, VIBE is also one of the longest-running awards of its kind in Canada. The prestigious annual event combines celebration, networking and philanthropy, bringing together Asper alumni, students, faculty and staff alongside members of the Manitoba business community to be inspired by excellence in Indigenous business and entrepreneurship.
On November 16, the VIBE Awards will bring this celebration to the RBC Convention Centre.
The 2023 recipients demonstrate creativity, ambition, adaptability and a passion for community while actively contributing to Manitoba's economy.
2023 VIBE Award Winner – Dreamcatcher Promotions
With a mission to elevate and amplify Indigenous voices, Dreamcatcher Promotions is Canada's largest Indigenous-owned promotional company. An impressive 95% of Dreamcatcher's clientele are Indigenous, as they offer various organizations, communities and artists opportunities to create custom apparel and promotional items that suit their unique needs and voice.
CEO and owner Michelle Cameron started Dreamcatcher as a home-based business in 2012 in Tootinaowaziibeeng Treaty Reserve. Today, the company operates out of Swan Lake First Nation Urban Reserve and fulfills contracts across Canada, employing more than 50 people, many of whom are of Indigenous descent.
They are also now one of the largest orange shirt distributers in Canada, actively supporting community initiatives like Every Child Matters, Drag the Red and Orange Shirt Day, and advancing Reconciliation through visibility and outreach.
2023 VIBE Award Winner – La Brasserie Nonsuch Brewing Co.
La Brasserie Nonsuch is a Métis-Francophone majority owned business led by president Matthew Sabourin. Since 2017, Sabourin and the team at Nonsuch have worked to contribute to Manitoba's Métis-Francophone culture, envision a more diverse, equitable and inclusive province and create experiences for everyone to savour, remember and cherish.
The craft brewery has won more national beer and brewery awards than any other Manitoban brewery, and they earned the #2 spot on the Globe and Mail's 2019 list of best new restaurants on the prairies. Beyond award-winning beverages and food, Nonsuch aims to give back to the community: fundraising for Main Street Project, working with the Exchange District Biz, joining Circles for Reconciliation and working with Métis Employment and Training (MET).
—
IBEP Director Zach Unrau [BComm/17] describes the significance of the VIBE Awards, not just for Manitoba's business community today, but also for the future Indigenous business leaders in Asper classrooms and beyond.
"I am so excited to celebrate the 17th annual Visionary Indigenous Business Awards this month," says Unrau. "VIBE represents the continued success of Indigenous people in business. I have attended the event as an Asper student, IBEP alum and now as IBEP director. Doing so allowed me to see in many ways that we can make meaningful change through business and entrepreneurship, and I think others in attendance this year will feel the same."
VIBE is more than an opportunity to inspire future business leaders and connect students with the business community—it also directly benefits Indigenous students pursuing business at Asper. Each year, 100% of event proceeds go toward scholarships, bursaries, academic support and more for IBEP members.
—
IBEP provides a variety of services to Canadian Indigenous students in pursuit of their Bachelor of Commerce or Professional Graduate Degree at the Asper School of Business, including tutoring, bursaries and scholarships, and networking opportunities. If you or your organization are interested in supporting Indigenous students in business, contact ibep [at] umanitoba [dot] ca.