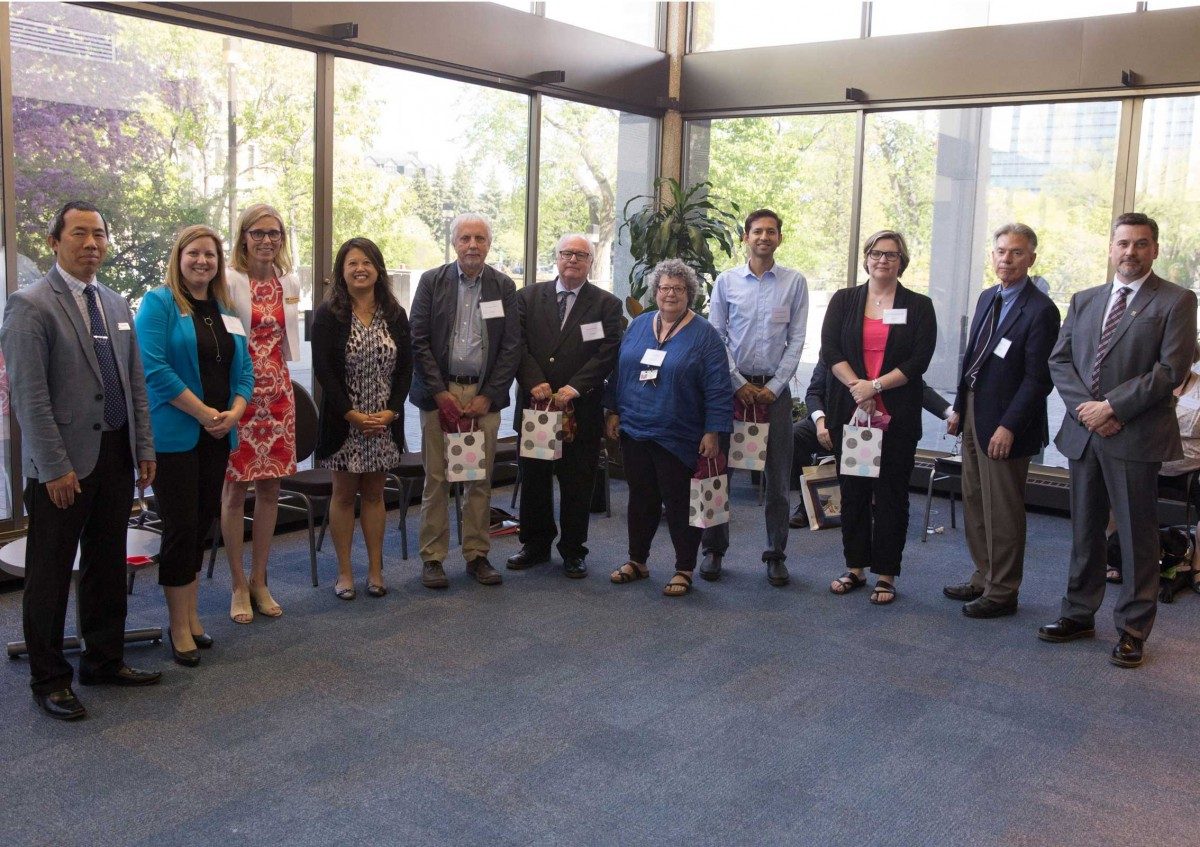 Recognizing excellence in graduate education
Faculty, staff and students honoured at Spring Reception
June 22, 2017 —
Faculty members and support staff play a vital role in the graduate student experience and the successful academic development of graduate students at the University of Manitoba.
To recognize those who consistently go above and beyond their regular duties, the Faculty of Graduate Studies celebrated outstanding advisors, faculty member administrators and support staff in a special reception at Marshall McLuhan Hall on May 24.
"There are many people on both campuses who deserve recognition for the outstanding support they offer graduate students and programs on a daily basis," says Todd Mondor, Acting Vice-Provost (Graduate Education) and Dean (Graduate Studies), who initiated the event. "We truly value their contributions and want to celebrate and thank them."
The following faculty and staff were recognized for providing exceptional support.
Award for Excellence in Graduate Student Mentoring:
Sean Byrne – Peace and Conflict Studies
Dilantha Fernando – Plant Science
Lisa Landrum – Architecture
The annual award for excellence in mentoring has been designed to recognize outstanding performance in the mentoring of graduate students. It was established to identify faculty who embody both the letter and spirit of mentoring. Three faculty members were recognized:
Outstanding Administrator Award:
Ed Kroeger – Physiology and Pathophysiology
The Faculty of Graduate Studies offers one award annually to recognize one member of the University of Manitoba's complement of academic staff members who have provided exceptional administrative services with respect to graduate studies.
Outstanding Support Staff Award:
Margaret Currie – Sociology
Gloria Derksen – Psychology
Angela Nelson – Medical Microbiology
The Faculty of Graduate Studies presents the Outstanding Support Staff Award to recognize the considerable efforts and accomplishments of staff members who consistently strive to fulfil the academic mission and provide invaluable service to the faculty.
In total, 55 nominations were received for the awards, indicating the breadth of commitment that faculty and staff demonstrate towards supporting graduate education. See below for a list of all nominees.
The University of Manitoba Distinguished Dissertation Awards were also presented. Four recent recipients were honoured for their groundbreaking research, receiving a citation certificate and cash prize of $3,000:
Dr. Barrett Ens
Program: Computer Science
Thesis: Spatial Analytic Interfaces
Advisor: Dr. Pourang Irani, Computer Science
Dr. Stephanie Caligiuri
Program: Physiology
Thesis: The Impact of Long-term High Protein Intake on Relevant Indicators of Health in Obesity
Advisor: Dr. Grant Pierce, Physiology & Pathophysiology
Dr. Jean L. Polfus
Program: Natural Resources and Environment Management
Thesis: An Interdisciplinary Approach to Describing Biological Diversity
Advisor: Dr. Micheline Manseau, Natural Resource Institute (NRI)
Dr. Jennifer Watt
Program: Education
Thesis: Practicing Life Writing: Teaching through Vulnerability, Discomfort, Mindfulness and Compassion
Dr. Jennifer Watt – Advisor: Dr. Wayne Serebrin, Education
---
Nominees for the Excellence in Graduate Student Mentoring Award
Cheryl Dika, Nursing
Todd Duhamel, Kinesiology and Recreation
Warren Eaton, Psychology
Donald Fuchs, Social Work
Jean-Eric Ghia, Immunology
Thomas Hack, Nursing
Can-Ming Hu, Physics and Astronomy
Soheila Karimi, Physiology & Pathophysiology
Christina Lengyel, Agricultural and Food Sciences
Kelley Main, Management
John Markham, Biological Sciences
Puyan Mojabi, Electrical and Computer Engineering
Zahra Moussavi, Biomedical Engineering
Michael Namaka, pharmacy
Jose Nava, Nursing
Vladimir Okhmatovski, Electrical and Computer Engineering
Cathy Rocke, Social Work
Jessica Senehi, Peace and Conflict Studies
John Serieux, Economics
Cyrus Shafai, Electrical and Computer Engineering
Joyce Slater, Human Nutritional Sciences
Claudio Stasolla, Plant Science
Miyoung Suh, Human Nutritional Sciences
John Walker, Psychology
Dirk Weihrauch, Biological Sciences
Roberta Woodgate, Nursing
Zhenyu Wu, Management
Nominees for Outstanding Administrator Award
Denis Bracken, Social Work
Donald Fuchs, Social Work
Zana Lutfiyya, Peace and Conflict Studies
Jitendra Paliwal, Biosystems Engineering
Jennifer van Wijngaarden, Chemistry
Nominees for Outstanding Support Staff
Charles Burchill, Community Health Sciences
Jill Christie, Management
Mark Cooper, Geological Sciences
Amy Dario, Electrical and Computer Engineering
Susan Ducharme, Peace and Conflict Studies
Kirk Dyson, Mechanical Engineering
Matt Ellis, Physiology and Pathophysiology
Rose Fiorello, Religion
Kathy Graham, Animal Science
Simone Hernandez-Ramdwar, Education (Ph.D.)
Zeev Kapitanker, Mechanical Engineering
Joanna Ksiazek, Civil Engineering
Kirk Marat, Chemistry
Betty McGregor, Economics
Kris Nabess, Mechanical Engineering
Karen Singleton, Social Work