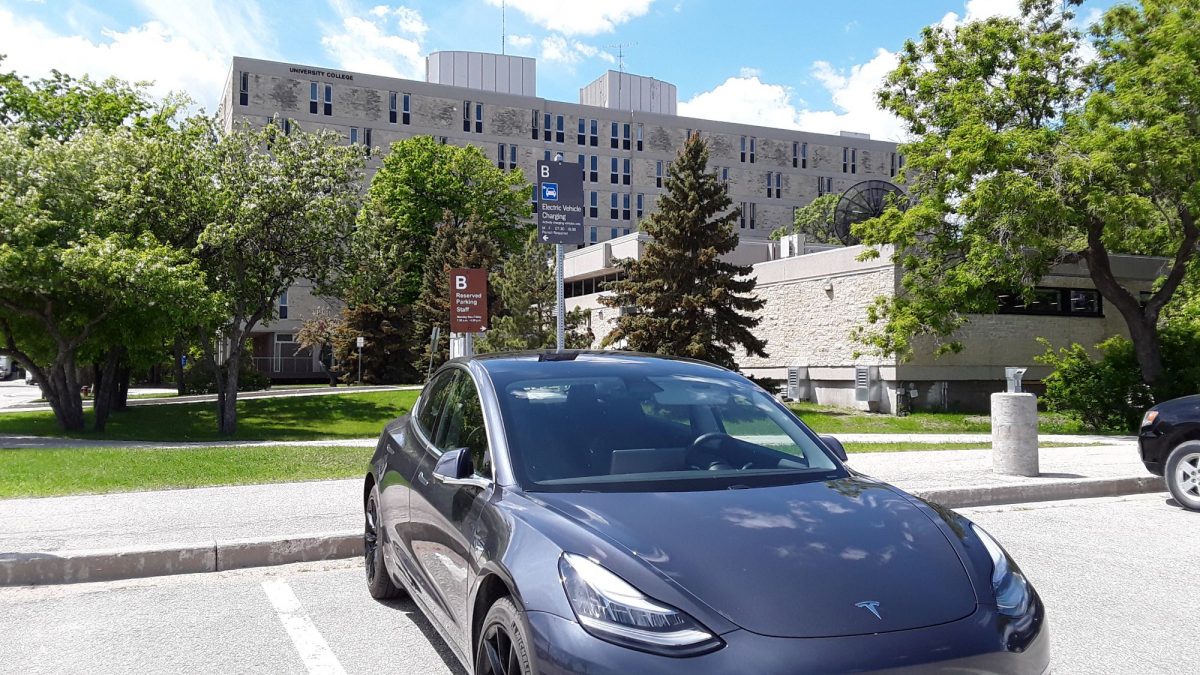 Ready, set, (EV) charge!
UM installs new electric vehicle charging stations on Fort Garry campus
June 9, 2022 —
University of Manitoba (UM) community members who drive electric vehicles now have more charging options on campus.
Thanks to a grant from the Manitoba Conservation and Climate Fund in 2021-22, six new Level 2 electric vehicle (EV) charging stations have been installed. Students, faculty, staff and visitors may charge their battery electric or plug-in hybrid electric vehicle for up to four hours, provided they have a valid UM parking permit or paid metre parking. The new chargers are located in H-lot, ALC-lot and B-lot on the Fort Garry campus.
"These new chargers are an important next step in meeting the demand that we know is only going to increase in the coming years," says Office of Parking and Transportation director Cameron Neufeld.
"Supporting the UM campus community to shift to low and zero-emission vehicles is essential as we work together to reach our climate action goals," explains Office of Sustainability director Christie Nairn.
Daily Level 1 charge now available
For EV drivers looking for a daily Level 1 charge, 20 parking stalls in Q lot have been converted from a cycling smart plug intended for block-heater warming, to plugs offering a constant flow of electricity year-round. Contact the Office of Parking and Transportation for more information on accessing these stalls.
Fleet vehicle charging
In anticipation of additional plug-in hybrid and battery electric vehicles being added to the suite of UM fleet vehicles, two additional Level 2 chargers have been installed near Physical Plant. The new fleet chargers are reserved for UM fleet vehicle charging 24-7.