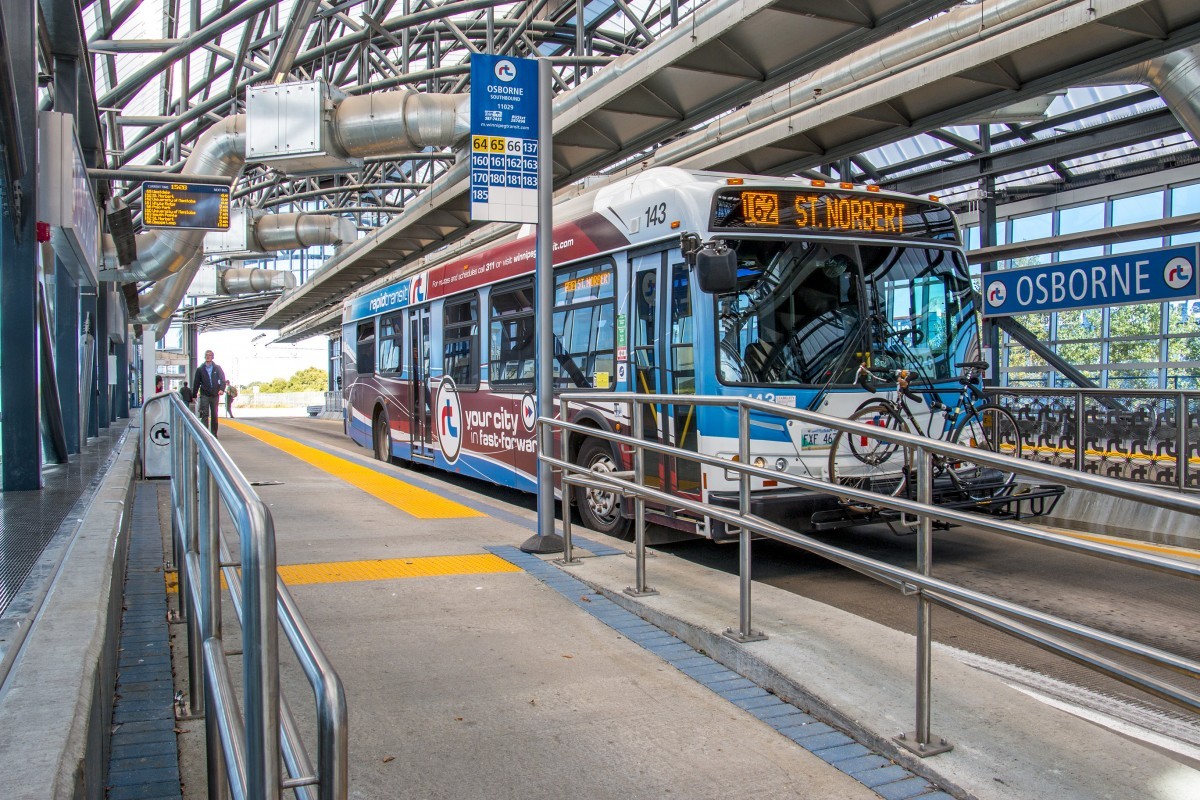 Rapid Transit slowly accelerating
February 12, 2015 —
Over one-third of commuters on the Fort Garry campus use public transit. So the joint announcement on Monday, February 9 — and the dedicated funding from all three levels of government to extend Winnipeg's rapid transit route — will have a profound impact on the U of M and its wider community.
"The arrival of the Southwest Rapid Transit way at U of M's Fort Garry Campus is exciting," says Ian Hall, director of the sustainability office at the university. "The reliability improvements, quality of experience and time savings will benefit a large proportion of our community and commuters inbound to downtown. The parallel active transportation path will improve mobility and safety for people who bike and walk in a broad swath of the city," Hall adds.
The federal government has committed $137.5 million and the province and the city will each contribute $225 million towards the Southwest Transitway from Jubilee Avenue to the University of Manitoba. Construction on the project is expected to start in 2016 and will likely be completed by late 2019, with service to start by April 2020.
Hall says that from a sustainability perspective, improved transit facilities and use will contribute to the university's goals to reduce emissions, support a walkable campus, increase wellness and foster sustainable transportation choices.
The future bus rapid transit line to the U of M is also a focal point of Visionary (re)Generation, with the plan calling for village-style residential and commercial areas to be developed along the route. The plan also proposes future bus and active transportation routes throughout campus.
Connecting the Southwest Rapid Transitway to the campus is immensely positive for the university says Rejeanne Dupuis, acting director of the Campus Planning Office.
"It will increase the accessibility and convenience of transit access both within the campus and to the rest of the city, helping to make us a more transit-oriented campus overall," she says.
With the proposed transit route going through the Southwood Lands, appropriate planning in this area is crucial for its future neighbourhood development. Dupuis says mixed-use elements are key to this so that safety becomes paramount. The route through this area will not be a high-speed corridor, rather it will function more slowly through the Southwood Lands much like neighbourhood streets do now.
"Pedestrian safety, street design, and crosswalk locations will be key considerations when finalizing the locations of stops on campus — ensuring transit access and stop locations facilitate a positive and enjoyable pedestrian experience," says Dupuis. "The location of major pedestrian corridors and access points on campus will also be important in planning stop locations, as will the proximity of stops to indoor and building access."
"Personally, I'm excited to see how having top notch transit and active transportation facilities on campus changes perception of sustainable transportation," adds Hall. "There are all kinds of reasons to bus, bike or walk to school, but improvements that add convenience, improve connections, work well year round — and that look good — will I'm sure, transform our transportation culture."