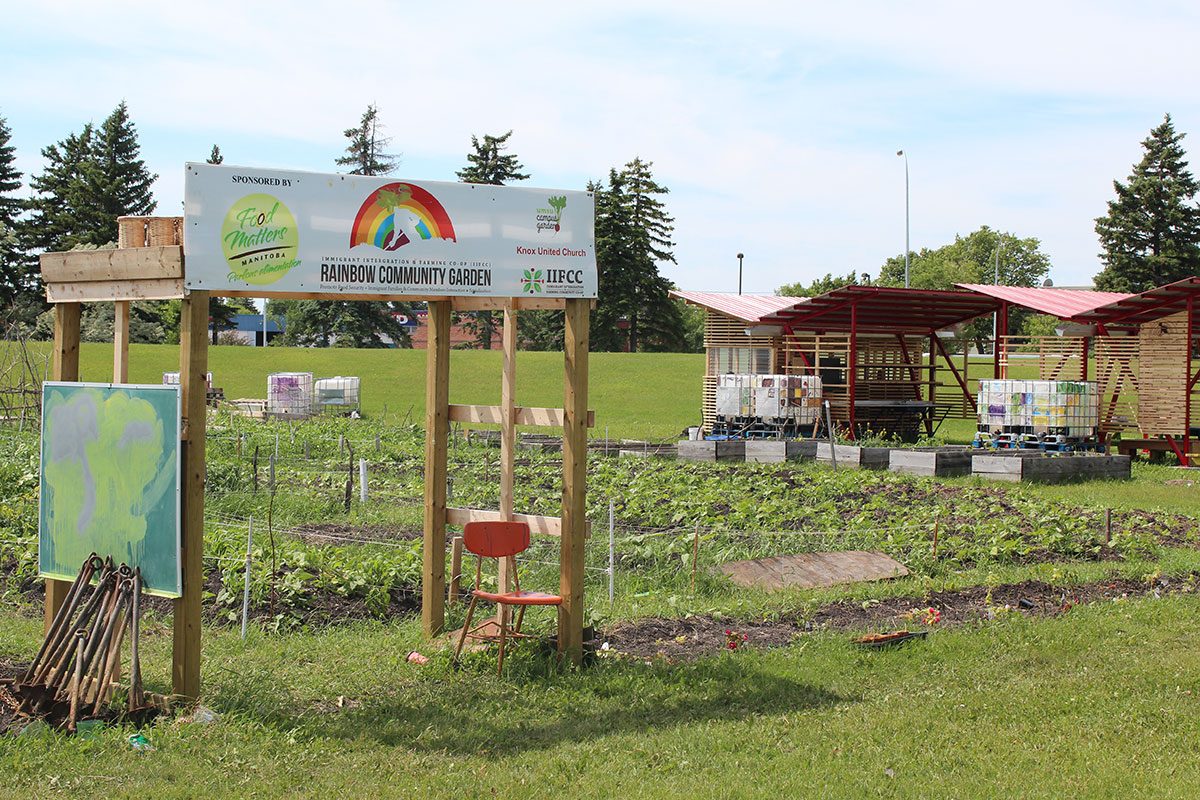 Rainbow Gardens supports immigrant families
July 17, 2017 —
Last month, a ribbon cutting ceremony officially opened the Rainbow Gardens Architecture and Engineering initiative at the University of Manitoba.
The Rainbow Gardens community garden on the University of Manitoba campus supports immigrant families from the Central Park area of the city. These gardens help community members to grow their own food, share in their native culinary traditions, and to establish a meaningful social network among other immigrant and local community members.
The project is the result of a year-long partnership of these two faculties at the University of Manitoba, working with the Immigrant Integration and Farming Community Co-op (IIFCC, a.k.a. The Rainbow Gardens community) to design and build several urgently needed structures.
In 2016, architecture students, led by Prof. Lancelot Coar, and civil engineering students, led by Dr. Dimos Polyzois, co-designed and built five innovative passive design structures for the gardens. These include:
Shelter for community event gathering
Passive water catchment and retention system
Tool storage for the Rainbow Gardens community and UMSU
Summer kitchen facility to support community feasts and harvest celebrations
Public washroom facility (with a compost toilet)
Remote structures to provide shaded rest areas and tool storage
Hands-on experience for students
The project has benefited architecture and engineering students who have been able to apply theoretical concepts to a real-world situation, and learn the value of their profession in relation to working with other trades and clients. In addition, in order to situate the work carefully in the context of the garden and surrounding landscape, Professor Brenda Brown and her landscape architecture students provided insight and consultation on the proposal.
Following the design and pre-fabrication phase of the project in the fall, Professor Liane Veness led the construction and installation work with her students in the spring of 2017.
"There is a need for more opportunities for students to work on actual building projects," says Veness. "Projects such as the Rainbow Gardens bridge the gap between academic, in-studio work and practical applications. They allow students to apply their knowledge to solve tangible problems, working with realtime constraints and coordinating trades so that everything comes together on schedule."
"Most importantly, in the case of the Rainbow Gardens, students were able to see first-hand the result of work within their own community, and that their work matters beyond the borders of their classroom or studio," she adds.
Raymond Ngarboui is the Community Development Coordinator for Community Education Development Association (CEDA) in Winnipeg, working with the CEDA-Pathway Student Post-Secondary Project.
Significant impact
"The gardens at the University of Manitoba have made a huge impact on participants," he explains. "We had 154 families with at least five members last year, and 212 families from 31 different nationalities in this 2017 growing season at our U of M garden site."
"These gardens contribute to newcomers' and refugee families' healthy living through providing an exercise alternative for women and senior new immigrants who do not or cannot go to the gym," he adds. "The gardens contribute to healthy eating and food security for new immigrants who otherwise cannot afford nutritious organic food and would otherwise go to stores for fast or junk foods. And this in turn facilitates community engagement and participation and community building within new immigrant populations in Winnipeg."
Ngarboui says new immigrant and refugee families and single mothers with several children find the U of M garden site an ideal place and spend many hours there almost every day, away from their inner city neighbourhoods. The site has green space for children to play with their peers while their parents are working on their family plots, or interacting with adults and other parent gardeners.
Seniors with no English who would otherwise remain isolated in their homes find it a place where they can meet others from their own countries of origin, speaking their own languages, and spend time together chatting. Most participants share that their stresses disappear when they come to the garden, but that the stresses come back on rainy days when they cannot go to the garden.
Benefiting families
"Almost all gardeners on the U of M Fort Garry campus site are lower income families," Ngarboui notes.
"They save money by growing their own vegetables, especially those from their home countries that are not readily available in Canada. These might be available here, but they are usually imported and frozen with low taste and quality, and sold at high costs in local ethnic grocery stores. What's more, beyond growing their own nutritious foods to eat throughout the growing season and saving money, gardeners often sell extra produce to local farmers' markets to supplement their incomes, and preserve some veggies to eat throughout the winter."
Crops grown at the Rainbow Gardens at the U of M include local vegetables but also more exotic crops such as okra, Hibiscus sabdariffa, molokhia, sweet potato leaves, sorghum, black eye peas, Bhutanese mustard leaves, and Japanese cabbage.
The Rainbow Gardens were established in 2008 and have now spread to three locations throughout Winnipeg, including the site on the University of Manitoba campus at Chancellor Matheson and Pembina Highway.
Ngarboui has much praise for the U of M gardens, although he notes that the distance from the Inner City is an issue for some gardeners to travel with their families.
"Single parents with children or families with many members can find the cost of travel prohibitive, although some walk or bike all the way," he says. "We used to receive assistance in travel funds, but these sources have dried up and we are seeking help in this area."
On the topic of "drying up," Ngarboui sadly notes that their number one challenge at the site is water. Despite the water reclamation system, the supply of water needed for maintaining the crops is not sufficient.
"Most of the first seedlings that were planted at the end of May died because of a lack of water supply and no rain. And the garden continues to dry out under the burning sun," he says.
Ngarboui notes that assistance from the public for transportation to and from the site is much needed, as are donations of used gardening tools.
"And water, of course," he says.
The Rainbow Gardens infrastructure was created through partnerships with several generous university and industrial partners to help make the project possible. These include:
Canadian Institute of Steel Construction (CISC)
Sperling Industries
Shopost Steel
Assiniboine Credit Union
Barkman Concrete
Westman Steel
The Home Depot
Office of the Dean, Faculty of Architecture, Faculty of Engineering, Friends of Engineering (Manitoba) Inc., Faculty of Architecture Partners Program and many other U of M departments and institutes.