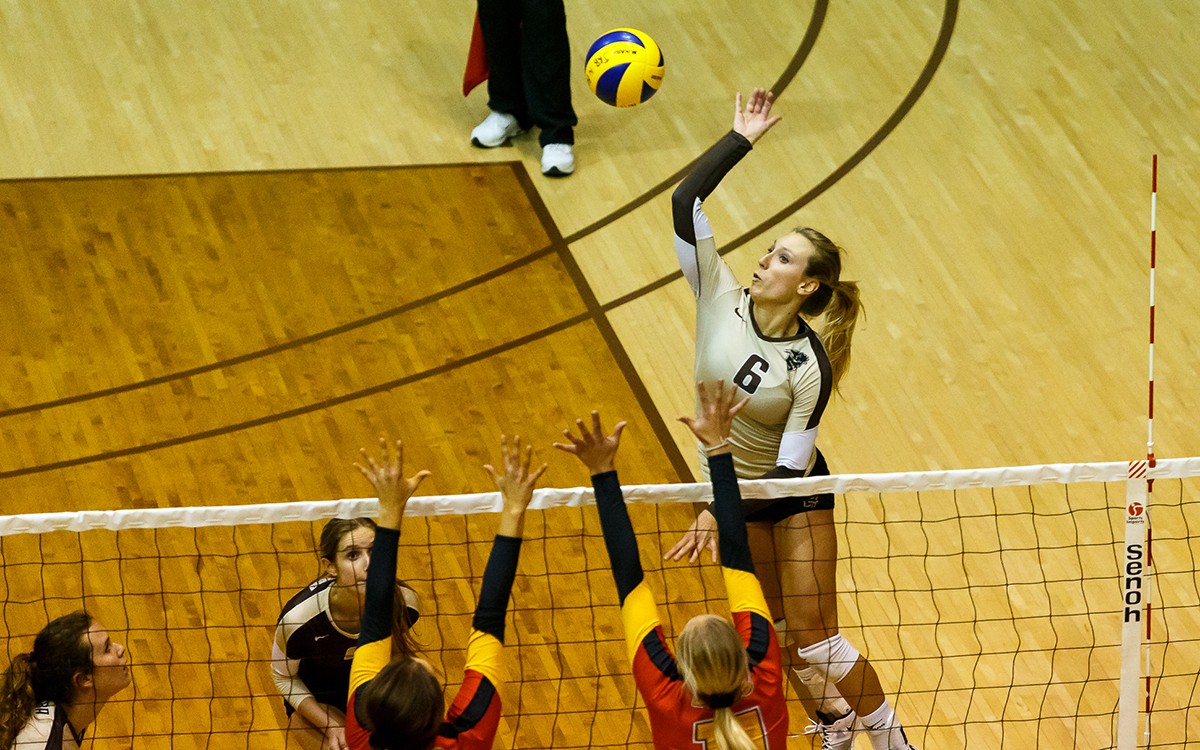 Rachel Cockrell named CIS women's volleyball Player of the Year
February 26, 2015 —
The 2014-15 Canadian Interuniversity Sport (CIS) women's volleyball All-Canadian teams and season honours were announced on Wednesday, February 25, 2015. The University of Manitoba Bisons had one player earn women's volleyball All-Canadian and major award status.
Bison right side hitter Rachel Cockrell was named as a 2014-15 CIS women's volleyball Player of the Year (Mary Lyons Award recipient) plus selected as 2014-15 CIS First Team All-Canadian. This is the third time in her four year career (she was also selected to the 2010-11 CIS All-Rookie Team and 2012-13 CIS Second Team All-Canadian) at Manitoba to earn CIS recognition.

Cockrell, 22, is the first Manitoba Bisons to be selected as CIS Player of the Year MVP in women's volleyball since the 2001-02 season when Kathy Preston earned the honour. Cockrell is now only the fifth Bison player to earn CIS WVB Player of the Year recognition (Michelle Sawatzky, 1990-91 and 1991-92; Loriann Sawatzky, 1994-95; Louise Wlock, 1997-98; Kathy Preston, 2001-02; Rachel Cockrell, 2014-15).
In the regular season, Cockrell was first in the country in kills per set (5.06), total kills (471), total points (535.5) and points per set (5.8). She was dominant throughout the season as she led the defending CIS champions to a sixth place Canada West finish with a 13-11 record and was selected as team captain for a third consecutive campaign. She started and played in all 24 conference matches and led the team in kills in every match except one, had 20 or more kills in 10 contests, and had a season-best 29 kill effort against Calgary on October 9. The 5-foot-10 senior also had eight matches of 10 or more digs to show her versatility on both offence and defence.
In addition, for her final swan song at the university level, Cockrell completed the season in style with 29 kills in the quarter-final series finale on February 14, establishing a new Canada West playoff record.
Prior to this season, Cockrell was named MVP of the 2014 CIS championship after Manitoba swept all three matches en route to the national title. In three tournament contests, she slammed 43 kills (.320 hitting percentage), 10 digs, eight total blocks and 49.5 points while starting and playing all nine sets. Earlier in this season, Cockrell was also named as 2014-15 Canada West Most Valuable Player.
"Everyone who saw Rachel play this year, be it the fans, the opposition, or our own team, knew they were seeing a pretty special athlete at her very best," said 29-year Manitoba head coach Ken Bentley. "Rachel joins some very elite company, as she is the fifth athlete from our program to be selected as the player of the year in Canada. She has been an absolute pleasure to coach over her career at Manitoba."
The other CIS women's volleyball Player of the Year finalists were Saint Mary's left side Rachel Windhorst, Montreal setter Katia Forcier and Toronto left side Charlotte Sider.