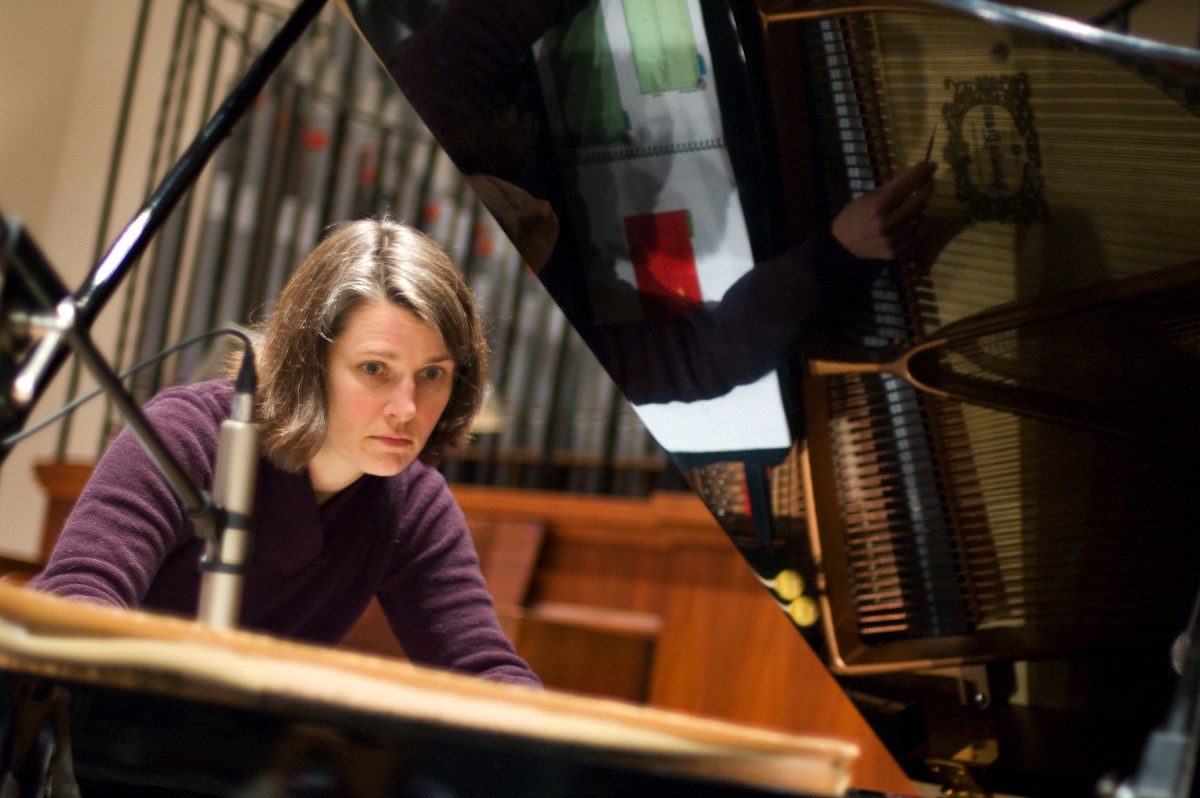 Q&A with Laura Loewen, acting dean of the Desautels Faculty of Music
November 9, 2018 —
On stage, acclaimed pianist Laura Loewen is not a soloist. The acting dean of the Desautels Faculty of Music yearns to engage with other people.
"You have these people who come to make music, with completely different instruments, different needs, different abilities, and somehow you need to create a really interesting conversation about compromise and about being strong in your ideas but being open to someone else's ideas. And I think that is so incredibly interesting."
Off stage, this same philosophy guides her as an administrator. Loewen, a member of the Royal Society of Canada, accepted the role of acting dean of the Desautels Faculty of Music for what could be the briefest stint in U of M history: six months. The previous dean's tenure ended June 30, 2018, but the incoming dean could not start until Jan. 1, 2019. Loewen agreed to fill in.
"I've kind of been interested in going into administration, but in 10 years or so. That's what I've always thought. So this seemed like a wonderful gift to be able to try it and see if it's something I like."
It is. Her father is no doubt pleased—he has long thought her to be a talented leader. But she misses her regular teaching and performing world, which is why she occasionally plays the piano in her office—"when I need to feel normal"—although she prefers the piano in her studio, one floor below.
UM Today sat down with professor Loewen to ask her about her experience as acting dean.
UM Today: How have you found this role?
Laura Loewen: It's fascinating. I've really enjoyed it a lot. Before, when I would look at my dean and associate dean and the kind of decisions they were making and how they thought, I always thought, how would I know how to do all those things? It's such a different way of thinking. But then I found, as soon as I came into this position, that all of a sudden I'm looking at the university at a very different level. Of course the questions I ask are going to be different here then they are when I'm teaching. So the answers, or at least the answers that I thought were right, are very clear to me. And that has just been really wonderful.
Did this catch you off guard?
It did. Because I thought some magic thing happens when you become an administrator and you just know what to do. But no. It's just that you see the university from a different vantage point and so you ask different questions.
When you go back to teaching will you have some sympathy for the administrators?
Oh my goodness, yes. And for the office staff. The amount of work that goes on here, and just the detail, and the big thinking, I mean it's extraordinary. I think what I loved most about this experience is getting to know a completely different level of the university and the people. There are so many dedicated and supportive people who care deeply about this university and the students and how things work. I didn't know they were here when I was a faculty member and they have been so incredibly supportive and generous. So I think I have a much better sense of how the larger university works.
Have you missed teaching while in this role?
I've actually been teaching. Some of the one-on-one work I was doing, I have not been doing. Some former students of mine have been filling in for me, which is wonderful to watch them step into that role. But the classes I was teaching, I still am teaching. I got a marker this term, which I never had in my life. But yeah, it's busy but it's wonderful because I can do something that feels so comfortable and it realigns my brain at times. And then I can remember how deeply I love what I normally do. I love this new role. But I'm so grateful to do something on a daily basis that gives me such joy as playing piano, and teaching and performing. That has becoming extremely clear to me right now because I'm not doing it eight or ten hours a day. And when I do it, ah, it feels so good.
Is that what you mean by realign your brain?
Yes. It just suddenly feels like, yes, this makes complete sense to me. This is my world. What I'm doing now in this administrative role feels like an expansion of my normal world.
When did you start playing piano?
When I was three.
Did you always love music?
I think I did. When I was a kid I liked playing because my sister played and she is older than me and I just wanted to be like her. So that was my first interest in it, but piano is just a big part of my memories of my life.
What do you normally work on in your studio?
I'm a pianist and ever since I was little I loved playing piano but I especially enjoy playing with other people—I'm not a soloist. I'm a collaborative pianist and do I a lot of preforming with singers and instrumentalists. My work here is mainly with singers: I run the diction program. I teach the classical singers to sing in English, German, Italian and French. I also work with them individually on their language use. Classical singers, since they are regularly singing in five or six languages, they need a lot of training in all the different ways the languages work—how the sounds interact and the quality of the sounds. I do many other things, but that's what I specialize in.
Now that you have seen things from both sides, what advice would you have to students – like how to get the most out of supports, or how to enjoy the Faculty?
Somebody asked me a similar question recently: what advice would I give to my 21-year-old self. And what I would say to 21-year-old me and to students is that you don't have to know everything. It's okay that you don't know everything. You should be proud of what you know and not be scared of what you don't. Ask and be curious and know that you have so much time. As a young person you feel like you have so little time to learn so much. It feels so stressful as a student. Looking back on my life, I had so much time. Why was I in such a rush!? There are a lot of years to grow and develop. So love everything and take advantage of things. Eat well. Exercise. Do everything with as much joy as you can. The world needs music. It needs this voice. Our sensibility, our voice, what we can say, is really necessary, and students need to know that what we are doing is not for ourselves. There is a much larger use for it in the world. It matters that we take this seriously and it matters that we care this much.