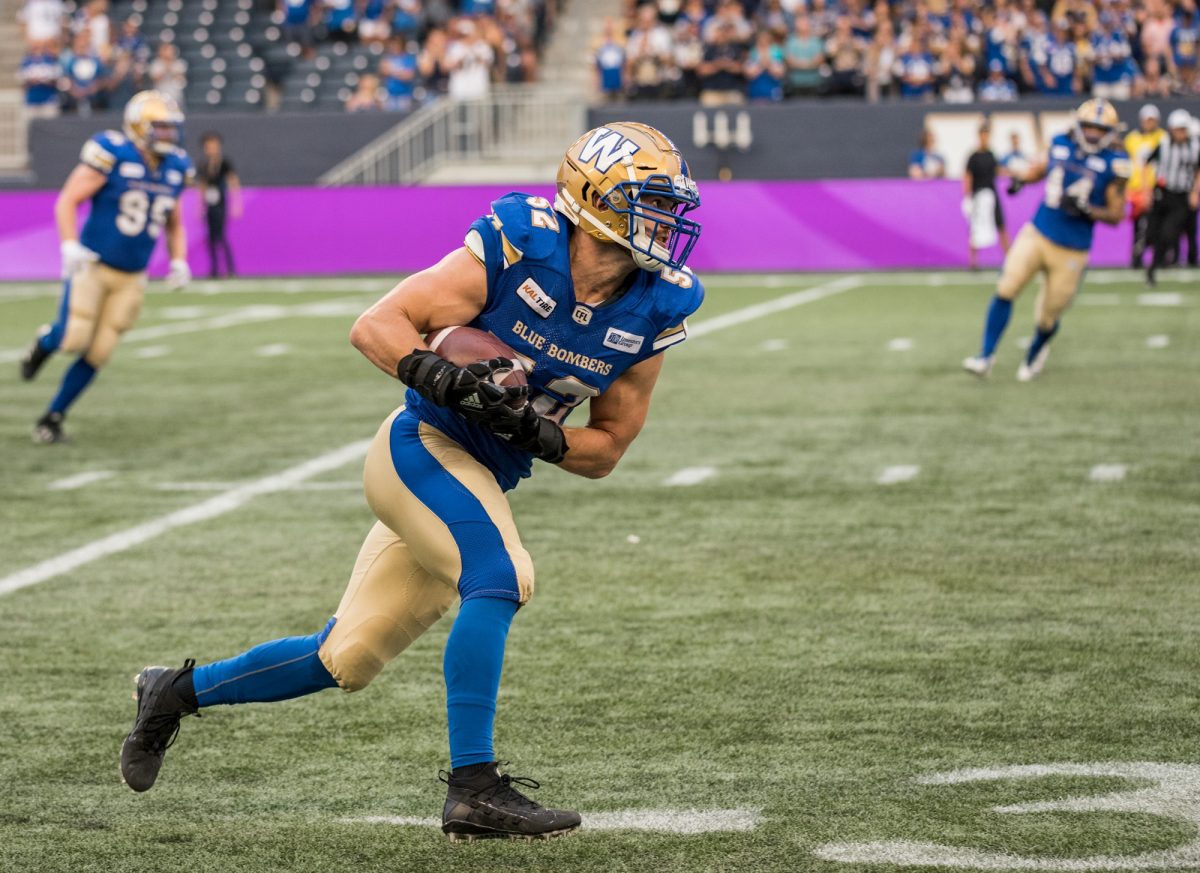 Q & A with an MBA – Thomas Miles [BA/16], 2019 Grey Cup Champion
December 3, 2019 —
In celebration of 50 years of graduates since our first cohort in 1970, the Asper School of Business is pleased to launch the Q & A with an MBA story series. Throughout 2020 we'll be profiling our Asper MBA students and alumni by celebrating achievements, highlighting the range of career paths and showcasing student and alumni impact in the local, national and international business communities.
—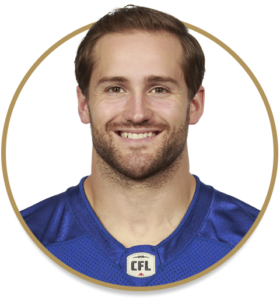 The city of Winnipeg is celebrating the return of the Grey Cup and a renewed feeling of pride thanks to the Winnipeg Blue Bomber's win over the Hamilton Tigercats at the 107th Grey Cup Championships.
A member of that winning Bombers team and current Asper MBA student, Thomas Miles [BA/16] played an important role in returning the Cup to our city in his position on the Blue Bombers special teams, specifically in the championship game by securing the ball on a short kickoff.
A Winnipeg native, Miles spent four seasons (2010-13) with the U of M Bisons and was drafted by the Toronto Argonauts in 2014. He spent three seasons there before signing with the Winnipeg Blue Bombers prior to the 2017 season and has a long list of significant contributions to the Bombers Special Teams unit.
While Miles shines on the football field and finds time to complete his MBA, he also gives back to the community. According to the Winnipeg Blue Bombers site, Miles is "one of the most-involved Blue Bombers off the field" and is involved in community initiatives such as Bombers Tackle Bullying, Break The Silence On Violence Against Women and Hit the Books programs.
Miles connected with us to describe his Grey Cup experience and how he adds the Asper MBA to his unique schedule.
What was it like to play in and win the Grey Cup?
Pandemonium. I'm not sure how to describe the feeling, it's a mix of pure elation and relief and disbelief and the ultimate high as we have worked so hard for so long for this. For us, there was so much work that went into it and we had tangible, improving results year-after-year…we could feel ourselves getting closer. To finally accomplish it is just so incredibly rewarding. We are absolutely honoured to be the team that brought the Grey Cup back to Winnipeg after so long. It's really the best feeling.
What was the week like leading up to the Grey Cup? How did you prepare mentally?
We left for Calgary on Tuesday and spent the week there preparing for the game. Our usual process is to practice in Winnipeg and then travel the day before the game, so this was a little different in that regard. But in terms of mental preparation, this was game 23 for us, counting pre-season and playoff games, so we all know our routine well and trust it. All of our focus and emphasis was on trying to keep things as similar as possible to every other game in the season. My undergrad is in psychology so I'm familiar with sports psychology and making your surroundings as consistent as possible for optimal performance. We also had psychologists helping the team throughout the year and process was a central theme for the team's preparations, trying to make it like any other game. It sounds like that might be easy to say and hard to do, but surprisingly it wasn't…my sense was that our collective nerves were the same that week as they were during preparation for any other game in the season.
How did you decide to take your Asper MBA?
I figured that an MBA would provide me with both something to do in the off-season and a solid stepping-stone to transition out of football when I decided it was time retire. I feel that a lot of the teamwork aspects of football will translate to business, so I thought it was a good fit. I'm not sure exactly where I'll end up when I'm done playing, but I'm open to many different career paths. I do a lot of work in the community both with the team and on my own, and love it, so ideally, I'll find a job where I can continue to do that.
How do you balance the Asper MBA with your football career?
Really, I feel that my workload is quite light compared to some of my classmates, I know many people in the program who are working full-time jobs and have kids at home.
In the CFL, we work 4.5-hour days during the week – 2.5 hours of meetings followed by two hours of practice, then we're more or less done, although we also spend time in the gym and watching additional film. That gives me a fair bit of freedom in the afternoons to get assignments done, study for exams, etc. and then I take the evening courses offered by Asper. The flexibility of the degree was one of the most attractive aspects for me. I enrolled in the Asper MBA program when I was still under contract with Toronto, assuming I would take classes part-time in the off-season only, then when I signed in Winnipeg, I began to take courses year-round.
Luckily, I have had very supportive and understanding professors who were particularly fantastic this past week while I was in Calgary and had to miss three lectures (thank you Howard, Raj, and Jamie!) My experience at Asper has been great.
What concentrations or specialties are you focusing on in the program?
Sustainability, then either International and Emerging Markets or Leadership and Organizations. I've already taken the Experiential course for Sustainability so that will be my primary specialization. I went on the international study trip to Tanzania last April, which was educational, interesting, and a lot of fun. I only need 12 or so more credits to complete the degree but the earliest I can take the final course of the program will be next winter.
I have always enjoyed working towards a goal, having an objective; being in class to obtain a degree certainly provides that, sort of like having a Grey Cup to compete for. I'm certainly enjoying the challenge of the Asper MBA, although that may change when I sign up for Corporate Finance…
You mentioned that you have a desire to give back to the community. How are you currently involved in the community?
Aside from the programs I participate in with the Blue Bombers, I'm on the board of directors at IRCOM, the Immigrant and Refugee Community Organization of Manitoba. Part of the organization's mandate is to change the narrative about how Canadians view newcomers to Canada. There seems to be a growing wave of nationalism in Canada and I'm trying to do my part to change this. IRCOM is doing some powerful work in Winnipeg and I'm privileged to volunteer my time with this organization. I also support Wahbung Abinoonjiiag, a domestic violence prevention centre for children and their families that endeavors to empower children and break the cycle of violence. I have also been a 'Big Brother' with Big Brothers and Sisters of Winnipeg for two years, a supporter of the Boys and Girls Club at Rene Deleurme school, a mentor and speaker with both Food Allergy Canada and the Children's Allergy & Asthma Education Centre at the Winnipeg Children's Hospital, and am always looking for meaningful ways to engage with the community of Manitoba.