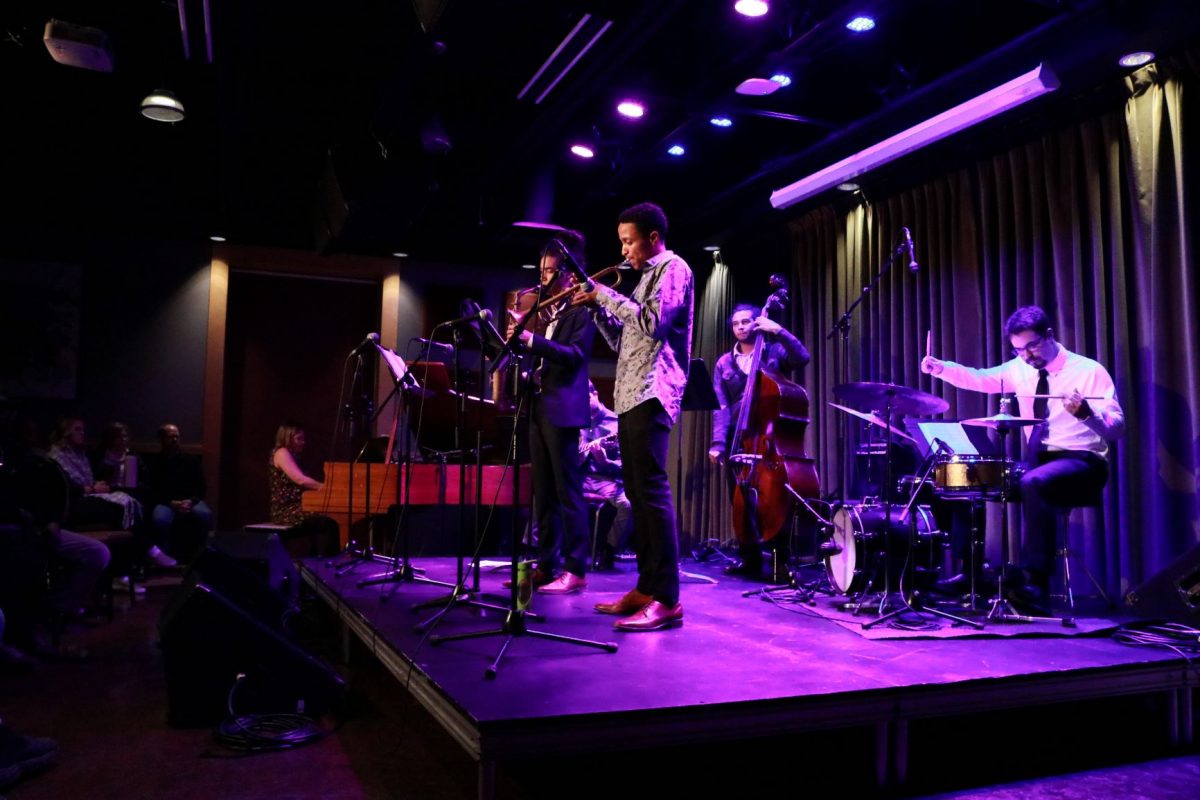 Putting Their Signatures on Jazz
December 2, 2019 —
The journey to Mardi Jazz begins with a short trek across a wintry parking lot with the hood of one's parka pulled tightly around one's face, but the atmosphere is immediately transformed once on the second floor of the Centre Culturel Franco-Manitobain (CCFM), with warm lighting, frenetic readying of instruments, and cozy tables packed with strangers who are united by one thing: a love for jazz.
From September to June, the CCFM hosts Mardi Jazz, a concert series that welcomes great jazz musicians from around the city and around the world. Four of those concerts feature the University of Manitoba Jazz Ensembles, torchbearers for the future of jazz music.
Some of the songs the ensembles play are beloved jazz standards composed and arranged by famous names in jazz, and some are newer jazz songs by up-and-coming artists. However, while the UM students always bring energy, talent, and audience-dazzling performances, they often also bring their own incredible compositions and arrangements, painstakingly crafted, rehearsed, and polished to excellence, all the while cheered on and coached by their ensemble leaders, instructors, and professors in the Desautels Faculty of Music's jazz faculty, which is known for encouraging and fostering new music.
On December 3, 2019, the attendees at Mardi Jazz will be the first in the world to hear six compositions and arrangements composed and/or charted by UM Jazz Ensembles. Here's the rundown on these incredible artists, and the world's next jazz greats.
Janus, by UM student Fred Warner
Fred Warner, a 4th year student in the Desautels Faculty of Music, is a trumpet player who has been studying music since he was three years old, has always known that music would be his life.
"It always felt like the only thing to do," he says.
Warner is in the classical stream at the Desautels Faculty of Music, and also plays as a section leader with the University of Manitoba Wind Ensemble, which will be performing its final concert of the year – Winds and Dances – on December 6, 2019.
"Fred is a really hard-working, musical, and creative student," says Jacquie Dawson, assistant professor of conducting and director of the University of Manitoba Wind Ensemble and Concert Band.
"Dr. Richard Gillis [professor of trumpet and Warner's major practical study (MPS) instructor] has helped me immensely with trumpet," says Warner.
"And Jacquie Dawson has been the biggest influence on my musical growth through Wind Ensemble conducting," he says.
He decided to branch out this year by joining a jazz ensemble, and his first performance with his jazz ensemble, on October 17, 2019, featured technically difficult and flawlessly executed pieces that left audiences with their jaws dropped. The group, made up of Warner (trumpet), Lukas Schmidt (bass) – another crossover who plays with both the jazz ensembles and the University of Manitoba Symphony Orchestra, Novo Vuksanovic (guitar), Andrew Purdy (drums), and Indra Egan (piano) – also classically trained – played incredible renditions of Paul Desmond's Take 5 and Roy Hargrove's Strasbourg/Saint Denis, among others, making full use of Warner's chops.
This time around, the group will be performing works by Kern, Hammerstein, Garner, Burke, and Rollins, with the premiere of Warner's Janus.
It should come as no surprise that the inspiration for this song has classical roots.
"I actually got a fragment of a melody in my head from a Vaughn Williams symphony, which sort of evolved the more I played it over in my head," says Warner.
"I basically had the whole melody by the time I wrote it down," he adds, describing the piece as "pensive, yet with a sense of urgency and drive."
"It's been really cool to see my composition become more polished as the rest of my ensemble gets used to it, yet also take on a life of its own through the different things they bring to it," says Warner.
River, by Joni Mitchell, arranged by UM student Indra Egan
Indra Egan, who recently earned her Bachelor of Music in collaborative piano, began playing piano at four, and picked up violin at age five.
"Music has always been an integral part of me," she says.
That said, she didn't immediately consider a career in music.
"I did a year of a political science degree right out of high school, back in my home province of BC. Every weekday, I spent all day looking forward to the end of classes at 5:20 pm, when I could run to the bus stop and head off to play a rehearsal, teach piano, accompany a dance class, practice new rep, or perform in a concert," she says.
"One day, I realized that I didn't want to spend my whole life looking forward to the end of the day. I wanted what I loved most to be the centre of my day. The following year, I auditioned for the Desautels Faculty of Music, and here I am!" she says of her switch to a university-level music education.
Egan has found a family in the Desautels Faculty of Music, and says she feels very supported by the jazz faculty members who are coaching her through her exploration of jazz.
Once she had completed her bachelor studies, Egan sought new ways to challenge herself and improve in post-baccalaureate training.
"I've played a lot of music in many different styles, but when it came to jazz, I always felt like I was going in blind," she says.
"I would play melodies and harmonies that sounded "jazzy" in solos and ensembles, but I didn't have a structured way to approach the genre. I am learning so much in my jazz Post-Bacc and I can apply that knowledge to everything I play – even classical!" she adds.
"As a collaborative pianist, I especially love working in musical theatre, and a jazz background is particularly useful in that field."
Egan has already made plans for her future after her post-baccalaureate degree – pursuing a master's degree in collaborative piano, inspired by the professor – who would ultimately become her mentor – who flipped the switch for her during her first year in the Desautels Faculty of Music.
"The professor who initially inspired me to pursue collaborative piano as a career was Laura Loewen [associate professor of collaborative piano for the Desautels Faculty of Music]," she says.
"It was at the fall faculty concert in my first year. At the time, I was considering auditioning for the voice faculty in the spring instead of continuing my piano degree. I didn't know Laura at all, but after attending the concert, not only was I incredibly moved by her playing, but I realized that I didn't want to be one of the singers on stage – I wanted to make music with them as a collaborative pianist," Egan says.
"[Loewen] continues to inspire me in many ways, both as a musician and person," she says.
"Indra is a phenomenally talented, rare person," says Loewen.
"She has this light in her, and the colours she can create with music are amazing," she adds.
"She has this strong vision of what it means to live and make music, and how to collaborate," says Loewen, pointing out all of the concerts and projects that Egan has independently coordinated with a diverse group of musicians.
Loewen says she is thrilled that Egan chose to study jazz, and can't wait to see the growth it inspires as a collaborative pianist.
"Jazz is essentially the same thing we do in collaborative piano, but in an entirely different language," she says.
"You can learn different things about music when the language changes," adds Loewe.
Egan's inspiration for her arrangement came from another musical Canadian.
"I love Joni Mitchell's music, and River has a jazzy folk feel that I think lends itself well to this cross-genre interpretation," she says.
Egan went into arranging River with the idea that the singer performing the song should have the freedom to bring her own strengths to the song, and not feel obligated to make it sound like the original, or imitate Mitchell's recording.
"When I wrote the chart, I specifically didn't write out the exact rhythms that Joni sings. Instead, I wrote out the base structure of those rhythms," says Egan.
"Our singer, Ashleigh Sadler, is doing a wonderful job of playing around with them in a beautifully musical way," she says.
She's particularly excited to hear the piece in its final form on Tuesday.
"It's always an incredible feeling to hear your arrangement come to life. My friends – our jazz ensemble and guest singer – are enthusiastic about performing this tune and so fun to work with," she says.
"I really appreciate that our coach, Jon Gordon, has given us fantastic ideas about how we can best put this together – turns out, he's also a huge fan of Joni Mitchell!"
"Indra's growing quickly," says Gordon, an associate professor of jazz in the Desautels Faculty of Music.
"She brought in a piece by Joni Mitchell that might be considered somewhere between jazz and classical music and has elements of both. Because three of our members are primarily classical players, this piece is perfect for us," he adds.
Tulip or Turnip?, by Duke Ellington (music) and Don George (lyrics), with new arrangement by UM and Férias Quentes, by UM student Ryan Guth (music), and UM student Mariana Padeanu (lyrics)
One of Duke Ellington's catchiest songs is the classic "Tulip or Turnip?" which makes use of a wide array of jazz vocal skills, so it was a perfect choice for Desautels jazz vocalist Mariana Padeanu, now in her second year of the program.
"In her arranging, Mariana makes excellent use of the idiomatic devices found in straight-ahead swing to create interesting parts for our horn players that complement her vocals," says Karl Kohut, who leads Mariana's ensemble, and notes that she is the "go-to" for students who want to learn how to use the musical notation software MuseScore.
"Her arrangement of Duke Ellington's Tulip or Turnip? is unmistakeably catchy and will also showcase her scatting prowess," he adds.
Kohut's ensemble, which includes Padeanu, Ryan Guth (guitar), Toby Bajus (trumpet), Sam Fournier (bass), Evan Miles (piano), and Josh Bonneteau (drums), frequently uses student arrangements and compositions.
The ensemble's October 17, 2019 performance, even though it came only weeks into the fall term, featured all songs that were either written or arranged by the students in the ensemble. The performance featured another arrangement by Padeanu (Jimmy Van Heusen and Johnny Burke's It Could Happen to You), an arrangement by Miles (Herbie Hancock's Oliloqui Valley), an arrangement by Guth (Richard Rogers and Lorenz Hart's Have You Met Miss Jones?) and an incredibly moving composition with a surprising inspiration – a beloved pet rat – by Toby Bajus (I Close My Eyes).
Ryan Guth, a talented third-year guitar student in the Bachelor of Jazz Studies program, likes to challenge himself.
"Ryan often composes and arranges with the intent of exploring a specific idiom or building a skill," says Kohut.
"For this performance, he has written an original composition in the bossa nova style, and he thoroughly enjoys the accompanying role that the guitar plays in this music," Kohut adds.
Padeanu was taken with the composition, and added lyrics to the piece, and shared Guth's revelry in challenge, taking on a new language to complete the song's lyrics.
"The lyrics [for Férias Quentes] are written in Esperanto, an international auxiliary language that was created as a universal second language to foster world peace and international understanding," says Kohut.
"Due to the vocabulary being drawn from Romance languages, the marriage of this unusual language with the bossa nova style feels quite appropriate," he adds.
Wonderwall, by Noel Gallagher, with new arrangement by UM student Evan Miles
Evan Miles might be a first-year student in the Desautels Faculty of Music, where he studies jazz piano, but he has long been a part of the family. A pianist since age four, Miles has spent three years with Jon Gordon's University of Manitoba Jazz Collective, and studied jazz with Gordon and Will Bonness, assistant professor of jazz piano, in the University of Manitoba Jazz Camp.
"U of M Jazz Camp of 2016 was when I realized that people actually get to pursue this," he said of his decision to study for a career in jazz.
"[Gordon and Bonness] have helped me develop a foundation to grow off of as a musician," he says of his mentors.
"Evan is an extremely talented student with a strong drive," says Bonness.
"He has serious potential, and I'm excited to see how his playing develops over the next few years at the Faculty of Music and beyond," he adds.
Miles' inspiration for arranging the popular rock piece Wonderwall was sparked by hearing an interpretation of the song by Brad Mehldau.
"The melody is so simple, so I kind of used it as an exercise in re-harmonization," he says.
"I try to find elements that will make it cohesive, such as baseline, or a rhythmic or harmonic motive," he says of the way he approached arranging the piece.
"Evan surprised me with his arrangement of Wonderwall," says Karl Kohut, the assistant professor of Jazz who lead's Miles' ensemble.
"It can be tricky to adapt contemporary popular music into a jazz context, but Evan was able to add harmonic sophistication in a way that makes the form more interesting – and challenging – for the group to improvise on. As a first-year student, he's shown a lot of initiative and I'm looking forward to hearing more of his writing," adds Kohut.
"It's been a great experience," Miles says of hearing his ensemble perform his arrangement.
"Sometimes things sound better on the piano, so in having other people play my arrangement, I've been able to learn how different instruments behave," he says.
Mendelssohn Changes, by UM student Pierre Desorcy
"Hearing other musicians play my music confirms that being a professional musician is who I want to be," says Pierre Desorcy, a first-year jazz student who has known that he wanted to be a musician since his first piano lesson at age thirteen.
As a first-year student in the jazz program, Desorcy is already an overachiever, playing drums with two separate ensembles, which means nonstop rehearsing. This Mardi Jazz will be his fourth performance of the term.
Desorcy's Mardi Jazz ensemble, which includes Joyce German (saxophone/voice), Braden Garden (bass), Brendan McLean (guitar) and Gareth Rice (piano), effortlessly played pieces by Miles Davis, Dizzy Gillespie, Henry Mancini, John Carisi, and Freddie Hubbard during their October 17, 2019 performance, bringing new life to Davis' Blue in Green.
For Mendelssohn Changes Desorcy drew his inspiration from a classical piece.
"I wrote the piece because the 3rd Symphony by Felix Mendelssohn is one of my favourite pieces of music," he says.
"I decided to take an 8-bar chord progression from the first movement of the piece and write a melody over it. It's a song that incorporates my classical influences with the swing beat," he adds.
In furthering his love of jazz, Desorcy has been impressed by what he's learned in the Desautels Faculty of Music, thus far, and has learned a lot from his MPS instructor, Fabio Ragnelli, assistant professor of jazz in the Desautels Faculty of Music.
"He has helped me get a much deeper understanding of the instrument, and become a better musician," he says.
The feeling is mutual.
"Pierre is an extremely dedicated and hard working student who has repeatedly proven that he is very serious about jazz," says Ragnelli, who is Desorcy's MPS instructor.
You won't want to miss these outstanding musicians. Mardi Jazz, featuring the UM Jazz Ensembles will take place at the CCFM (340 Provencher Blvd.) at 8:00pm on Tuesday, December 3, 2019. Tickets are $10 adults/$7 students and can be purchased at the door. Seating is limited, so arrive early. Doors open at 7:30pm. For complete details and program information, please visit the event listing for the December 3, 2019 Mardi Jazz.