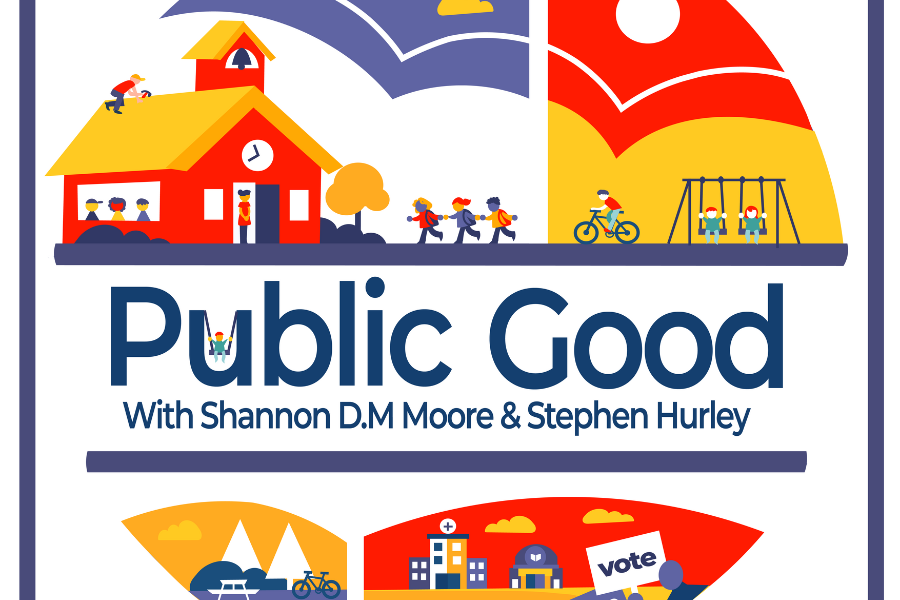 Public Conversations About Privatization: Rejecting the Marketization of Public School Systems in Canada
July 5, 2023 —
*This article was written by Dr. Shannon Moore
On May 26 & 27, 2023, three University of Manitoba faculty, Shannon D.M. Moore, Melanie Janzen and Ee-Seul Yoon, co-hosted a symposium, Public Conversations About Privatization: Rejecting the Marketization of Public School Systems in Canada, at the Ontario Institute for Studies in Education (OISE) in Toronto, Ontario.
This symposium brought together academics, educators, activists and community groups from across Canada to discuss: a) the ideological motivations of educational reforms; b) the way these reforms are manifesting "uniquely" in each province; and c) the political and community resistance to the reforms. The two-day symposium included ten thought provoking presentations on the three symposium themes (ideological motivations, provincial privatization, resistance). This included presentations from UM faculty and grad students. Dr. Ee-Seul Yoon started the symposium with her presentation, From GERM (Global Educational Reform Movement) to NERM (Neoliberal Educational Reform Madness): Critical Policy Geography. Recent M.Ed. graduate, Ellen Bees, introduced attendees to specific provincial issues through her presentation: Co-opting Equity to Advance a Neoliberal Agenda in Manitoba Education Reforms. Current M.Ed student, Justin Fraser, presented on the work of the public education advocacy group, People For Public Education, which includes UM faculty and students, University of Winnipeg faculty, local educators, trustees, and parents. His presentation was titled, Exposing the Spectre: Resisting Neoliberal Education Reform in Manitoba.
Beyond presentations, the symposium provided the opportunity for roundtable discussions with presenters, activists, community groups, researchers, and educators. The ideas shared through the presentations and roundtable discussions were captured by a graphic recorder, Brittany Datchko from Fuselight. These illustrations represent some of the major elements connected to each of the symposiums themes: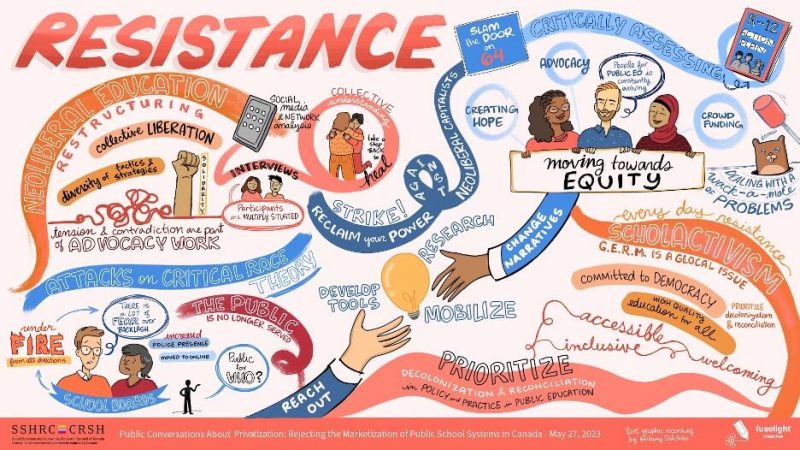 Dr. Melanie Janzen ended the symposium with a discussion about the ways we can continue to collaborate and collectively respond to educational reforms aimed at commodifying, marketizing, and privatizing public education. Through the summer of 2023, Dr. Shannon D.M. Moore will be co-hosting a special series of the podcast, Public Good. This special series will include interviews with all of the symposium presenters. Finally, each of the presenters are busy writing article versions of their presentations for a special issue of Critical Education. This special issue will be published in 2024.
This symposium was supported by funding from the Social Sciences and Humanities Research Council. It also received funding and in-kind support from: University of Manitoba, Faculty of Education; OISE, University of Toronto; and the journal, Critical Education.