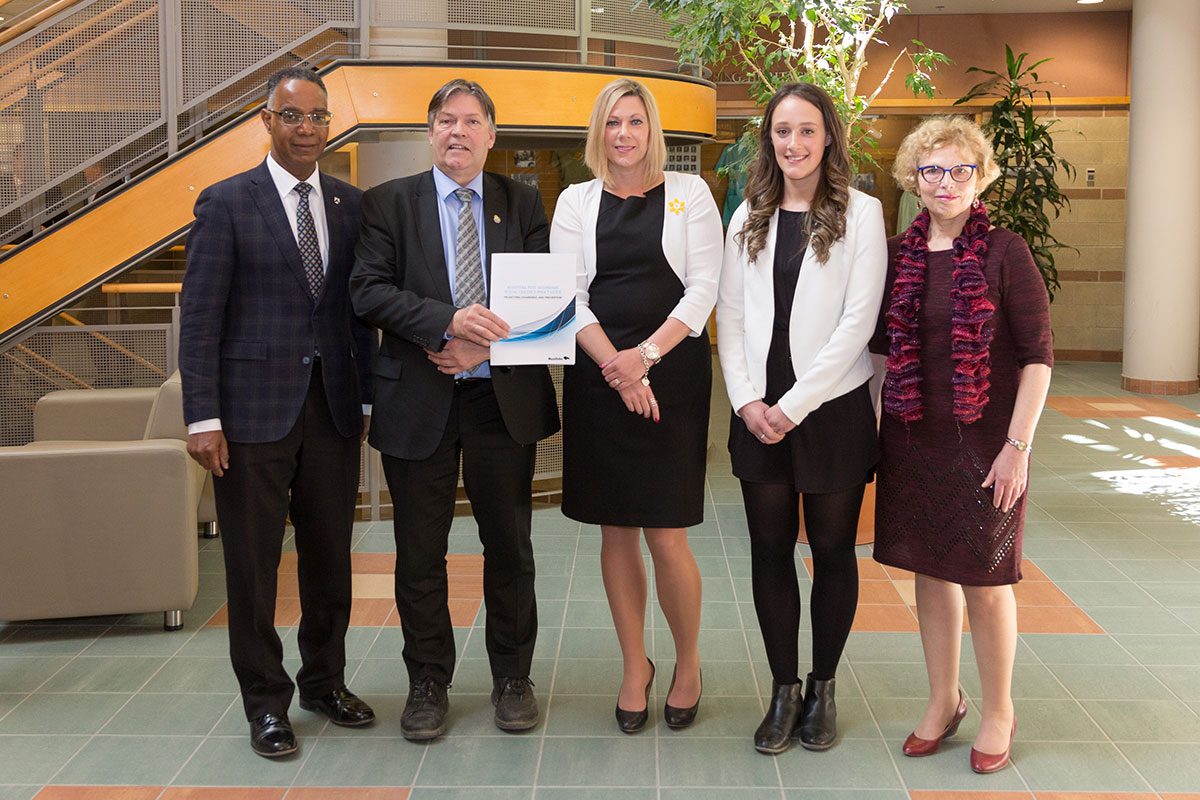 Province announces new law to address sexual violence on campuses
April 28, 2017 —
April is Sexual Assault Awareness Month and the University of Manitoba has encouraged the community to get involved in activities around sexual assault prevention. In June 2016, the University of Manitoba's standalone sexual assault policy was approved by the Board of Governors after a comprehensive consultation process encompassing many stakeholder groups on campus, including faculty, staff, and students.
On April 28, 2017, the provincial government announced the Sexual Violence Awareness and Prevention Act:
Students at Manitoba's post-secondary institutions will benefit from new requirements for their schools in regards to sexual violence, Education and Training Minister Ian Wishart and Sport, Culture and Heritage Minister Rochelle Squires, minister responsible for the status of women, announced today.
"All students deserve to feel safe while pursuing their studies," said Wishart at an event at the University of Manitoba. "As a result of this new law, clear expectations are set for post-secondary institutions on creating a culture of safety and consent, training staff on how to compassionately and appropriately support victims of sexual violence, and setting policies to guide their overall planning and response."
The Sexual Violence Awareness and Prevention Act takes effect today and applies to all universities, colleges, the Manitoba Institute of Trades and Technology, degree-granting religious institutions and private vocational institutions, Wishart confirmed.
"The University of Manitoba is committed to preventing and addressing sexual violence through education, awareness and fostering a culture of consent, consistent with the aim of our survivor-centred sexual assault policy," said Susan Gottheil, vice-provost (students) and executive co-sponsor of the sexual assault and violence steering committee at the University of Manitoba. "We are pleased to see the Province of Manitoba taking this important step in guiding institutions to create an environment where people who have experienced sexual violence feel safer to come forward and receive support."
The legislation sets out two main responsibilities for all post-secondary schools in Manitoba. The first is to take a proactive role in raising awareness on campus and improving education about sexual violence. Secondly, all institutions must have appropriate policies and procedures in place to respond when a student reports an incident of sexual violence. The legislation also includes a definition of sexual violence, which includes harassment on social media.
"People using social media as a platform for sexual harassment and violence is a sad reality often faced by post-secondary students," said Squires. "Including it in our legislation ensures schools will consider how to deal with this online threat and how to support students who may be affected. It's an essential component of our comprehensive approach to responding to sexual violence and online harassment."
Squires noted it is estimated between 15 and 25 per cent of female post-secondary students experience sexual assault or attempted sexual assault during their education, and victims know their attacker 90 per cent of the time.
The province has released the Manitoba Post-Secondary Sexual Violence Policy Guide to help institutions ensure they meet the requirements set out under law. For more information about the requirements and the new policy guide for post-secondary institutions, visit: www.edu.gov.mb.ca/docs/sexual_violence/index.html.