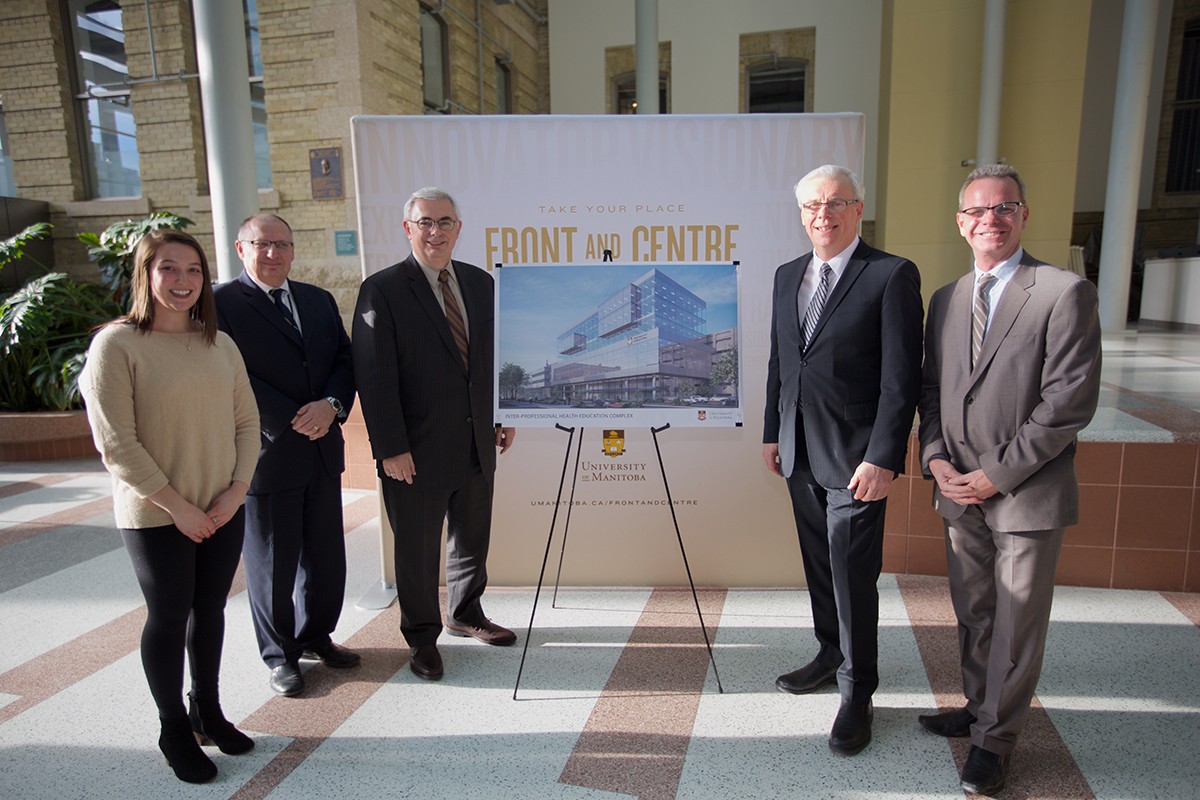 Province announces $120 million for critical infrastructure at U of M
Investment to Support Excellence in Health Care, Climate-change Research: Premier Selinger
January 13, 2016 —
In the sunlit Brodie Atrium, staff, faculty and students gathered to hear an announcement about new and improved spaces that will support further collaboration among our future health care professionals.
At the event, the Manitoba government announced that it is providing $120 million in targeted infrastructure funding as part of the $150 million provincial contribution to the University of Manitoba's Front and Centre campaign, making strategic capital investments in the university so students can study in state-of-the-art research facilities.
"For students to be prepared for the jobs of tomorrow and tackle the big research questions, they need the best facilities and equipment," said Premier Selinger. "These targeted investments will support health-care innovation and climate-change research, while giving growing faculties like engineering more space for students to learn and train in."
"When I think about space, the first thing that comes to mind is the feeling of home," said Stephanie Kereliuk, master's student in the department of Pharmacology and Therapeutics.
"Having a dedicated space for health science students to study, work, train and conduct ground-breaking research is analogous to having a home away from home. A place for us to learn, explore, innovate and achieve our dreams and goals, to give back to the people of Manitoba in ways that wouldn't be possible without this new research centre," continued Kereliuk.
These investments will support the critical Places and Spaces pillar of the University of Manitoba's $500-million Front and Centre campaign, the premier added. With today's announcement, up to $120 million of the provincial commitment to the U of M would be provided over several years to support new buildings and upgraded facilities.
"This support will revitalize and enhance research, performance and teaching spaces on both our campuses to an exceptional degree," said David Barnard, president and vice-chancellor, University of Manitoba. "The province's strong commitment to creating high-calibre places to pursue learning, discovery and growth at the University of Manitoba will generate academic, professional and personal success for our students and community members for generations to come."
Premier Selinger announced that part of this funding is the provincial contribution to the new Inter-Professional Health Education Complex at the University of Manitoba's Bannatyne campus. This new building will consolidate health researchers from the U of M into one space and act as a catalyst for research and innovation in public health. The new centre would see the college of nursing join medicine, dentistry, pharmacy, rehabilitation sciences and other health-care programs in a single, purpose-built location.
"It's easy to admire a new building, but really it's about the people," said Brian Postl, dean of the faculty of health sciences.
"This new physical environment will be an incubator for inter-professionalism by bringing great minds from multiple disciplines together to explore innovative solutions," continued Postl, adding that the successful integration of the faculty of health sciences will continue to result in better patient care. "This valued support will strengthen the university's capacity to train, to an exceptional degree, our health-care providers and bolster our ground-breaking research."
Other projects to be supported by this funding include:
redeveloping the Helen Glass Centre to support new engineering seats funded by the Manitoba government and support the new hybrid engineering program between the University of Manitoba and Red River College;
continuing provincial contributions to the Churchill Marine Observatory, a multidisciplinary research facility in Churchill; and
renewing classroom, libraries and laboratories to improve the classroom and research environments for students.
"By supporting health research and innovation at the University of Manitoba, we're investing in the future of our province," said Education and Advanced Learning Minister Allum. "These new and renewed facilities will make the university experience better for students and make sure they are learning in the best environment possible."
The Manitoba government has committed $150 million to the Front and Centre campaign, representing 30 per cent of the overall fundraising goal. The University of Manitoba has already raised more than $215 million in private donations to support the campaign.
Research at the University of Manitoba is partially supported by funding from the Government of Canada Research Support Fund.