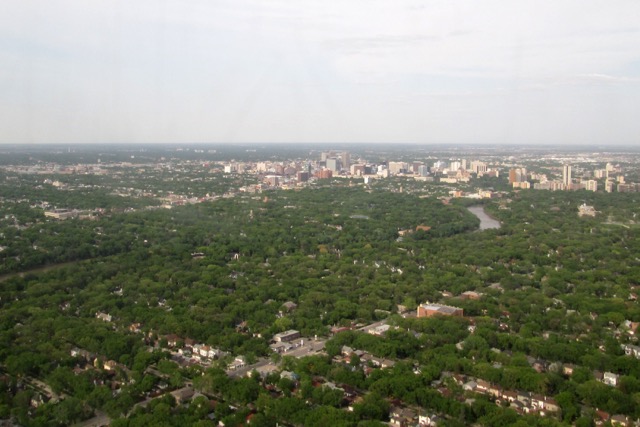 Protecting our trees through biological pest management
Chemical-free spraying for canker worm and elm spanworm takes place on campus in June
May 31, 2021 —
Operations and Maintenance will be spraying on Fort Garry campus during the month of June to combat canker worm and elm spanworm outbreaks on campus.
The product being used is called Btk (Bacillus thuringiensis var. kurstaki), a common non-chemical, biological pest control agent used to combat a variety of forestry and agricultural insect pests. Btk is a bacterium found naturally in soils, and has been used successfully world-wide for 30 years.
According to the Government of Canada website, "Bt strains have been used by both organic and non-organic farmers throughout the world for many years. Btk is one of the few pesticides acceptable to organic growers, as it is a naturally occurring biological organism, rather than a synthetic chemical. As Btk does not survive in warm-blooded organisms, any Btk residues on food pass through the digestive system without producing any toxic effect. Btk strains are exempt from residue tolerances in the US, and exempt from maximum residue limit requirements in Canada, due to the minimal risk."
The website also notes, "Members of the public are unlikely to experience any symptoms if inadvertently exposed to Btk spray, and no special precautions are necessary or required. However, individuals who have concerns should take reasonable precautions to avoid exposure during a spray program in the same way they would avoid pollen or other airborne materials during days when air quality advisories are issued. They can also reduce exposure by staying indoors with windows and doors shut during the spray period if spraying is taking place in their area, although this is not required by health officials."
Btk only becomes toxic in the alkaline gut of specific lepidopteran insects in the larval (caterpillar) stage of their life cycles. It biodegrades quickly in the environment through exposure to sunlight and microorganisms. This takes between 1 – 4 days on foliage, without groundwater contamination concerns, since Btk does not percolate through the soil beyond 25 cm.
Very low application rates are required for effective control. Btk is applied directly onto the foliage, with little to no impact to the campus community as spraying will be intermittent and taking place in the late evenings and early mornings. Both UM staff and external contractors will be working throughout the Fort Garry Campus. Staff will be focusing on canker worms in the first part of June, with the elm spanworm in the later part of the month.
For any questions, please contact Lyle Morin, Operations & Maintenance at: lyle [dot] morin [at] umanitoba [dot] ca