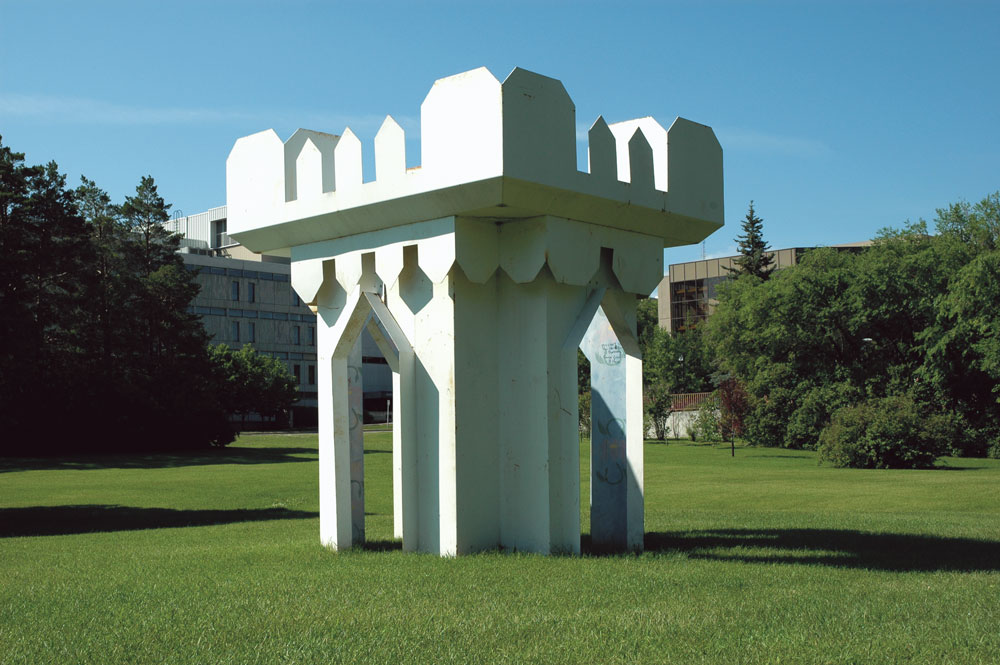 Protecting art on campus, taking the long view
July 28, 2015 —
In 1983 the University of Manitoba acquired a castle. It stands just north of Robson Hall on a patch of grass by the river. The sculpture is one of 2,000 artworks (not including the School of Art's collection) on the Fort Garry campus and when it was unveiled children from the campus day care immediately ran around it.
Castle artist, Karen Schmidt-Humiski, was presenting the work as part of her BFA thesis and U of M President Arnold Naimark asked if she had arranged the day care children. "I hadn't and could never have conceived such an excellent explanation/example of what I had wanted to achieve with this work," she said.
Castle continues to draw playful people, including a rapping food science professor and curious members from all corners of the campus community. And as of 2012 it fell under the protection of the Arts Collections Committee. The committee met earlier that year after Debbie McCallum, former VP Administration, saw the need to protect our artworks and guide future acquisitions.
"There was an unmet demand for this office and the university was very perceptive to its need. I give full credit to the university for realizing it was necessary to create this committee," says Paul Hess, chair of the committee and director of the School of Art.
A recent committee success, as reported in UM Today, was the restoration of Climax, the orange sculpture outside of the Asper School of Business.
The committee also recently restored a vandalized Eli Bornstein sculpture – Tripart Hexaplane Construction No. 2 – and is working with the artist to once again erect it in campus soon.
"We are making progress, though at a steady, slow pace," Hess says. "You have to take the long-view with these sorts of things because these artworks will outlive generations of people. We have to be cautious and prudent in how we restore them and where we put them."
One person who deserves credit for drawing attention to the importance of the university's art collections is librarian Liv (pronounced "Leev") Valmestad. Sigrid Dahl, U of M's art collections coordinator, said Liv "had the foresight to care before the committee was created."
Valmestad has been drawing attention to the campus art collection since 1998, when she began documenting and gathering inventory lists from retired professors in several faculties.
She went digital in December of 2009, that was when she and 25 other U of M librarians were given a smart-phone and told to be creative. So Valmestad began documenting public art at the University of Manitoba through her blog and on Google Maps. She also placed QR Codes, bar codes a smartphone can scan, next to campus art so someone can scan the code and visit a webpage to read more about the work and interviews with the artist.
One piece Valmestad previously catalogued was in front of Mary Speechly Hall, but it was taken down when construction of the new student residence began. For years the sculpture was unidentified but Valmestad discovered it was a piece by Colin Campbell. "It is a very important work," Valmestad says. "Campbell is in the dictionary of Canadian Artists, which is not something many get into and became an international video artist, even exhibiting at the Venice Biennale."
Hess says he hopes to put Campbell's piece back outside the student residence when constructions completes. But for now, the next piece the committee is focusing on is Ron Gabe's Sunbeams (Marching over the Hill) – the joyful columns of colour located next to the Desautels Faculty of Music.
"Sculpture is just one element of campus art. There's also works on paper, paintings in offices and other items all over campus," Hess says. "Universities touch upon all facets of life, and art and culture are one of those facets. This committee has to ensure the university makes good cultural investments by collecting wisely, and we have to protect these investments. This university has an important role in preserving things of significance to the community."
He adds: "I would like to see a time when we hold competitions for commissioned public art. I see that as a goal for the not too distant future ."