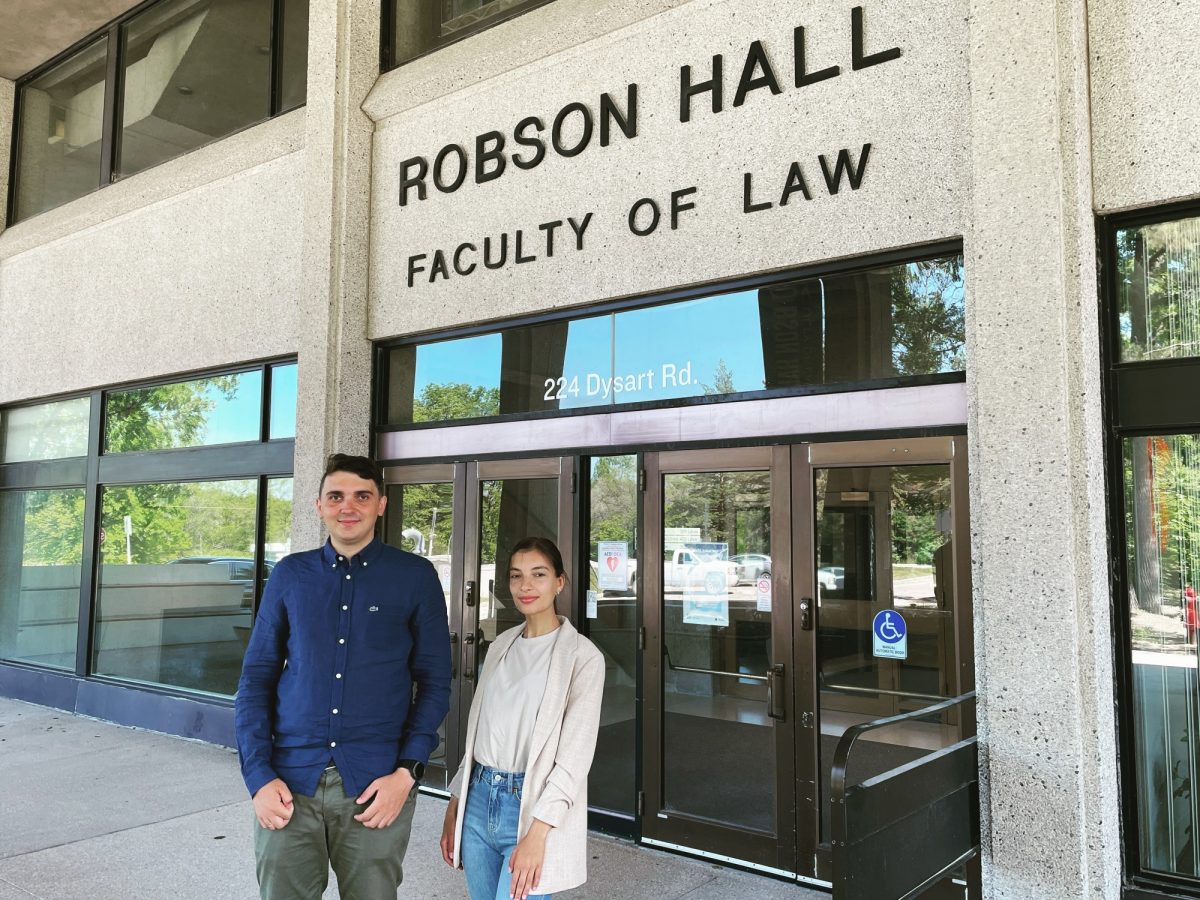 Program lets Ukrainian scholars 'get back to life'
July 22, 2022 —
The first of 20 scholars from Ukraine have arrived at the University of Manitoba thanks to a new program initiated by UM that has committed $1,755,000 to support Ukrainian scholars and students to come here and continue their work or studies that has been disrupted by the war.
Legal scholar Natella Roskoshna, who specializes in mediation and restorative justice, recently arrived to UM alongside her partner and fellow legal scholar, Illia Roskoshnyi.
"I can't force other members of my family out because they want to stay in [Ukraine] because it's their home and they want to be there, but this opportunity from the University of Manitoba, for us, it let us get back to life," Roskoshna says. "We were stuck in Ukraine and didn't know what to do. We needed this opportunity to continue our life. This offer from our Dean, from Michael Benarroch, from all the staff, it is an opportunity to get back to life. It's very valuable and we are very appreciative—it's not enough to say 'thank you' for this."
After Russia invaded Ukraine the couple began to soon search for ways out and came across the University of Manitoba's Scholars at Risk program. They immediately reached out to see whether they qualified to come to Winnipeg. They said they were encouraged by the way the university supports Ukraine and felt immense relief to be welcomed with open arms by UM's president, the dean of the Faculty of Law, and the university governance committee.
"We just wrote directly to the university, because we saw that they support Ukraine," says Roskoshnyi. "We needed help and we wanted to continue our work and our research, and we asked the university, and they helped us, they supported us, they gave us a lot of things that we needed."
Natella and Illia arrived about a month ago and they will be followed by 18 other scholars fleeing Ukraine over the coming weeks. Each scholar will be funded for one-year of teaching or research up to $50,000 a year. In addition to 20 scholars, the UM is providing support to undergrad and graduate students who are Ukrainian citizens and are applying to the University of Manitoba for Fall 2022.
"As the invasion of Ukraine persists, it's clear that this is a global tragedy on many levels," says Digvir Jayas, Vice-President (Research and International). "As Manitoba's only research-intensive university, UM recognizes the threat this war poses to the pursuit of knowledge, advancement of ideas and scientific discovery. It is paramount that such work is not thwarted, and that those scholars who do this work can continue without fear for their personal safety."
Departments have been working directly with applicants on a first-come-first serve basis, and if a good match is found, UM's Ukrainian Working Group steps in to help facilitate the transfer to Manitoba.
"The whole process was very easy," Roskoshna says. "We emailed and got a response back right away. Everything was made so easy. I hope everything continues to be this good and we can give back by working with the university."
You can read more about professor Natella Roskoshna and Illia Roskoshnyi story on UM Today.