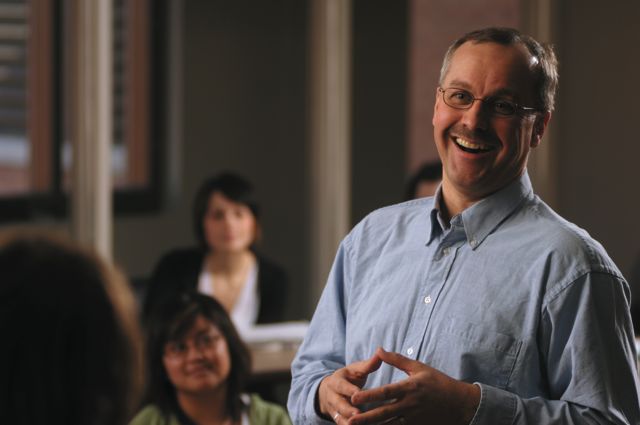 Professor of entrepreneurship dies
December 23, 2013 —
Editor's note:  When UM Today launched it set forth to strengthen old connections and create new ones in our community. The story below marks the first time UM Today has had to announce the death of one of our community members. The level of engagement our community has had with this story is heartening and unprecedented, and provides further proof of Professor Reginald Litz's impact on so many of us. The sentiments and cherished memories you have shared in our comments section will be delivered to the Litz family. Thank you for your continued engagement.  
Reginald A. Litz, respected alumnus and professor of entrepreneurship, died on December 23 of pancreatic cancer. The professor, who was also the Stu Clark Chair in Entrepreneurship in the Asper School of Business, was 55.
A memorial service will be held on Friday, Jan. 10, at 3 p.m. at Immanuel Pentecostal Church (955 Wilkes Ave.) in Winnipeg.
Dr. Litz began teaching at the University of Manitoba in 1995. He was a passionate and innovative teacher of small business, family business, entrepreneurship and business ethics. Many of his courses explored entrepreneurship from unique angles. His "Social Entrepreneurship" course, for example, focused on how entrepreneurial energy could make the world a better place. Another course showed students how to realize their entrepreneurial potential by studying award-winning, high profile entrepreneurs such as Richard Branson, Martha Stewart, and Howard Schultz.
Dr. Litz's course design inspired students as much as his unforgettable teaching style. He was legendary for using unusual props in class – including games, toys and household objects – to spark discussion and bring complex concepts to life. In his hands a PlaySkool toy became a tool for "explaining how entrepreneurs envision new systems – how their challenge is to get all the parts working together. Sometime it works as plans; more often, not exactly as hoped." Another example was his award-winning exercise "Kitty Hawk in the Classroom," which presented a novel means of exploring entrepreneurial creativity and teamwork by challenging students to create a paper aircraft.
His remarkable teaching talents were recognized throughout his career by numerous awards from the University of Manitoba, the Asper School of Business and the Canadian Council for Small Business & Entrepreneurship. In 2006, the Maclean's Guide to Universities listed Dr. Litz as one of the University of Manitoba's most popular professors. He was also honoured at the most recent Academy of Management for his teaching excellence.
He often told students, "The real exam – that is, the real measure of what you have learned – doesn't happen, indeed can't happen, in the classroom. Evidence of what you have really learned really happens 'out there' in daily practice, and the exam typically lasts not for two hours at the end of a semester, but for three to four decades over the course of a lifetime."
Like his classroom achievements, Dr. Litz's contributions to academic research often tackled novel and difficult problems in creative ways. In addition to his research on big box and hardware stores, he studied jazz musicians and mafia members. During his career, he made highly-regarded contributions to the family business literature, where one of his favorite metaphors was that of a Mobius strip—such that the separation between the dynamics of a business family and family business were indistinguishable. He was working on new research on inherited ethical dilemmas right up to his death.
As a faculty member in the Asper School, Dr. Litz often went above and beyond the call of duty to engage and enrich the lives of those around him. He worked tirelessly to bring acclaimed guest speakers to the Asper School, including Leon Leyson, who worked in Oskar Schindler's factory during the Second World War, and Roger Boisjoly, the engineer who had warned of the 1986 disaster of NASA's Space Shuttle Challenger. Dr. Litz launched the Asper Book Club for faculty to share books and ideas that made a difference in their life and thinking. From 2005 to 2008, he served as Associate Dean – Research and Graduate Programs.
Dr. Litz received a BComm (Hons) in 1981, followed by an MBA in 1984, both from the University of Manitoba. In 1997, he earned a PhD in Strategic Planning and Policy from the University of Pittsburgh. His research focused on small incumbent strategy, family enterprise and business ethics, and was published in leading journals such as Journal of Management, Entrepreneurship: Theory & Practice and Journal of Business Venturing.
Most importantly to those who knew him, Reg was a good friend. He strove for the best for his students and his colleagues, and by his example and practice he encouraged everyone to become better people for having known him. He will be dearly missed.
He is survived by his wife, Lois, and his two daughters, Sara and Rachel.