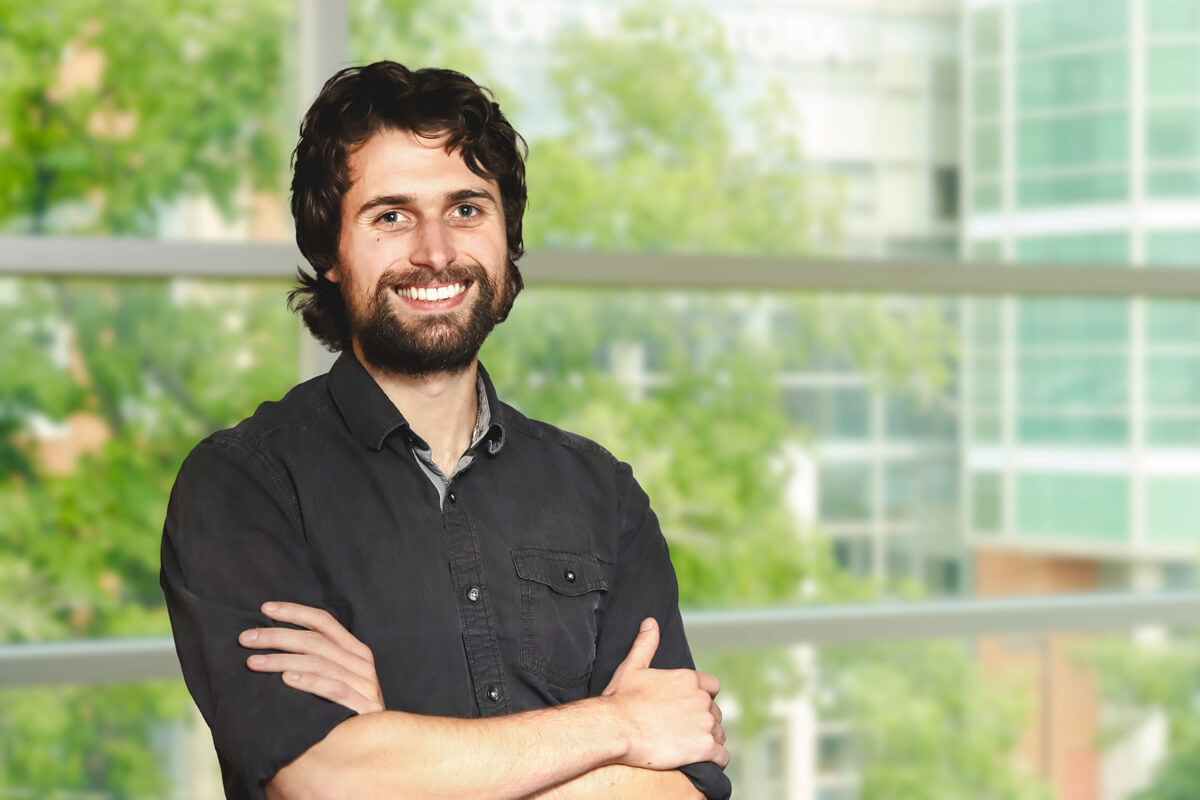 Preventing the evolutionary escape of viruses
Fabian Rohden named as Vanier Scholar for his microbiology research at UM
August 29, 2023 —
Fabian Rohden enjoys looking at problems from different perspectives, and the COVID-19 pandemic provided a tantalising problem on a global scale. It inspired him to delve into the complex world of viruses and how to combat their resistance to current drugs.
Rohden is one of four UM PhD students who have been awarded the Vanier Canada Graduate Scholarship for 2023. Vanier Scholars are considered Canada's top graduate students and receive a scholarship of $150,000 over three years towards their research.
UM Today caught up with Fabian Rohden to learn more about him and his research.
WHAT ARE YOU WORKING ON IN THE FACULTY OF SCIENCE?
When treated with drugs, viruses can evolve mutations to become resistant against those drugs. This is called evolutionary escape. However, such resistance mutations are often a trade-off: The virus becomes more resistant but also becomes less efficient at fulfilling its function. I am looking at viral polymerases, the molecule of the virus that helps it duplicate its genes. As the polymerase is too small to be seen with the eye, I am using computer simulations to predict the range and effect mutations in the polymerase.
I am trying to identify which combination of mutations would be too much of an efficiency loss for the polymerase. For example, let's say that drug A causes mutation 1 and drug B causes mutation 2. My computer simulations can tell me if mutations 1 and 2 together are too much for the polymerase to function efficiently. In that case, using both drug A and B could prevent evolutionary escape, as the polymerase cannot become resistant against both drugs at the same time. Of course, after the computer simulations, I must verify the predictions in the laboratory. (I use just the polymerase protein alone, which is harmless. There are no viruses or genetic material involved and therefore there are no risks of infection or gain-of-function.)
I hope that my research leads to a better understanding of resistance of viruses and that with the help of this knowledge drug development and patient treatments can be improved.
WHY DID YOU CHOOSE UM TO PURSUE YOUR RESEARCH?
I decided to follow my professor to the University of Manitoba and reapply for the PhD program in order to continue my research. This was a leap in the dark but the warm atmosphere and great research environment at the department of microbiology shows me that I made the right decision.
WHERE DO YOU SEE YOURSELF IN FIVE TO 10 YEARS?
Five years ago, I would not have thought that I would be in Canada, so I'll be cautious with predictions. A general theme for me has been to work at the interface of different disciplines, especially in the field of science policy. I am very open towards where I will work and whether it will be in academia, industry, or government, but it certainly will something that allows me to combine my scientific background with other areas of expertise.
WHAT DOES IT MEAN TO YOU TO BE THE RECIPIENT OF THE VANIER SCHOLARSHIP?
It is one of the greatest privileges a PhD student can receive in Canada and I see it as an affirmation of my work and engagement since I came to Canada. Most of all however, the Vanier scholarship takes away the financial stress that comes with pursuing graduate studies. This puts me in alleviated position compared to most of my peers who are continuing to struggle, whereas I will be able to focus more on my actual research than on making ends meet.