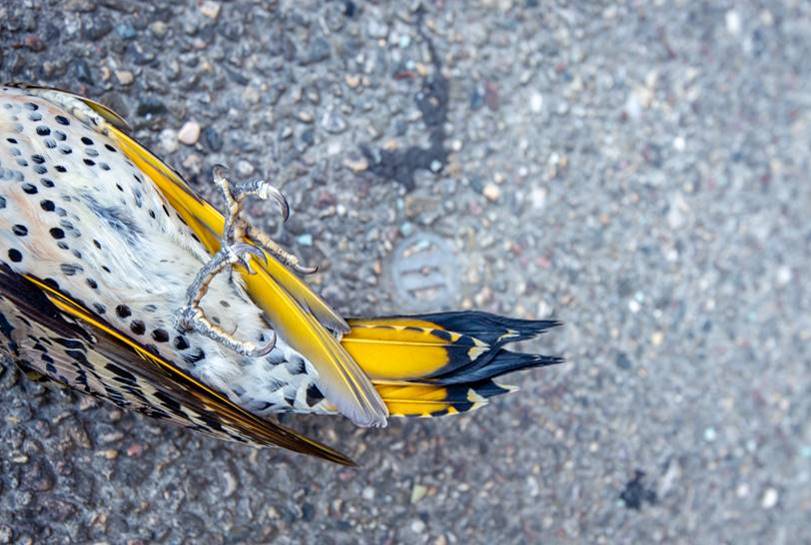 Preventing bird deaths with art
September 14, 2018 —
It's the year of the bird and as the University of Manitoba is home to a prolific group of bird researchers and artists, the two have come together in a new exhibit to bring attention to a burgeoning issue: the high mortality rate of birds that hit windows. Students will also post original works of art on campus windows to prevent collisions.
Paulson Des Brisay, a master's student in the U of M's Natural Resources Institute who researches the impacts of oil development on songbirds in the Canadian prairies, is also a photographer, and the Gallery of Student Art will exhibit his instalment that combines both of his passions.
"Coda", an exposé of bird window strike mortality, will open on Sept. 17, with a reception at 5 p.m. The exhibit runs until Sept. 21, 2018, at the Gallery of Student Art (105 UMSU University Centre, Fort Garry campus). Coda presents a pertinent and provocative display of birds that died after they collided with windows, to help raise awareness of this issue on campus. Every year, 25 million songbirds die from hitting a window in Canada, researchers estimate.
The art installation is part of the effort of a group of graduate students from the Natural Resources Institute (NRI), the Biological Sciences Department, and the Science, Technology, Engineering, Art and Math (STEAM) program at the University of Manitoba.
Between September 17-19, students will also install original artwork on windows that have been identified as posing high risk to birds during migration. Artwork will initially be placed on two buildings, Wallace and Biological Sciences, to test how well different materials last and how effective they are. The team hopes to expand this project to protect more birds in future years.