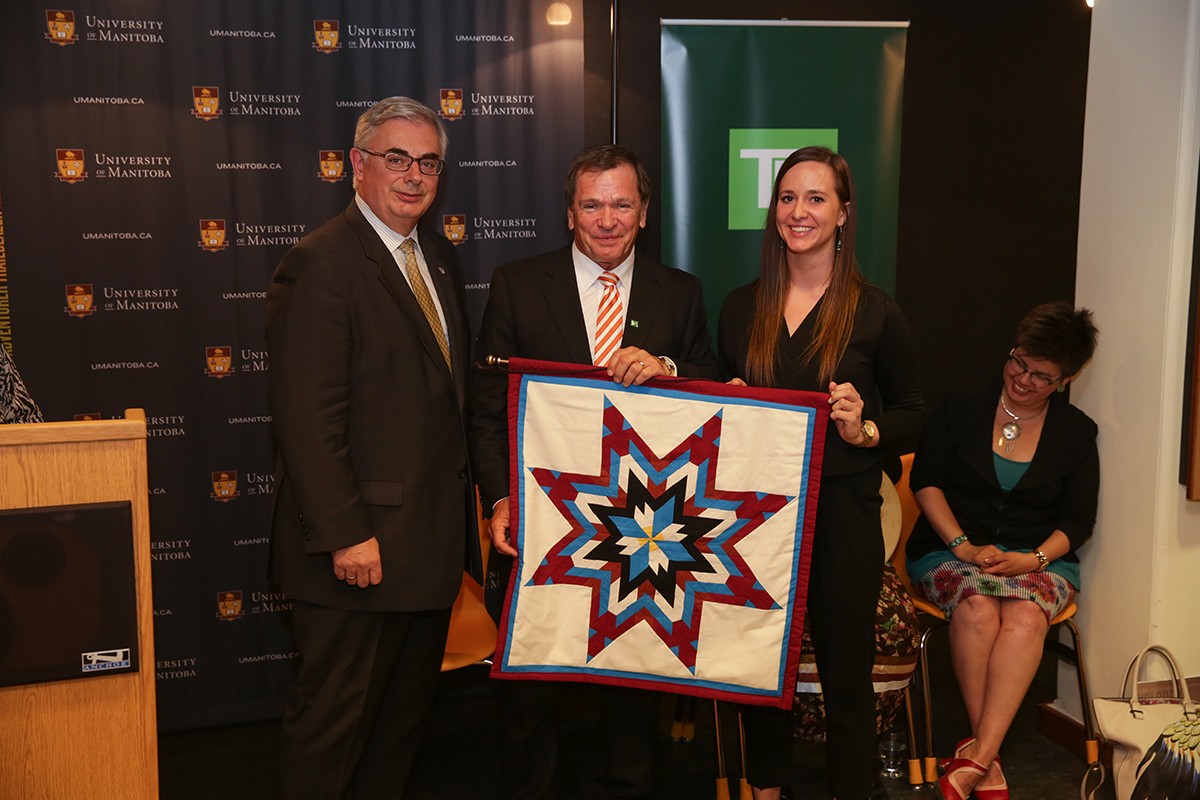 Preserving the testimony of the Truth and Reconciliation Commission
May 13, 2015 —
On May 13, the University of Manitoba announced a $1 million gift from TD Bank Group, which will provide financial support, training and experience for student interns at the National Centre for Truth and Reconciliation (NCTR). The gift will benefit up to 76 interns, over a 10-year period, who will work to process and digitize materials acquired during the Truth and Reconciliation Commission.
About 100 people were in attendance, including NCTR representatives, TD executives, Indigenous leaders, students, alumni, and senior administration from the U of M.
Justina Keewatin began with two honour songs: the first in recognition of women and the important role they have in Indigenous cultures, and the second a song that expressed the vital connection to Mother Earth who provides for us.
Frank McKenna, deputy chair of the TD Bank Group announced the gift, saying: "I can't say enough on how humbled and honoured we are to support such an important project which will shed the light on this essential chapter in Canada's history."
"The success of Indigenous people means a more enriched and prosperous Canada for all of us," he continued. "We also know that by supporting and investing in post-secondary education, we are not only encouraging the success of our youth, but also fostering the success of Canada's future leaders.".
The NCTR at the University of Manitoba is the steward of the Truth and Reconciliation Commission's four million historical records and 7,000 interviews of Residential School Survivors. The internships will allow the NCTR to preserve this important testimony.
The atmosphere of the announcement held a tone of seriousness but was complemented with welcome smiles and laughter. The tone embraced the hard work in acknowledging Indigenous cultures of the past as well as the efforts that must be made in the future. This spirit of cooperation was symbolized by a gift exchange, a traditional practice maintained by Indigenous cultures.
"The University of Manitoba is honoured to help maintain these sacred records, and is committed to ensuring the National Centre for Truth and Reconciliation is accessed by as many people as possible," explained David Barnard, president and vice-chancellor of the University of Manitoba. "We celebrate a transformational contribution to our country's first and only research centre dedicated to studying the impact of the Canadian Residential School System."
The NCTR is a cornerstone of the U of M's $500-million Front and Centre comprehensive fundraising campaign. This gift from TD Bank Group will support the University's efforts to ensure that Manitoba becomes a centre of excellence for Indigenous achievement – leading to increased social, economic, and health outcomes for individuals, communities and all Canadians.
"This is an excellent demonstration of corporate support on matters critical to healing the relationship between Indigenous and non-Indigenous peoples," said Ry Moran, director of the NCTR.
This funding helps further the important work of the NCTR. Moran explained the impact of the work that will be accomplished as part of these internships, "Just as the Residential School System was about the students, this journey of reconciliation is also about students," said Moran. "[They] will take the information they learn from their work on the records with them into their future roles as leaders within the community. In so doing, they will be able to share their gained knowledge with others creating a permanent and lasting gift."