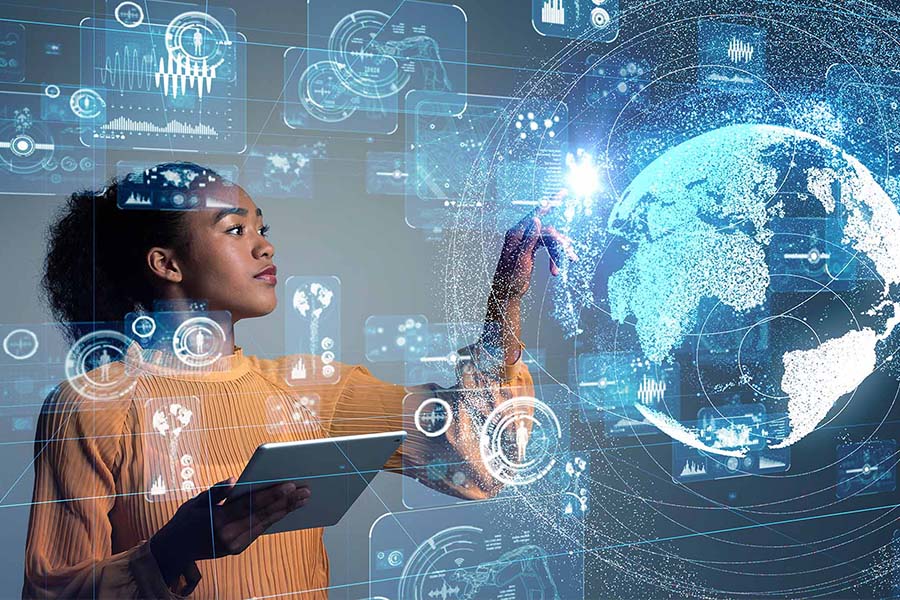 Preparing for a future powered by technology
Extended Education webinar looks at the rise of the machine
November 10, 2022 —
If you're thinking about how to prepare for the next 10 to 15 years with your own lifelong learning, adding new skills to your resume to build on your current knowledge and education, Extended Education has a webinar for you.
The November 18 webinar, Rise of the Machine Age: Act II, Transformative Global Impacts of Machine Learning and Digital Transformation looks at Artificial Intelligence and the future of work, sustainable urban spaces, and higher education. Registration is required.
Algorithms and the new business model
As the title indicates, technology is changing rapidly in the early half of the fourth industrial revolution (Industry 4.0), the second machine age. "The Rise of the Machine Age: Act II is not a science fiction movie title. It is where we are heading as a society," says Rod Lastra, Acting Dean, Extended Education, and moderator of the webinar. "Algorithms and data sets are becoming part of the new business model. They require new skills and new ways of learning."
Machine learning algorithms can now determine solutions much faster and more efficiently than humans, Extended Education's new Micro-Certificate in Artificial Intelligence: Machine Learning Solutions is even more timely than ever, says Lastra.
In addition to Lastra, three more experts will contribute to the webinar. One is a content provider for the new AI micro-certificate, another is a program consultant for Extended Education's upcoming Business Information Modeling (BIM) program that will teach digital construction process management, and the third is the associate dean of Extended Education.
Experts from industry and UM
AI program content provider Briana Brownell is founder and CEO of Pure Strategy Inc. She will share industry trends. "AI has really transformed how businesses run. Pure Strategy Inc. is at the forefront of what industry is doing with AI and machine learning," says Lastra.
BIM program consultant Jason Shields, UM assistant professor in the Department of Interior Design, has a great deal of experience in virtual reality aspects of technology and research. "He understands how research is influencing what we do. The Faculty of Architecture is redefining urban spaces. Technology needs to serve a purpose and answer the problems of the day. He will share positive aspects of digital transformation looking at urban design and sustainability."
Kari Kumar, Associate Dean (Academic), Extended Education is knowledgeable about learning technologies and how they may inform the frontier of an evolving credentialling ecosystem. "She understands how technology has influenced the modern sphere of higher education and how we are adapting and continuing to adapt," says Lastra. "We are looking at how higher education will respond, reassessing what we mean by credentials, skills and competencies. We look at the trends and the role higher education can play."
Looking to the future
Overall, the webinar will remind everyone to remain humble and open to learning, and to do our best to understand the digital transformation even when we can't possibly know its full potential. "We will look at what is happening today, to determine what are the skills of tomorrow, in the short term. Deep learning, and machine learning have enormous potential benefits for research and innovation. The time it takes to carry out complex analytical processes has been significantly reduced. It is truly astonishing. By 2050, our planet will have over 9 billion people and food, water, energy, and green solutions will be more important than ever."
But for now, he says, "While the long-term future is uncertain, one thing is certain. The immediate future holds promise. We must understand our responsibilities and how to find our roles in that."