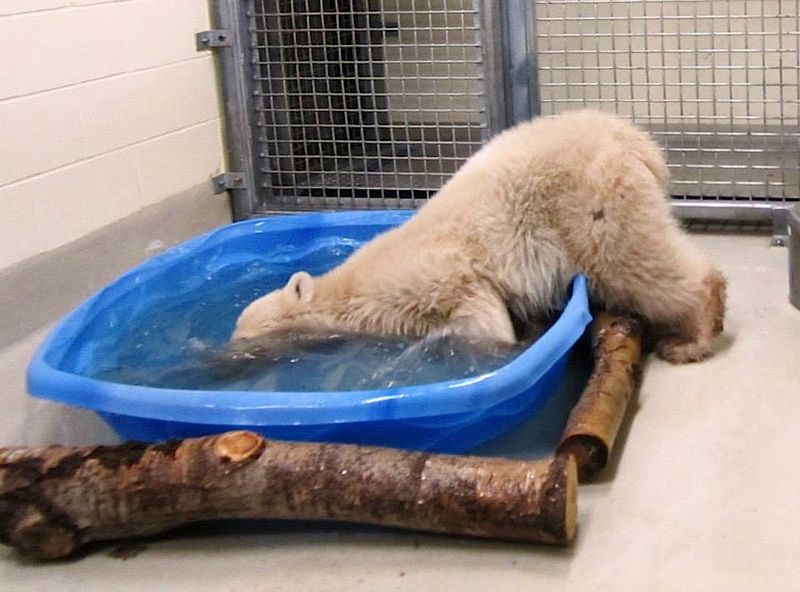 Polar Bears like to play — and other facts about bear habitat and behaviour
July 7, 2014 —
Let's face: the big draw is the Polar Bears!
The new Journey to Churchill exhibit is home to Polar Bears Hudson, Aurora, Storm and Kaska, and the new exhibit has everyone excited — and impressed.
Visitors to the Zoo can learn about polar bears and climate change in the multimedia rich interpretive centre, which features video interviews, interactive games, and touchable objects, components of which highlight university of Manitoba researchers and their work in the Arctic. They can also see Polar Bears Hudson, Storm, Kaska and Aurora in their spiffy new habitat.
Biological sciences researcher Jane Waterman is on the International Polar Bear Conservation Centre Advisory Board. One of her areas of research is the benefits of play to polar bears and the potential problems posed by tourism.
Play behaviour is commonly described in young mammals that are in good condition, but it is rare to observe play in adults, especially mammals that are fasting. Polar bears in northern Manitoba spend several months on land fasting while Hudson Bay is free of ice, and during this time adult male polar bears frequently play.
Waterman notes: "We are examining this play behaviour to determine the benefits of these energetically costly interactions, such as developing dominance hierarchies with low risk. To collect these data without impacting bear behaviour, our research program has developed several non-invasive techniques to determine body size, body condition, and the identity of free-ranging bears. We have used these new techniques to examine the influence of tourist vehicles on the behaviour of polar bears in this region. Habituation to human activities may be a larger concern for bears in this region than potential disturbance caused by tourism.
Waterman expects that these and other non-invasive studies will help thwart potential problems posed by tourism in the north and mediate how human presence affects Polar Bear habitat.
She is also collaborating with Stephen Petersen to integrate the UM Whiskerprint project and the UM Polar Bear Photo-identification Library with the IPBCC and the Journey to Churchill. Volunteers from U of M, the Assiniboine Park Zoo and Kelvin High School, will all be working to identify polar bears from their whisker patterns using our photo-ID software.
See all the bears together (pre-exhibit opening) in this video
The involvement of the University of Manitoba in the Journey to Churchill exhibit and Assiniboine Park Zoo is truly extensive. University of Manitoba researchers are on the Assiniboine Park Zoo Research and Ethics Review Committee, helping to provide guidance and ethical oversight, ensuring that the highest standards of scientific rigour and animal care are maintained.
The potential for even more involvement by the University of Manitoba in the Journey to Churchill exhibit and the IPBCC is significant. Schools on Tundra is a variant of the successful ship-based field program Schools on Board, which takes students to the Arctic to study climate change issues. Schools on Tundra partners with the Churchill Northern Studies Centre (CNSC) and Parks Canada, taking a small team of high school students and teachers from across Canada to Churchill to work with scientists on field and lab work and also learn about their research through lectures and workshops. These students would gather in Winnipeg and visit Journey to Churchill as background for their trip up north. Schools on Tundra and Schools on Board are both based at CEOS at the U of M.
[rev_slider polarbear]