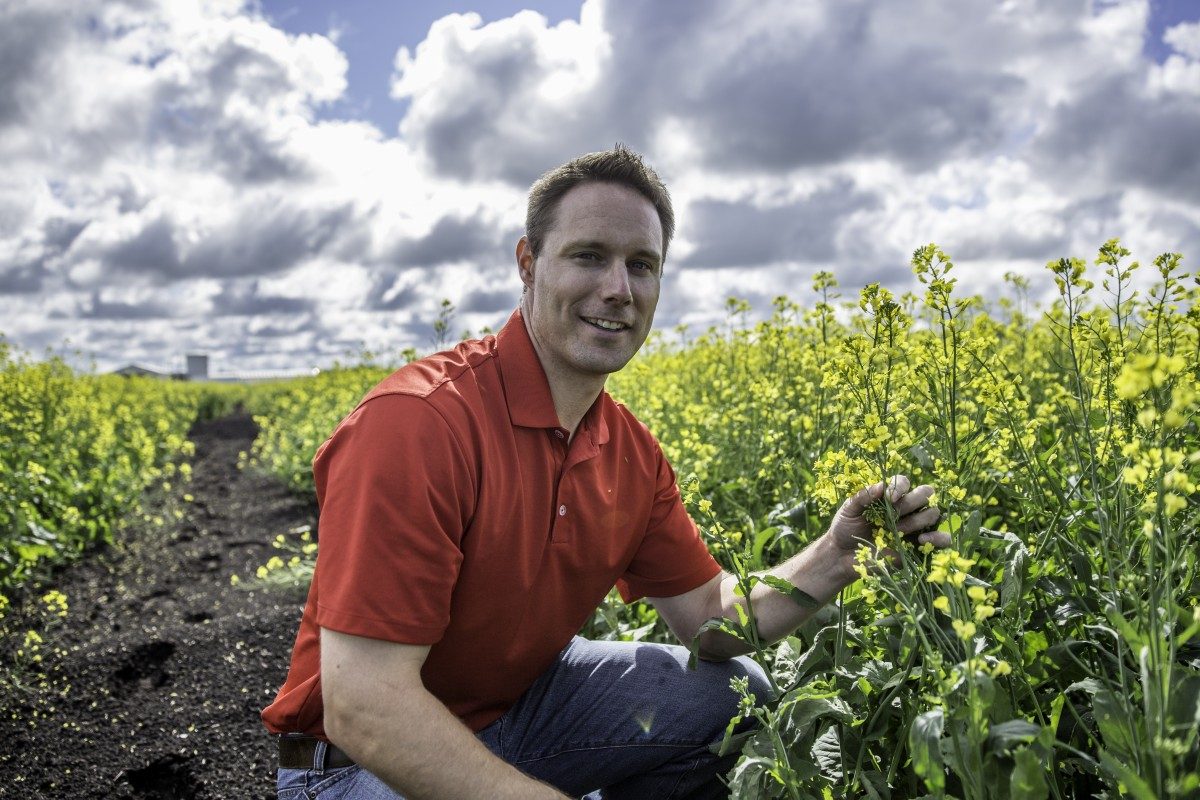 Plant breeder wins prestigious international award
August 24, 2017 —
At its 2017 annual meeting in August, the National Association of Plant Breeders (NAPB) presented the Early Career Scientist Award to Dr. Rob Duncan, associate professor in the Department of Plant Science at the University of Manitoba.
This award recognizes a scientist in early stages of their plant breeding career who exhibits the ability to establish strong research foundations, to interact with multi-disciplinary teams, and to participate in relevant professional societies.
Duncan is the leader of the Brassica Breeding Program at the University of Manitoba. In his nomination package, Duncan was termed "a magnet and energizer for teams. His can-do personality moves through the group and makes him a natural leader for large teams with big vision and the energy to accomplish to vision."
Duncan was born and raised on a farm near Miami, Manitoba, Canada. His family's operation was a certified seed production farm and he consequently became involved in agriculture and plant breeding at a very early age. He received a B.Sc. in Agronomy (2001) and his MS in Plant Pathology from the University of Manitoba (2003), in addition to completing an exchange program at the Swedish University of Agricultural Sciences in Uppsala, Sweden. He then attended the University of California, Davis for his PhD (2009), focusing on breeding for disease resistance in dark red kidney bean.
Upon completion of his doctorate, he moved to Texas, where he served as an Assistant Professor and the State Wheat/Oilseed Specialist at Texas A&M University. In 2012, Duncan was recruited to the University of Manitoba to lead canola and rapeseed cultivar development, concentrating on improvements in seed quality, disease resistance and several agronomic traits.
Duncan has already established a very strong educational component to his program, teaching Genetics, Advanced Plant Breeding and Cereal and Oilseed Production Practices. He was selected as the 2015/16 Teacher of the Year within the Faculty of Agricultural and Food Sciences and won both the University of Manitoba Merit Award for Teaching and the Teaching Award of Merit from the North American Colleges and Teachers of Agriculture.
He has advised or co-advised 14 graduate students and his students have won 19 local, national or international awards since 2013. Of his last four graduate students to complete their degrees, three are plant breeders within industry and the fourth is in an assistant professor role.

Endorsing Duncan's outstanding qualifications for the NAPB Early Career Impact Award, one of his students indicated: "Over the past three years Dr. Duncan has been an incredible teacher and mentor to me. As a teacher, he is confident, well-spoken and encourages class participation. As a mentor, he has the ability to inspire passion in those he supervises. Dr. Duncan has helped me discover my own wisdom by encouraging me to work hard towards my end goals."
Along with the other NAPB award recipients, Duncan will present invited talks at the next NAPB annual meeting, to be hosted by the University of Guelph in August 2018.
The NAPB [http://www.plantbreeding.org] is unique organization in the U.S., bringing together public and private sector plant breeders to share technical information, improve the efficiency and effectiveness of their programs, develop the next generation of scientists, disseminate information about plant breeding, and advocate for a cohesive national plant breeding agenda.