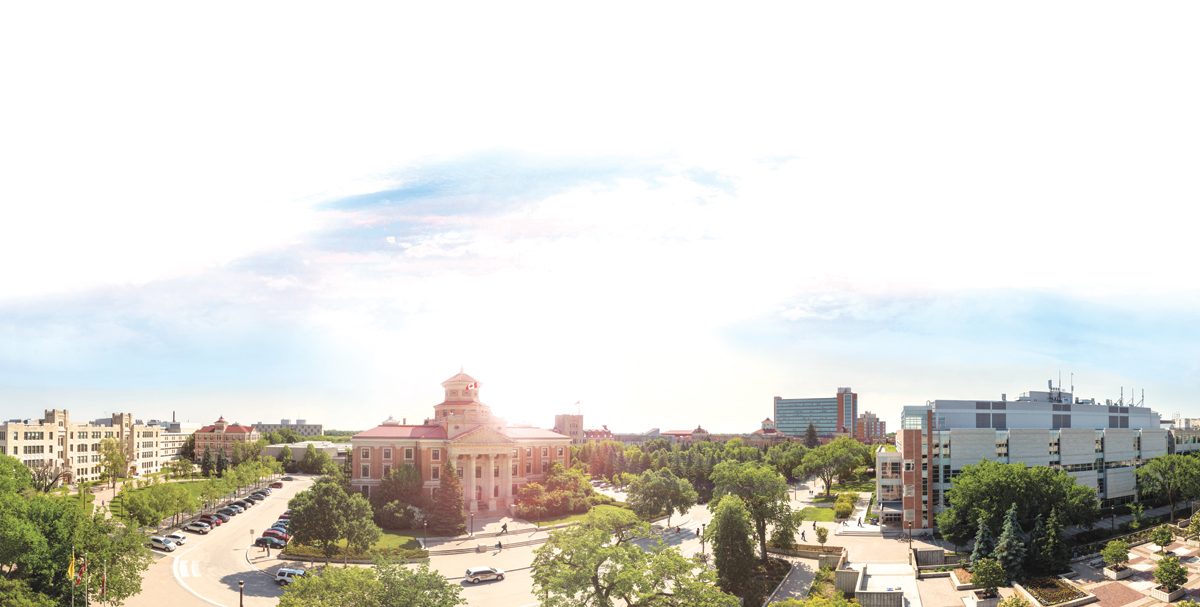 Plan your trip to campus for Fall Term
What you need to know about fall road construction
August 29, 2022 —
Fort Garry campus is buzzing with back-to-school excitement as we welcome our UM community back this fall. Long-needed road repairs are still in progress, so plan ahead to ensure you get to your classes on time.
Read on for updates on the City of Winnipeg's road construction on University Crescent and potential impacts to your commute. Also included is an update on the UM Road Renewal Program.
Delays of 15 to 20 minutes can be anticipated during peak times for University Crescent traffic.
WHAT TO KNOW FOR UNIVERSITY CRESCENT
Northbound lanes of University Crescent, from Thatcher Drive to Pembina Highway, are being rebuilt by the City of Winnipeg
University Crescent reduced to one lane in either direction
Delays of 15 to 20 minutes should be anticipated during peak times
Timeline: Until early October
To note: This is City of Winnipeg road construction. Southbound lanes will be rebuilt in a later phase
UM Road Construction Update: University Crescent/Freedman Crescent between Dafoe Road and King's Drive reopens Sept. 4, 2022
PLAN AHEAD
Plan accordingly when accessing and leaving Fort Garry campus via University Crescent
Add 15 to 20 minutes to your commute at peak times
Choose alternate routes, such as Pembina Highway to Chancellor Matheson Road and King's Drive, whenever possible
See map below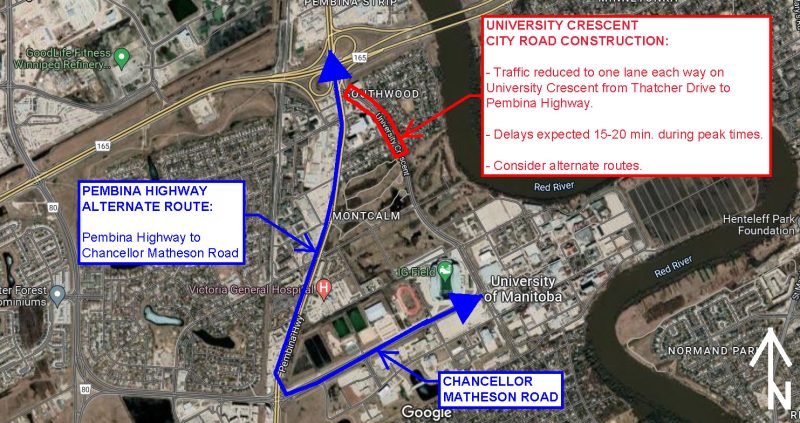 STAY SAFE
Barricades and safety signage will be clearly posted to safely direct pedestrians, cyclists and vehicles as required
Caution should be taken at all times during construction to ensure everyone's safety
Emergency vehicle access will be maintained throughout construction
PEDESTRIAN ACCESS
Sidewalk access will be impacted during City of Winnipeg road construction. Follow signage and flaggers accordingly.
Look forward to new active transportation routes and connections once the phased construction on University Crescent is complete in 2023/24.
ALTERNATIVE WAYS TO GET TO CAMPUS
While roadways are under construction, and to start off the school year on an active note, try biking, taking Transit, carpooling or walking to campus. UM is linked to several active transportation corridors which make for a fast, enjoyable and safe commute to the Fort Garry campus. When you arrive on campus, there are secure lockup locations, shower facilities and repair stations if needed.
The UPass is back for students this Fall Term, make sure you get your pass validated to access unlimited Winnipeg Transit rides. There are 13 transit routes which feed into the Fort Garry campus, including Rapid Transit routes that provide a quick and seamless ride to campus.
Carpooling to campus is a great way to save money, reduce your environmental footprint and meet new people. Designated carpool stalls are available in U, Q and B lots. GoManitoba is a free platform that connects you with others who are commuting to UM. You can search for other drivers or potential passengers based on your schedule and home address.
UPDATE ON UM ROAD RENEWAL PROGRAM
The Fort Garry campus Road Renewal Program commenced in 2018.
Based on recommendations from a road condition assessment of the current Fort Garry campus road network, approximately 22,935 linear feet of roads (excluding Smartpark).
Campus roads in various states of disrepair flagged for strategic repairs and renewals.
The program has included the reconstruction of Saunderson Street, Freedman Crescent, Dafoe Road, Gillson Street, and University Crescent.
Wherever possible, road renewal projects have included repairs to other services as required, such as electrical, steam, sewer, and water as well as new pedestrian and cycling infrastructure and landscape improvements.
The program will pause in 2022 with future road construction expected for Dysart Road and Sifton Road, among others.
See previous [story] for more information.
Questions or concerns regarding City of Winnipeg road construction can be directed to 311 or visit City of Winnipeg Public Works for more information.
To stay informed about traffic impacts for vehicles, pedestrians and cyclists, visit the service disruption webpage.
For questions related to campus road construction, contact Vanessa Jukes Strutt, MALA, CSLA, PMP, Project Manager, Architectural & Engineering Services, Physical Plant, at Vanessa [dot] Jukes [at] umanitoba [dot] ca