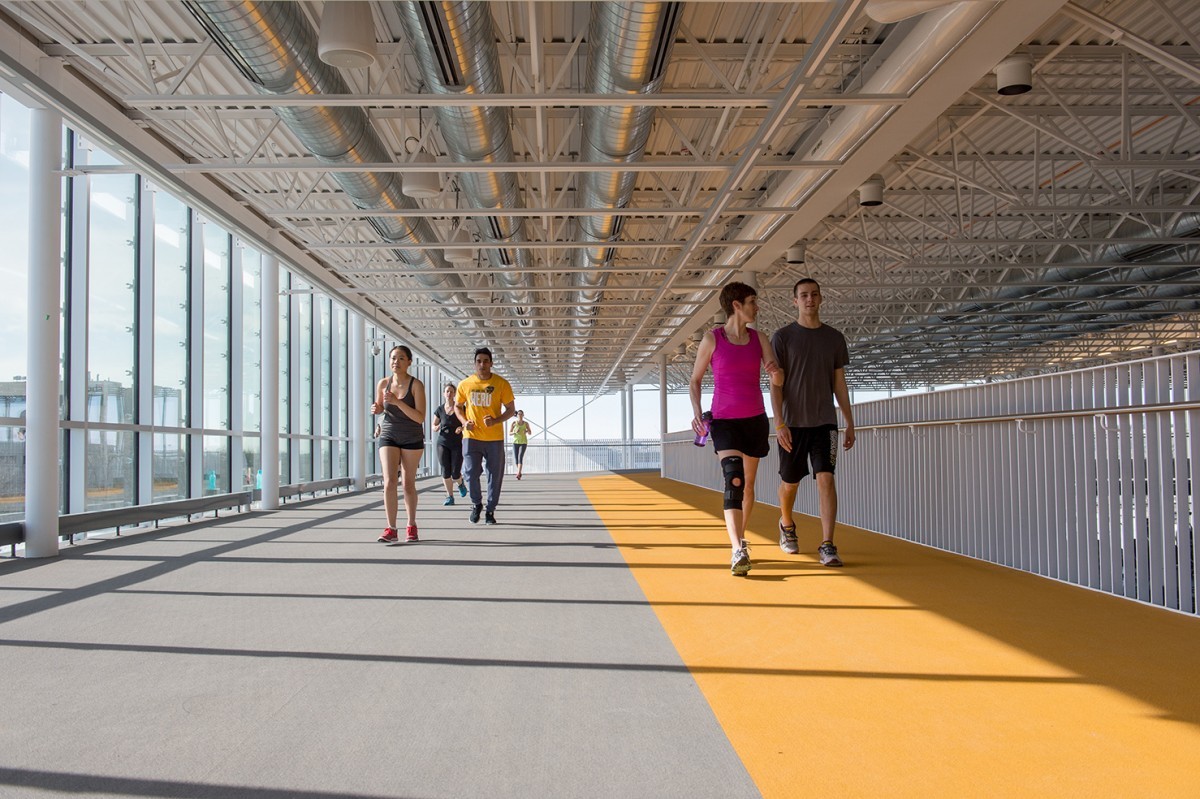 Places and Spaces
We will continue building the university that Manitoba deserves
October 6, 2015 —
The Front and Centre philanthropic campaign will transform the University of Manitoba. Alumni, donors and the university community have shaped five campaign priorities that will ensure our province's long-term economic, social and cultural vitality.
The environment in which people work and study has a transformative impact on an individual's experience. The recently opened Active Living Centre is a testament to that transformation. With a sun-bathed running track that floats above a state-of-the-art facility, it's a dramatic change from the former "Gritty Grotto".
"What we're striving to do is to create a balanced and excellent experience for our students while they are on campus," said Doug Brown, dean of the Faculty of Kinesiology and Recreation Management. "[The Active Living Centre creates] an environment where people who are working here as faculty or staff feel that they can enjoy themselves and live healthy lifestyles beyond the offices in which they work or the classrooms in which they teach."
The U of M community's quality of life will continue to be enhanced through new environments for learning, discovery and engagement thanks to $150 million dedicated to building new and revitalizing existing places and spaces at the university; $12.5 of that money has been dedicated to the Active Living Centre
Improving our spaces isn't just about building new buildings, it's about updating the current physical infrastructure.
The Taché Arts Project is a great example of improving our spaces to provide opportunities to connect ideas with other innovators, learners with leaders, and advances in the workplace with improvements in classrooms. With phase one already open, and construction on phase two underway, Taché Hall is well on its way to being transformed from a student residence to a multi-disciplinary home for art, music and theatre programs.
"A vibrant and successful post-secondary music program requires talented students and outstanding full-time faculty, sessional instructors and support staff," said Edmund Dawe, dean of the Desautels Faculty of Music. "We have these in abundance but for many years have been lacking proper teaching, rehearsal and performance spaces."
Thirty-five million dollars has been earmarked towards this project, which will enrich the cultural community of our campus and our city.
The Front and Centre campaign will ensure our students have access to modern tools and technologies while demonstrating the university's commitment to responsible stewardship through infrastructure refurbishments. To this end, $52.5 million will fund upgrades to existing libraries, classrooms and laboratories.
The Bannatyne Campus will be transformed with $50 million that will be used to create the Inter-Professional Health Education Complex. This exciting project is where transformational research will take place, efficiencies in our health care system will be explored, and health partnerships will be pioneered.
"As we learn and discover, the spaces we work in and the tools we work with are shaping us, building our potential and preparing us for the future," says Rebecca Kunzman, a fourth year Global Political Economy student in the Faculty of Arts.
Help provide environments that ignite creativity at the University of Manitoba. Give now!